10 of our favorite Halloween crafts found on Pinterest.
By emily.bailey
Wednesday, October 20, 2021
Ready to DIY this Halloween? Here's a list of our top 10 favorite DIY Halloween decorations from Pinterest so you can treat yourself this fall.
Whether you go for spooky, cute or something that's just plain easy, DIY Halloween crafts are the perfect project. And there's no better place to get inspired than online. That's why we made a list of our top 10 favorite DIY Halloween decorations from
Pinterest
so you can treat yourself this fall.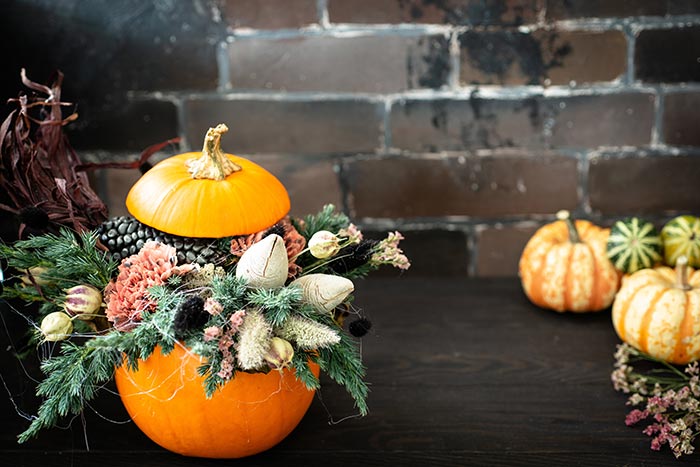 DIY concrete pumpkin planters » Lolly Jane
Tired of typical pumpkins? Lolly Jane used a pumpkin pail like you can find in most grocery stores this time of year as a mold. Simply pour concrete into the inexpensive bucket – add a cup in the middle to create a void where you can stick your goodies – and wait for it to dry. Once you remove the cup and cut away the pail, you have a seasonal centerpiece for a fall floral arrangement or for holding candy.
Halloween image transfer candles » Today's creative Life
Making custom candles became extra popular during quarantine. This method is a lot less messy. Today's Creative Life shows us how to print an image onto tissue paper, then essentially melt the image into a store-bought candle using a hairdryer. Once you've mastered this Halloween creation, why not give it a shot for other holidays with images of evergreen trees, the Easter bunny or even birthday wishes? (Birthday candles … get it?)
DIY bat gnome » Ruggles and rain boots
We've recommended these gnomes for other holidays, most recently as part of your Valentine's Day décor. We clearly think these guys are cute, and that's why we got maybe a little too excited about this Halloween version from Ruffles and Rain Boots. We also love the creativity with the supplies. The gnome is made from a sock and pillow stuffing, the beard is the cover from that same furry pillow, and his ears and wings are from a headband, all found at discount store.
Air-dry clay ghost tea lights » The Decorated Cookie
If you're fed up with crafts that never look like they do in the picture online, this could be the perfect Halloween hack for you. There's no painting and, therefore, no artistic ability needed. And if your cutouts are lopsided, well that's not a problem. Simply free-hand cut out this air-dray clay, use a stick to poke out some eyes, drape them over a foam ball while they dry and you're all set! Check out all the steps from The Decorated Cookie. The tea lights are LEDs, helping you have a safer Halloween.
Wooded ghosts » Lecultivateur
LeCultivateur broke out the carpentry tools for these adorable ghosties. She simply painted a board, giving it a crackled look for extra spookiness, before cutting out the ghouls. Use these on a mantlepiece, as part of your Halloween entryway décor or in your yard, especially if you make them large enough to be seen from the street.
DIY Halloween wreath » Girls build club
You know Schlage loves an eye-catching door wreath … even more so with extra eyeballs. There's a time and place for cute and floral, but Halloween always isn't it. Girls Build Club spent less than $10 on the supplies for this DIY wreath. This is also a good reminder that if you don't see the colors you want for your wreath – that owl was originally pink – you can always paint the pieces to match your décor.
Embroidery hoop spiderweb wreath » My sister's suitcase
My Sister's Suitcase has an easy how-to for this door décor, and you can even use it anywhere inside or outside the house. She simply trapped the faux web between the two rings of the embroidery hoop – no gluing necessary – and stuck some spider rings to the webbing. The black-and-white ribbon is a chic complement to a whimsical holiday wreath.
Skeleton lawn flamingos » domicidal wife
This Halloween hack made us think of a friend who proudly celebrates the ghoulish holiday all year-round. We think she'd love how Domicidal Wife transformed those pink yard flamingos into something a bit more spooktacular with nothing but paint and patience.
Spooky bush eyes » kitchen fun with my 3 sons
We love looking at great curb appeal, but when the curb appeal looks back? Even better. Jill at Kitchen Fun with My Three Sons gives us this super-easy project you can do with your kids. All she did was paint some Dollar Store pumpkin pails to look like eyes, stick them in a bush and voila! We can even … ahem … see doing the same thing with mini pumpkin buckets and tucking them in amongst indoor plants and other décor in the house, too.