All treats, no tricks: How to make your home safe for Halloween.
By emily.bailey
Tuesday, October 22, 2019
Securing your home during the haunting season – when home insurance claims for theft increase by 60 percent – will make sure your night is magical instead of monstrous.
When it comes to Halloween safety, protecting your kids is your number one priority. Once you have them decked out in safe costumes and reviewed the need to check their candy before eating it, turn your attention to your house. Securing your home during the haunting season – when home insurance claims for theft
increase by 60 percent
– will make sure your night is magical instead of monstrous.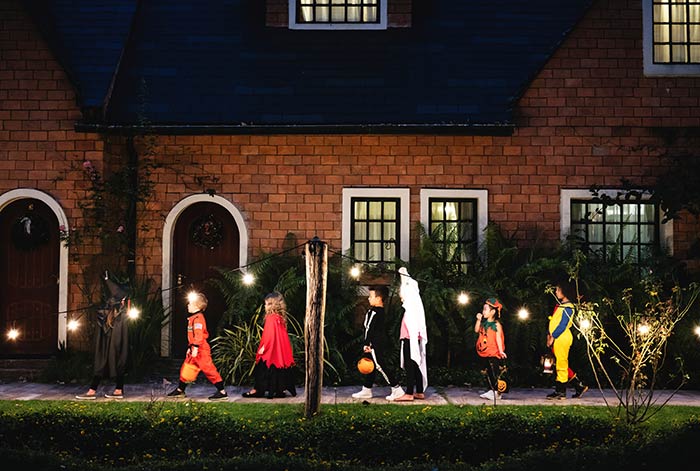 Remove tripping hazards
It's tempting to deck out the house in ghoulish decorations. We say go for it. Just keep your walkway and porch free of tripping hazards, including extension cords, jack-o'-lanterns and other décor. Also inspect paths and patios for cracks. Even if you can't repair it before trick-or-treaters arrive, you can reduce risk by placing a chair, décor or something else eye-catching over the hazard.
Secure handrails
Trick-or-treaters – and their costumes – come in all shapes and sizes. Railings along your porch should be secure so youngsters can hang on when coming for their candy.
Turn on the lights
A well-lit house offers two benefits: trick-or-treaters can see where they're going, and burglars will be turned off by lack of hiding places. Don't merely turn on the porch light, though. Illuminate as much of the house as possible.
Light pumpkins with electric candles
Show off your carving skills but leave the traditional candles unlit. Opt for flameless, battery-operated candles for pumpkins and lanterns. This is a good idea year-round. It's a great idea when small children with flowing costumes will be playing nearby.
Organize a neighborhood patrol
Pranks are a big part of Halloween. Even when intentions are good, things can run amok during the excitement, and vandals can use the revelry as cover for their antics. If you don't have an official Neighborhood Watch, you can still organize a group to keep an eye on the streets and report any suspicious behavior to police. October – National Crime Prevention Month – is a great time to introduce a watch group in your community.
Lock up when you go out
Whether you're taking the kids out for candy or going to a Halloween party, lock your doors. A smart lock like the Schlage Encode™ Smart WiFi Deadbolt provides additional security in that you can monitor the status of your lock from anywhere and receive notifications if there is a suspected security breach at the door. When you sync it with the Ring Video Doorbell 2, you can also see activity happening on your porch from the Ring App's Live View. Similar monitoring capabilities are available when you combine your Schlage Encode lock with Amazon Cloud Cam.
Secure other points of entry
You might think you can keep an eye on things from your front porch while handing out candy, but there are lots of fun things to be distracted by on Halloween night. Make sure your windows and other entry points to the house – back doors, fence gates – are securely locked and well-lit.
Care for your pets
Your furry family members will be happier and healthier if you keep them contained. One of the last things you want is for your cat to slip out the door or your dog to get into the chocolate.
Don't be too scary
Smaller children especially can't always determine what's real and what isn't. Not everyone loves a haunted house. Try not to be too scary so that you cause children to startle and trip or run away.
Don't leave the candy bowl unattended
First, you'll run out of treats super quick. But you might also attract animals and insects. You'll regret it when they burrow into your garden or the foundation of your home.
Crime prevention is a year-round effort, especially during the holidays. For more tips on seasonal security, visit our blog archive. And don't be afraid to share your own safety tricks – or photos of your ghoulish get-ups – with us on Instagram.