14 Valentine's Day décor ideas that will make you want to swipe right.
By emily.bailey
Thursday, February 4, 2021
Coming on the heels of Christmas and New Year's, Valentine's Day décor doesn't always get the love it deserves. We think it's time to stop ignoring this February holiday. Go as big and bold, or as simple and understated, as you want. Good things do come in small packages, after all. Will you swipe right for these Valentine's Day décor ideas?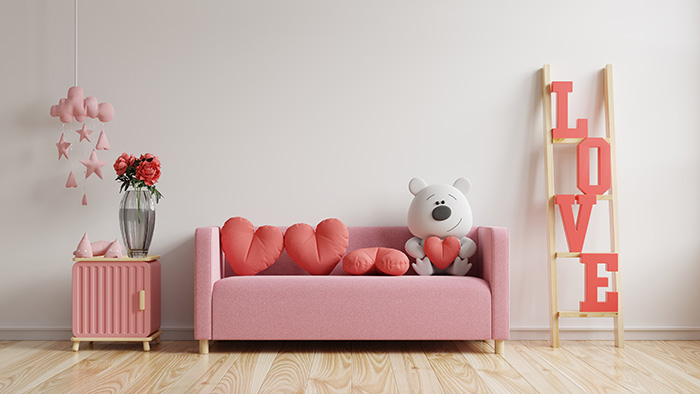 Love buzz » @theholtzhouse
Why have breakfast in bed when you can wake up with this sweet coffee bar? We love the simplicity of it all. Some red and pink touches, a "Be Mine" heart in the caddy and, of course, that banner transform an everyday brewing station into something special.
Gnome sweet » @it_starts_at_home
We saw these little love gnomes a lot in our research, and the more they popped up, the more adorable they became. @it_starts_at_home put these on their kitchen's coffee bar, but they'd look great on a mantlepiece, a bedside table or in a gift bag for your sweetie. You can make your own version with this tutorial from It's Always Autumn.
Quiet love » @shabbychicgirlkc
It looks like @shabbychicgirlkc gave some of her Christmas decorations some extra life with this Valentine's Day entryway décor. This is a sophisticated and beautiful way to reuse bottle brush trees. If you're not a big fan of the vibrant pinks and reds that scream Valentine's Day, you'll love this more muted color scheme.
Unexpected flip » @yvonne_motivation
Turn the décor you have for other holidays on its head – literally – for some unique Valentine's décor. This upside-down Christmas tree was re-outfitted for February's love fest. We're wondering if they have cats.
For the gals » @designstylebymarci
If you're planning a Galentine's Day brunch, you might put together a tiered tray like this one. Load it up with your favorite heart-themed décor, some candy or other treats and you're ready to go. It's a great touch for a sideboard, table centerpiece or bar cart.
Simply lovely » @farmhouseinthemeadows
Here's another gorgeous neutral-color décor idea. Not only is it the perfect fit for farmhouse-style homes, like this Instagrammer shows, but with a few tweaks, the white and natural materials would also be ideal if you're more into minimalist or Scandi design.
Young love » @deck.to.farm.charm
Don't forget the kiddos on Valentine's Day. Cute and sweet is the name of the game with this whimsical bed. Even if they don't have a playhouse-themed retreat, you can still show some love with heart-shaped pillows and other décor. Bonus points if it's extra snuggly.
Dinner for two » @kseventdecorations1
Romantic table setting anyone? This event design company provides great inspiration for how to make a night in extra special. So move the dinner party-for-two to the floor – be sure to grab some extra comfy cushions to sit on – light a few candles and enjoy each other's company.
Love your best friend » @insta.camgram and @toby_._hope
You can never go wrong with roses … and pets. No matter who or what you love, some fresh flowers will go a long way toward making a space feel festive. Whether it's red roses, pink carnations or a handpicked wildflower bouquet, display something that brings a smile to your face.
On full display » @houseonlouisemeadow
If you have an actual fireplace or a faux mantle, you can re-create this look. Leave no doubt about what holiday it is, or how you feel about your sweetie, with this Valentine's Day décor.
Simply the best » @allcutedetails
Our favorite part about this look is how it uses everyday items. If you follow @allcutedetails on Instagram, you'll see that she updates her chalkboard with the season. A new message, a few swaps of décor in the tray, and you have a new look with little effort or expense.
Pucker up » @underbite_overachiever
Need some Valentine's Day curb appeal? A kissing booth might be in order. Please slobber safely.
You are my sunshine » @top_hill_nest
This sunny holiday home in Croatia gives a subtle nod to Valentine's Day. We love the simple wreath, front porch sign and heart hung from the potted plant. Just more proof that small gestures can still have a big impact.
A good four-letter word » @oneofakinddesignsbymichele
Show love to the word nerd in your life with this Scrabble tile door sign. It's perfect for interior and exterior doors. You don't have to stick to "love" either. Could this be the way you ask your secret crush to "Be Mine"?