How to eliminate odors and make your home smell welcoming.
By emily.bailey
Thursday, October 21, 2021
Whether you want to stop the stink for your own benefit or make your house smell nice for visitors, use this guide to making your home smell welcoming.
Home odors: they can make the difference between feeling at ease or wishing you were anywhere but there. All too often, though, we discount our sense of smell when it comes to décor. Whether you want to stop the stink for your own benefit or make your house smell nice for visitors, use this guide to making your home smell welcoming.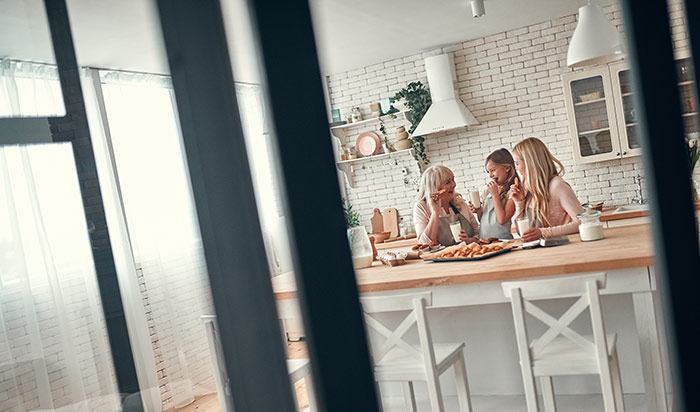 How to add your favorite scents to your home
Because memories and scent are processed in similar parts of the brain, a whiff of something can quickly trigger associations. It's why smelling a certain potpourri makes you think of Grandma, white vinegar reminds you of dying Easter eggs as a kid or antiseptic takes you back to a hospital visit. Before you know it, the nose is telling you whether to feel positively or negatively about an experience. So why wouldn't you want to take the extra step to make your home smell nice? Here are some of our favorite home scents and how to get them.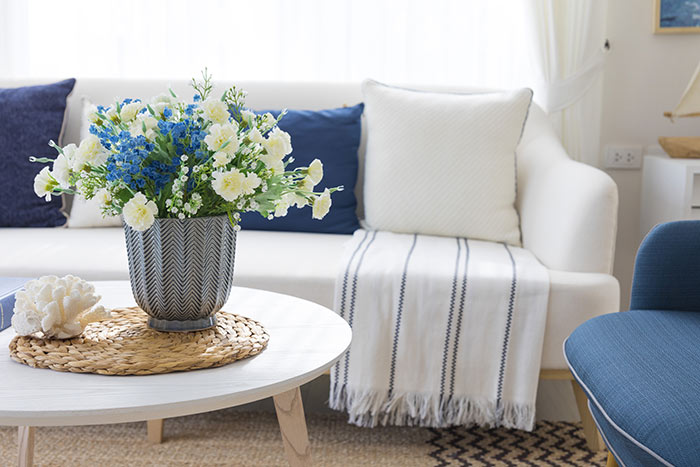 Fresh plants and flowers
This probably seems like common sense. We mention it, though, to encourage you to think outside the box. Go beyond the typical fragrant flowers you might cut from your garden or find at the florist. Consider herbs and other plants that might not have a traditional bloom but give off a favorite scent.
Lavender is popular for helping you to relax and, depending on the variety, can be grown in pots on a windowsill or in your garden outdoors. Spearmint releases its fragrance when the sun warms its leaves and also can easily be grown indoors. Ann Timme, a member of the commercial marketing team at Allegion, parent company of Schlage, planted rosemary near her front door so she can enjoy the scent whenever she walks by.
Citrus
Orange essential oils and other citrus scents have been found to reduce anxiety and increase a sense of calm. These smells can also trigger our minds into thinking "clean and refreshing," a common reason that so many disinfectants are lemony.
To add citrus scents to your home, you can use essential oils or candles. If you're looking for a more natural option, however, try sliced fresh lemons, limes or oranges and simmer them in a pot of water on the stove, adding more water as it evaporates. The same hack also works with a slow cooker. Set your crockpot to high and fill it halfway with water. Then add the sliced citrus. Once the water begins to simmer, turn the slow cooker down to its lowest setting and enjoy a full day of the fresh scent.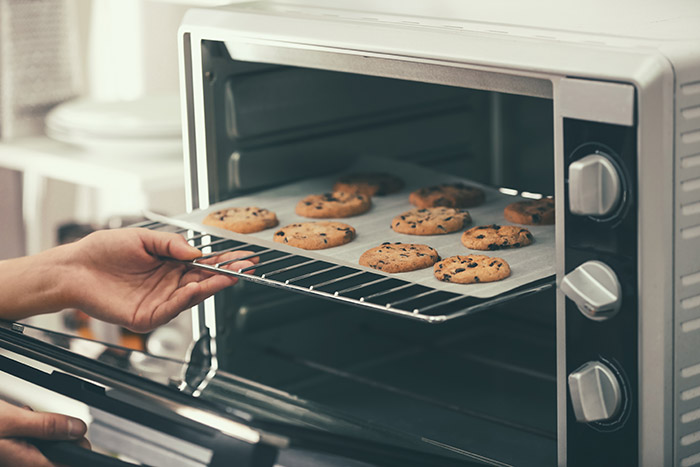 Foods
Baking cookies right before an open house is a long-known real estate hack. The idea is that the smell of goodies triggers homey memories, thereby helping prospective buyers to imagine themselves living there, even if they don't consciously realize that's what their brain is doing. You also know this works if the smell of peppermint or cinnamon makes you think of holiday time.
If having a home full of cookies all the time is too tempting to your sweet tooth, try a cookie-scented candle. Some of them are remarkably realistic. Boiling some water with a few cinnamon sticks and cloves can also re-create that fresh-from-the-oven smell.
For all you vanilla lovers, bake two tablespoons of vanilla extract at 300 degrees for 20 minutes. Your kitchen will smell like a sugar cookie before you know it. For other areas of the house, put a few drops of vanilla extract on a cotton ball. You can then tuck it away in any small space, like in your closet, a drawer or behind a picture frame for a delicious welcoming scent in your entryway.
Locations
Sometimes you want to be transported somewhere else while staying in the comfort of your own home. It might be coconut or sea breezes to remind you of your last beach vacation. It could be something woodsy like oak, leather or even whiskey to re-create the ambience of a traditional "masculine" den. Or maybe it's pine or campfire – get a campfire-scented candle or burn pinecones in your fireplace – for the outdoorsy vibe inside.
How to remove tough home odors
Before you add scents to your home, take some time to get rid of any bad odors that may have built up. You want to eliminate the stink, after all, not just cover it up.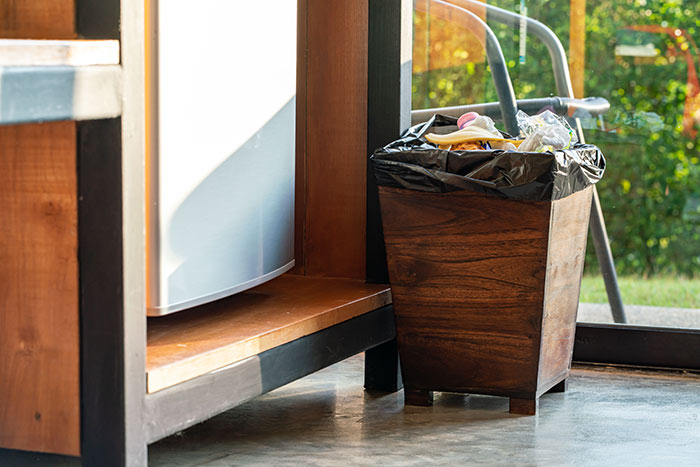 Mold and mildew
Dampness and humidity can give your home a musty smell that not only makes it feel unclean, but also can sometimes even make it feel claustrophobic. To reduce the damp smell and control mold and mildew, try a dehumidifier. Depending on your home and climate, one in the dampest areas like a bathroom or laundry room might do the trick.
It's also a good idea to remove items that can trap moisture and retain that damp smell. Carpets, rugs and towels are common culprits. If you can, avoid too many textiles in the bathrooms where humidity is highest and hang towels in a way that allows for them to dry as quickly as possible. Water-loving plants might be to blame, too, if you have lots of indoor potted plants with damp soil.
If your family loves the pool or beach, hang gear to air out before it has a chance to develop a stench. It might also be worth investing in a swimsuit dryer.
Sweaty laundry
Gym clothes and the kids' jerseys can get real funky, real fast if you don't stay on top of laundry. We know you can't (and don't want to) do the wash every night. It helps to take damp clothes out of your gym bag before they have a chance to marinate. Washing with a laundry detergent that's tough on smells or adding a bit of Borax to your regular detergent can help keep sweat odors from building up over time.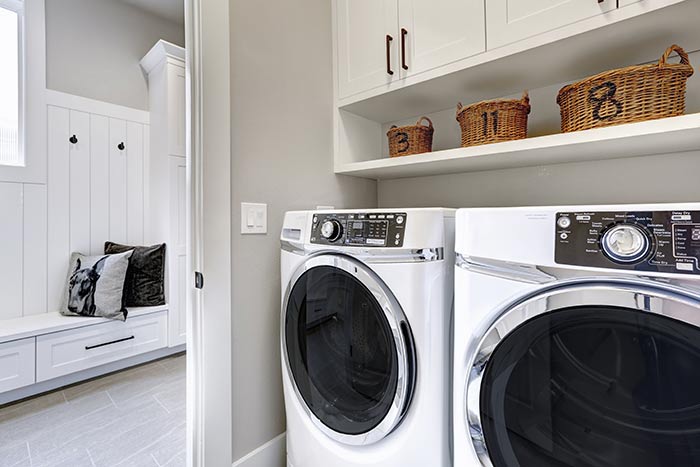 Upholstery
Most textiles, whether it's your bedding, favorite chair, area rug or carpet, or curtains, can absorb lots of smells. Get in the habit of tossing them in the washing machine or having them steam cleaned on a regular basis. For items that can't be machine washed, or if you want an in-between refresh, try a DIY spray of half a cup of white vinegar, half a cup of rubbing alcohol, one teaspoon of cornstarch and 20 drops of a scented oil. Mix it all in a spray bottle, shake well before each use and spritz to freshen your upholstery. Just be sure to test the spray in a small area or somewhere you can't really see – like the carpet at the back of a closet – before first use.
Kitchen smells
That Indian takeout or sauteed onions you made for dinner last night? Their smell lingers, often longer than you realize. If you can, open a window to let the odor dissipate naturally. You can also use spent coffee grounds, which are a natural odor neutralizer. Spread the wet grounds on a cookie sheet and let them dry overnight on the counter. Cleaning as you go or immediately after you eat can also help. When dirty dishes aren't piling up in the sink and food isn't solidifying on the stovetop, you're less likely to end up with funky fragrances.
You also want to clean your refrigerator and pantry regularly. Obviously, dispose of anything that's fuzzy or a strange color. Washing the shelves and drawers can also help keep odors from building up. Check your sink while you're deodorizing everything and make sure your drain isn't to blame for a fishy odor.
Filters
Check your air filters in your HVAC system, the range hood in your kitchen and air purifiers. The cleaner they are, the more efficiently they can run. This can help remove smells as well as some of the dust and other microscopic debris in the air that causes the smells.
Trash
To start with, get in the habit of washing your garbage cans – even the big ones out in the garage – every month. For in between, sprinkle baking soda or kitty litter in the bottom to neutralize smells. Activated charcoal filters can also help.
One piece of cleaning advice that sometimes gets overlooked is the quality of your garbage can liner. If your bag tears easily, any liquid that gets thrown away will drip into your can, leaving an unpleasant smell that's tough to remove. Choose garbage bags that are heavy duty enough for your needs.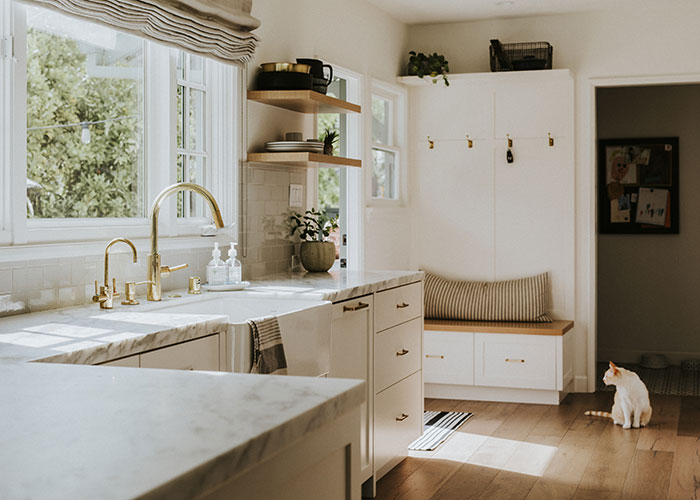 Pets
Pet odors are some of the most common to go overlooked in our homes because of "nose blindness," or the tendency to stop noticing the odors we smell every day. A guest, however, will definitely notice, and that's not a good thing.
Real Simple recommends regularly washing pet beds, and we'll expand that to include anything else your furry friends lounge on. That could be a couch cushion, the throw rug in the sunny spot by the patio door or your own pillow. Remove as much pet dander and hair as possible.
Also, clean up waste ASAP. Scoop Fluffy's box and pick up Fido's poo daily. When it comes to kitty litter, we recommend having a small garbage pail close by. Size matters – if the trash can is too large, you'll likely leave it too long before putting it out with the rest of the garbage, causing your home to smell bad. This is just one of the easy steps for keeping your home clean with pets we recommended in a recent blog.
While you're relaxing on the couch tonight, take a moment to notice how your home affects all your senses, not just your smell. Do you like what you see or does that pile of clutter make you anxious? Are there relaxing sounds, perhaps from a water feature or a favorite playlist? What does the couch feel like under your legs and on your fingertips? Is it scratchy or plush and soft? With this little extra attention to detail, creating a calm home that is beautiful, welcoming and healthy is easier than you think.