5 unsafe Halloween décor mistakes and how to fix them.
By emily.bailey
As you start to carve pumpkins, hang faux cobwebs and make your yard a little extra spooky this Halloween, also keep these crime prevention tips in mind to protect your home and family.
We love decorating for the holidays as much as anyone. Why else would we write about
seasonal porch décor
as much as we do? In all the excitement, it can be easy to overlook keeping your home safe. As you start to carve pumpkins, hang faux cobwebs and make your yard a little extra spooky this Halloween, also keep these crime prevention tips in mind to protect your home and family.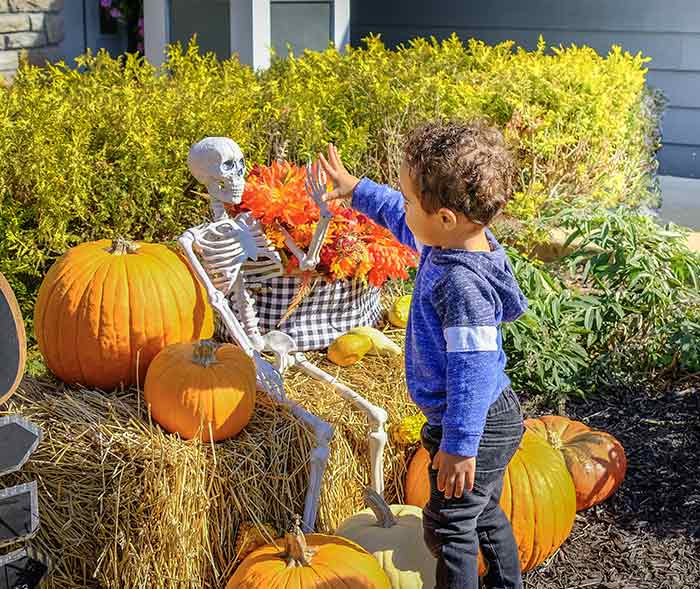 Mistake #1: You crowd your door with large decor
Large porch and yard décor is nice because your neighbors and passersby can easily see and enjoy it from the street. However, if you put large pieces near your front door, they can provide thieves with an easy place to hide, almost in plain sight.
Just as you want to trim bushes and trees away from your house, keep large Halloween décor away from entry points. This includes doors and windows. Reserve those inflatables, zombie cutouts and haybales for the middle of your yard, not near the door.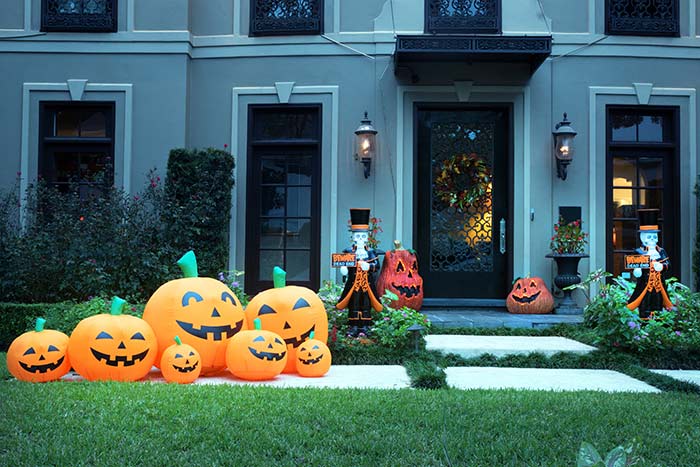 Mistake #2: You leave ladders out
Hanging witch hats from the ceiling of your covered porch or stringing spooky lights from the eaves of your house add a festive flare. If you've used a ladder to reach the high points, put it back in the garage ASAP so it can't be used to enter your home through an upper window or second-story porch.
Mistake #3: You cover your peephole
This might seem more like a minor inconvenience than a safety concern, but hanging wreaths or other décor so they cover the peephole can make it hard to see if the person at your door is a jolly goblin or a ghastly ghoul. It can be risky to open the door before you know who's there, especially if it's when the kiddos are home alone after school.
Simply adjust the height of your wreath so you can see through the center or choose different décor altogether. If you decide to cover your door so your entire entryway looks like a monster or ghost, cut out a small section so the peephole or window is still usable. You can incorporate the cutout into your design. Make the opening part of your monster's mouth or the eye of a cyclops.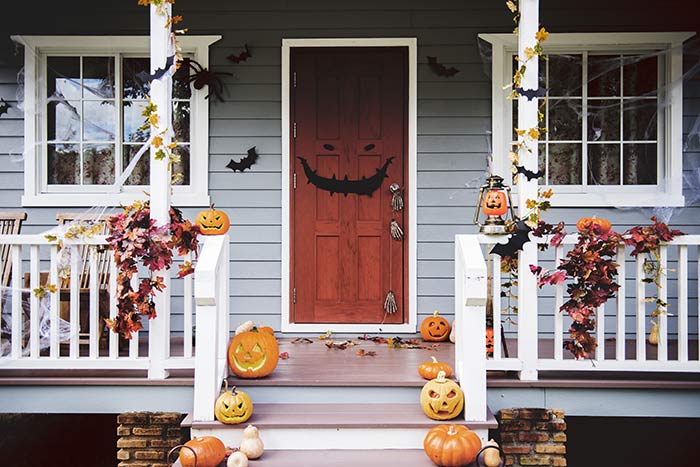 Mistake #4: You go dark on Halloween
It can be tempting to swap out your bright porch light for green or orange at Halloween time. While it looks great, these colored bulbs usually provide less illumination and that means fewer security benefits. Instead of changing the bulb, consider other décor around your light fixture. Try those fake cobwebs we mentioned earlier or rubber bats "flying" around it.
Heading out on the big night? Whether you're trick-or-treating with the kids or going to a party, keep the lights on in your own home. We often turn them off to signal that we aren't handing out candy. Of course, that also tells potential burglars that you aren't there to stand in their way.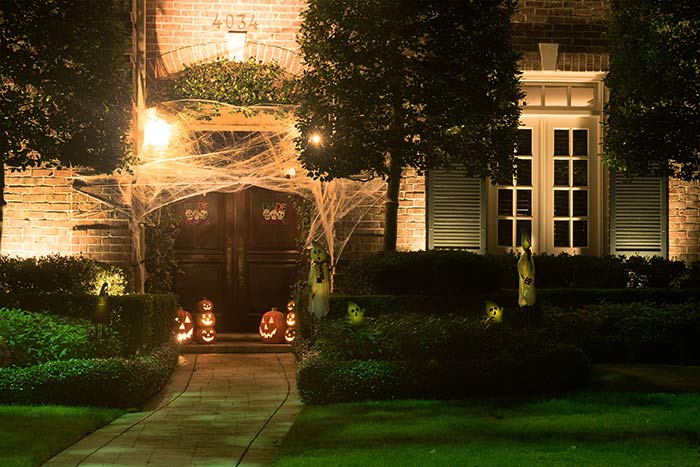 Mistake #5: You leave decor up too long
If your jack-o-lanterns are rotting away on the porch, the inflatables are constantly flat on the lawn and it's almost Black Friday, you're giving the impression that you're away on vacation. We're not saying you have to take everything down on November 1, but swap out your Halloween decorations for other fall décor before too long. Like lighting, this signals that you're home and will notice if someone tries to break in.
Since 1984, the National Crime Prevention Council has declared October as Crime Prevention Month. Since then, they've worked with a variety of organizations to improve personal safety and crime prevention in our neighborhoods. Schlage is proud to do its part in giving you greater peace of mind and the know-how to protect what matters most. Enjoy your tricks and treats with our favorite Halloween safety tips.