Small entryway upgrades to build into your next home improvement plan.
By emily.bailey
Thursday, August 12, 2021
Doorways are so much more than just a gap in the wall. They are an actual and symbolic passageway in our everyday lives, a point of transition. When you carry your new spouse over your home's threshold, it's a representation of leaving one phase of life and entering a new one. On a more average day, as you leave for work and come home after drinks with friends, passing through your entryway signals a mental shift as you head into a new task.
Fortunately, you can use your entryway – everything from your front porch to your foyer – to make that transition smoother. Imagine how you could use this space to stay organized and hit the ground running in the morning. How would you design a mudroom to help you unwind quickly at the end of the day? And how can it help protect your home during the times in between?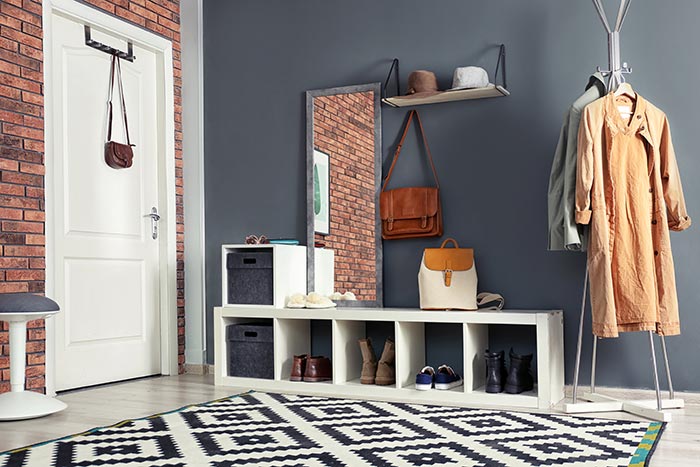 Crush the chaos
There's always that family that's darting down the driveway to catch the school bus at the last minute. Or that person who can never get out the door without searching for missing keys or a lost left mitten. If either of those scenarios look familiar, organize your entryway in a way that makes your transition from one activity to the next smoother.
Upcycled coat rack – When you and the family transition home, are people in the habit of tossing their coats and bags on the floor right inside the door? It sounds like you need some hooks. We love the idea of repurposing other items for a unique coat rack. The simplicity and coastal vibe of this

driftwood-turned-coat hook DIY

is refreshing. If you have young kiddos, be sure to include hooks lower on the wall so they can reach them on their own.
Coat closet organization – Has your coat closet turned into your entryway's version of a junk drawer? Organize your closet with smart storage to make coming and going easier. Install a shoe rack or shelves at the bottom. Hang baskets on the inside of the door to collect smaller items like hats, sunglasses and the dog's leash. Or try this organizational hack:

Hang curtain rods with shower curtain rings

on the inside of the door for scarves, purses and more.


Mudroom lockers – Sometimes your entryway isn't actually at your front door. If you come through your garage into a mudroom, for example, you might have the perfect space for lockers and cubbies.

Good Housekeeping

shows how you can turn a basic set of lockers into something that's more colorful but still super functional. Try this to easily corral coats, books, boots, sports gear and anything else you collect throughout the course of the day. And don't forget these other ways to repurpose household items for an instant mudroom.
Set yourself up for smooth sailing
As you transition from one realm to the next, you want to be able to leave everything else behind you, worry-free. If you're going out for a night on the town, you need to trust that your home is safe. When you're in the office, you need to know that your kids will be able to get in the house after school without a problem. When you're lounging in bed, you don't want to have to get back up to check your locks. These DIY home security tips will help you focus on what's ahead rather than what's happening at your door.
Locks – When deciding how to secure your home, high-quality locks for the front door seem obvious, and to some extent, you're right. Gain extra peace of mind, though, with a

Schlage smart lock

. Not only will it help you secure your home, but it also provides greater ability to monitor and control who's coming and going. When you connect your lock to your home network, you can manage access codes, see when those codes are used and even lock the door if you forget, all from your phone. Plus, with our easy installation, making a Schlage smart lock part of your entry is quick and simple. Because they're battery operated, there's no need to run wiring or call a professional to install your lock.


Video doorbells – To go along with your smart lock, consider a video doorbell. The

Schlage Encode™ Smart WiFi Deadbolt

works with Ring Video Doorbell, so you can see and talk to someone at your door, even when you're not there. If you need to let them in – maybe Aunt Edna is dropping off her famous apple pie – you can do that from a compatible app, too. Pairing these devices together can help you build a safer home, inside and out.


Glass doors – Whether the whole door is glass or you just have side lights, it's important to take extra steps for

securing a door with glass

. Intruders usually pick the point of least resistance when breaking into a home. In many cases, that's a window. To help prevent them from smashing in the glass and reaching around to unlock the door, try adding break-proof film to the window. Alarm sensors at the windows can also serve as a deterrent.
Shift your mindset with style
Organizing your entryway and making it more functional is a good start to making everyone feel welcome in your home. Next try adding some stylish touches. Because this is a transition point, don't get stuck thinking about just inside or just outside. Carry elements of your curb appeal into the home and the other way around.
Colors – Carrying a color scheme throughout the home, inside and out, can help with a sense of cohesiveness. Before you start getting estimates for

painting your home's exterior

, though, try a simpler solution. Paint your patio furniture that complements your foyer's wall paint. Use rugs with similar colors and patterns on your porch and inside your entryway.

Paint your front door

to match the artwork on your interior walls.


Door hardware – Installing complementary fixtures throughout the home is a subtle detail that adds an extra feeling of sophistication. For your transition zone, choose a front door handleset and interior door hardware that matches. They could complement each other in terms of style – maybe they both have elegant curves or straight, minimalist lines. Choosing the same finish is another stylish way to go, especially if you coordinate it with other accessories such as Matte Black door hardware and lighting fixtures.
Mirrors – Let a mirror create the optical illusion that you've brought the outside in. If you position it so that it reflects natural light or the view from the outside, you and your guests will subconsciously see it as a continuation of the outdoors.


Plants – Look for ways you can bring your garden into your foyer. If you have potted ferns on your porch, for example, could you also include one inside your front door? Maybe it's as simple as putting a vase with fresh-cut flowers from your garden on your

landing strip

. The near-symmetry will be less jarring to the brain and make for a smoother transition between spaces.
If you're ready to make door hardware part of your entryway transformation, be sure to check out our Product Selector and Style Selector. These interactive tools will help you choose the right hardware for your home so you can improve your security and curb appeal while moving through life with ease.