5 questions to ask before painting the exterior of your home.
By emily.bailey
Making the decision to paint the exterior of your home is one that should never be taken lightly.
Making the decision to paint the exterior of your home is one that should never be taken lightly. There are a variety of factors to consider for getting the timing just right and ensure you're left with a finished product that's exactly what you envisioned. Here are five questions you should ask before jumping in to this major curb appeal project.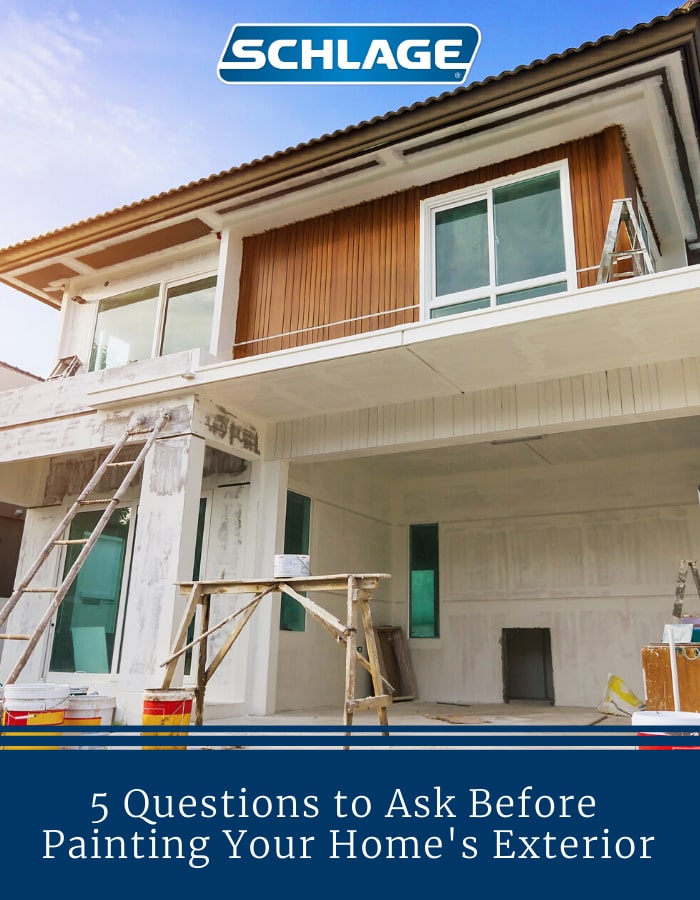 1. Does your home really need it?
Is the paint chipping on the exterior or faded? Is the color a neighborhood eye sore that's preventing your curb appeal from looking its best? A fresh coat of paint, whether you plan to stay in your home for another decade or put in on the market soon, may be the right investment. Pay careful attention to the current condition of your home and decide whether the value added will be enough to take on this major project. In some instances, a good power wash might fit the bill more nicely.
2. Should you hire a pro?
Painting your home's exterior is a more advanced project that requires more skill and expertise than many other home improvement projects. If you're pretty good with a paintbrush, you could likely handle the project on a single-story home. But if your home spans two or more stories, it's worth looking into hiring a professional. The pros will come equipped with all the proper tools and scaffolding to do the job safely and efficiently. For older homes, there's also a risk of lead paint exposure. A professional will know how to test for lead and take the proper precautions. If you're not sure where to begin, Houzz and Porch are great resources for identifying a professional in your area.
3. What's your budget?
Define your budget before starting an exterior paint job, then shop around for the best quotes from professionals and paint companies. Be careful not to sacrifice quality, though. A project this big is not worth cutting corners just to save a few bucks.
4. How long should this project take?
The answer to this question is crucial to helping you stay on budget. The number one reason homeowners end up overspending on nearly all DIY projects is not sticking to their timeline. Define a realistic timeline that will help you get the work done efficiently within the constraints of your budget and don't stray. That means limiting last-minute changes and additions.
5. When should you paint?
You'll want to complete this project when the weather is dry and temperatures remain consistently above 50 degrees Fahrenheit, generally making summer your best bet. Choose a week stretch where heavy rain is not expected.
Of course, these probably aren't the only questions you have. How do I choose an exterior paint color? How do I make sure the rest of my home's exterior looks great after I paint? (Hint: Update your door hardware.) We'd love to hear your advice on Twitter and Facebook.