Repurpose household items for an instant winter mudroom.
By emily.bailey
Tuesday, November 12, 2019
Low on time, space and money to create a mudroom before the holidays? Use these ideas to repurpose common items found in your home for the perfect winter mudroom.
Do a Pinterest search for mudrooms and you'll find some amazing multipurpose spaces. For those of us who don't have the square footage or budget to re-create those looks, how can we add a mudroom economically and realistically given your floor plan? And how can we get it done before Thanksgiving and holiday guests arrive?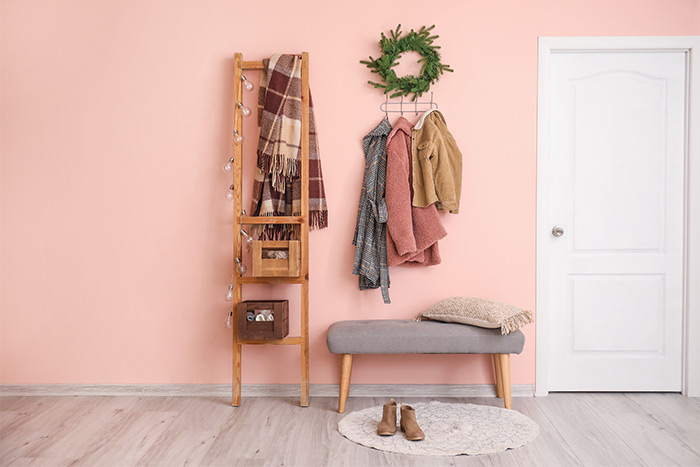 If you're looking to create a mudroom on a small or non-existent budget, or if you only have a day to make a change, try these simple and stylish tips for repurposing items you probably already have in the house. Who says you need to go to a yard sale to upcycle?
Upcycled door knobs » Hooks
Flex your DIY muscle by repurposing old door knobs. They can be attached directly to walls or mounted for a unique coat rack. Use smaller cabinet pulls to hang things like keys and dog leashes. And don't forget to place a few hooks closer to the ground so the kids can hang up their own coats. Check out this vintage spin from Bless'er House for inspiration.
Occasional table » Landing strip
That small table to drop your keys, mail and phone when you walk in the door doesn't have to be specifically designed for an entryway. Try an end table from the living room, a nightstand from the bedroom or a narrow buffet table from the dining room. Be sure to choose one that is small enough that it doesn't obstruct the flow of foot traffic but large enough to allow you to put out a few holiday decorations.
Bar cart » Shelves
A bar cart or this popular cart from IKEA opens a world of possibilities. Multiple shelves help keep things organized, and it's no sweat if you need to move it around or out of the way when guests come for Thanksgiving dinner. Use it as a landing strip or place it inside a coat closet for some instant shelving.
Patio furniture » Bench
It's always helpful to have a place to sit while removing winter boots. Consider moving patio furniture indoors, especially if you have a stylish little love seat. You can tailor it for the season by switching out the cushions or adding a throw blanket. Some of these ideas from BobVila.com will revitalize furniture, both indoors and out.
Shoe rack » Boot tray
Boot trays are great because they can keep puddles contained. But if all you have is a basic shoe rack from your closet, that will work too. Just throw a mat underneath to absorb any drips. You might not want to loan your shoe rack to the mudroom full time, but it's a convenient quick fix for when you have company over.
T-shirt rug » Doormat or boot mat
This DIY braided T-shirt rug solves two problems at once. Purge the closet of T-shirts you never wear and turn them into a colorful mat. People can wipe their feet when they come in or you can place one under a shoe rack to protect the floor from dripping boots.
Shoe pocket organizer » Cubbies in an existing closet
Building shelves, adding lockers and installing built-in cabinetry is gorgeous, but it can be expensive. Even DIY options are a major time investment for most people. If you have a coat closet or pantry in your entryway, try an inexpensive over-the-door shoe pocket organizer instead. Then tuck hats and mittens, dog leashes and waste bags, slippers and dry socks, or keys in each slot.
Closet hanging organizer » Shelves in an existing closet
Another instant cubby option is hanging shelves often found at most organization and home improvement stores. Instead of jeans and sweaters, stash anything else you might need to get out the door quickly. You can even assign a shelf to each member of the family.
Upcycled crates » Shelves
If you're a regular orchard-goer or crafter, you might have some spare wooden crates on hand. The smaller and lighter boxes can be mounted directly to the wall for eclectic shelving. They're also easy to customize by painting and positioning them in unique ways. You might also find you like them stacked as a bookshelf if you'd rather not hang them.
Decorative waste basket or large planter » Umbrella stand
When autumn rains and winter snows fall, contain dripping umbrellas where they won't leave a puddle and you can still leave them unfurled to dry. A tall container can also be used to corral hockey sticks and other sporting equipment.