7 must-follow rules for a welcoming entryway.
By emily.bailey
Whether you have a grand foyer or have to fake an entry, here are seven rules you should consider to create a welcoming entryway.
After a long, hectic day away from home, there's nothing better than a beautiful and clean entryway to help you unwind. Whether you have a grand foyer or need to improvise one, here are seven rules you should consider to make this space work time after time.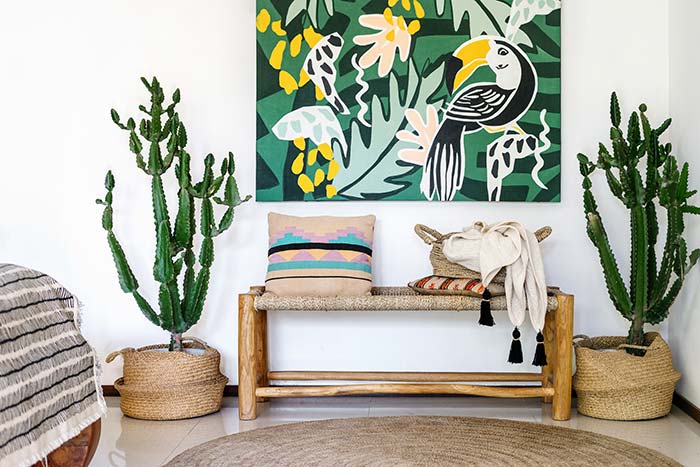 1. Prepare for landing
Think of all the items you walk in the door with: keys, phone, mail. A landing strip – usually a small table or narrow shelf – provides an organized space where you can set those items down and keep your foyer looking gorgeous. You might also have room for a bit of decoration to put a smile on your face when you come home.
2. Get organized
Once you've made it through the front door, you need a designated place for every day items. This will help you avoid leaving them cluttered all over a chair or kitchen table. Have hooks ready for jackets, coats, dog leashes, umbrellas and purses. Keep an organizer for important mail you need to follow up with and a wastebasket to recycle junk mail. A boot tray or bench can keep shoes out of the flow of traffic and puddles off the floor.
3. Clear the floor.
As you and your guests enter your home, it's important to have a clear path, especially in small entryways. This will help the entryway to appear larger and more polished, not to mention reduce annoying tripping hazards.
4. Accessorize
Don't be afraid to welcome your guests with your personal style up front. You'll also give yourself a mood boost each time you walk in the door to find your favorite flowers, rug or mirror. For more tips on styling your entryway, check out our six must-have elements to unlock your foyer's décor potential.
5. Direct traffic
Sometimes you need to create your own entryway, like when your door opens to the entire home. Place a large plant or piece of furniture to divide this space from the rest of the space. This will help guests move through your home in a way that is welcoming and natural. Will they have to pass in front of a TV while friends are watching a big game? You may want to rethink the flow of traffic so everyone feels right at home.
6. Have a welcoming scent.
Smell is a powerful sense. Use candles, fresh flowers or a plug-in scent to create the perfect ambience for you and your guests. Try citrus scents to feel clean and invigorated, baked goods-inspired candles for something homey or cinnamon, which is thought to fight mental fatigue and improve concentration.
7. Update for the seasons
There's a big difference between storing flip flops and snow boots! Make sure your entryway is ready to change with the seasons so you don't miss a moment of family fun.