How to update your locks for a whole new look.
By emily.bailey
Giving your home new style is easier than you think. Here are six times stylish door hardware completed the look, no major renovation required.
Giving your home new style is easier than you think. Instead of looking to make a big blowout, focus on the details and smaller design elements that make a big impact with little effort. How do you do that? One way is to focus on your doors. Here are six times stylish door hardware completed the look, no major renovation required.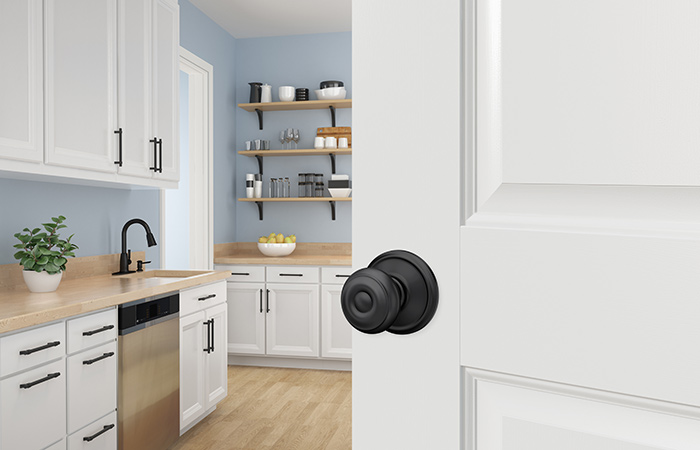 DIY hardware to update your front door
The Schlage® Camelot handleset is a perfect complement to this farmhouse modern front porch. If you were updating this entryway, you probably wouldn't want to mess with the natural wood grain anyway. It's simply too beautiful. But with a Matte Black finish to match the light fixtures and stay true to the classic black-and-white contrast of farmhouse décor, this hardware completes the look.
When you want to give your front porch décor a more modern vibe, try the Schlage Century style. This smart lock and handleset, with their straight lines and dark finish, beautifully balance the bold contemporary coloring and Mid-Century Modern house numbers. This is one door you'd be happy to come home to every day.
Of course we love smart locks for your front door, but don't forget about your other exterior entrances. In this one, we see how the Schlage Connect® Smart Deadbolt was paired with the Plymouth knob on a side door leading directly into the dining room. We'd call this a gorgeous combination of modern innovation with traditional hospitality. And the Matte Black finish completes the look by blending with the dark door, complementing rather than competing with the room's fine touches.
Any room in the home can be beautifully updated with new door hardware. When making the switch, be sure to match the style to work flawlessly with other décor. In this example, the Schlage Birmingham lever and Addison trim – two of our more traditional designs – look stunning on the door to the en suite bathroom. You can just peep the classic plumbing fixtures and how they coordinate with the Bright Chrome door hardware finish.
While this is a bit more of an extensive home makeover, it still took our homeowner just a single afternoon. New flooring and light fixture to go along with Matte Black door levers and hinges take this hallway from something that looks like my first apartment to a more modern home we can see ourselves enjoying for years to come.
When you have an historic home, you want modern convenience without losing the classic charm you love. Replacing your hardware with high-quality door knobs, levers and deadbolts is the best way to do that. This makeover shows how you don't have to abandon your favorite glass knobs. Just swap out the originals for a glass Schlage Hobson door knob. You'll love that it works as beautifully as it looks.
Sophisticated style, inside and out
When choosing stylish door hardware for your home, think about the whole house. Choose matching or complementing hardware from your front door to your back and everywhere in between to elevate your style. You might be surprised how this simple DIY home improvement gives your space a new level of sophistication.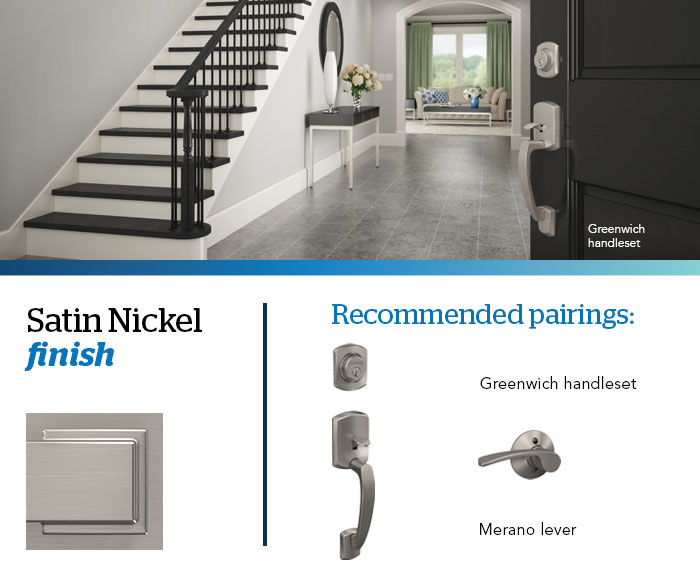 Need to see it to believe it? You might install the Schlage Greenwich handleset on your front door and the Merano lever, which mirrors Greenwich's curved lines, on the coat closet in your entryway. Or for a more contemporary look, try a Schlage Encode™ Smart WiFi Deadbolt in Century with the Bowery knob.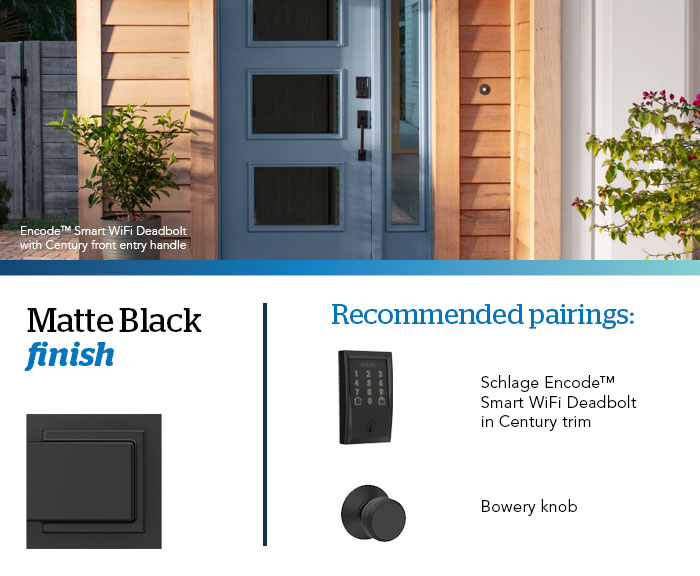 Remember to choose finishes that complement the other door hardware as well as other décor. Your guests might not be able to put their finger on what you've done, but they'll sense that little something special that makes a home feel welcoming.
If we all had unlimited budgets, time and know-how, we'd probably tackle the most ambitious projects we can imagine. While it's fun to dream, sometimes what you need is easy home décor. Skip the painting job with all its brushes, rollers, cleaners, drop cloths and primer. Save the DIY Dutch doors and French doors for another day. Instead, choose easy-to-install Schlage door hardware. With just minutes and a screwdriver, you'll be well on your way to a whole new look.
For more help finding the right door hardware for your next easy DIY project, try our interactive Product Selector and check out the Design Guides at Schlage.com.