5 stress-free and stylish steps for blending homes.
By emily.bailey
Blending homes can require a bit of forethought. Here's our advice for how to blend homes blissfully.
You meet someone, fall in love and decide to move in together, marry or both. It sounds like a romantic fairy tale until it comes time to actually combine your households. Blending homes, especially when you get married later in life or remarry after a divorce, can require a bit more forethought.
In 2020, the median age at first marriage was almost 31 for men and 28 for women, higher than it's ever been according to the U.S. Census Bureau. At this stage, you both have a lifetime's worth of belongings. You might even have kids who are bringing their own belongings, memories and routines. The good news is that with the steps below, turning "mine" and "yours" into "ours" doesn't have to be stressful. Here's our advice for how to blend homes blissfully.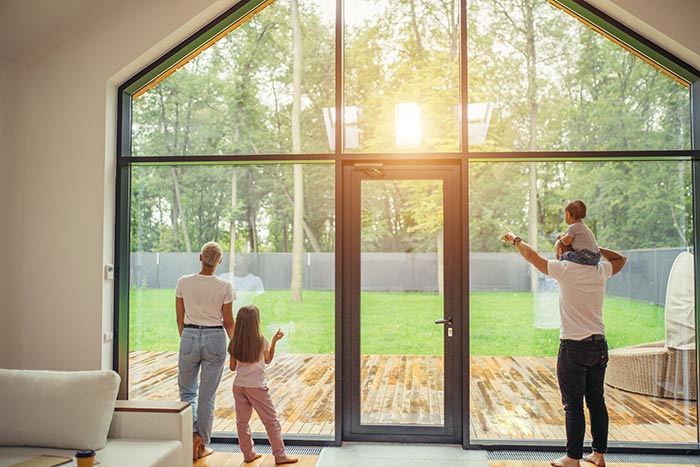 1. Divorce yourself from duplicates.
We've said before that having duplicates is sometimes a good thing. But how many nightstands do you really need, especially when you now only have one bed? As a couple, identify everything you have multiples of and decide which one stays.
A good rule of thumb is to keep the nicest or newest one and donate or sell the rest. As with everything, there are some exceptions to the rule. First, nice and new don't hold a candle to sentimental value. We'll get to this in a minute, but family heirlooms might win out. Second, keep space in mind. Having two couches might work to your advantage if there's a living room and a finished basement that both need seating.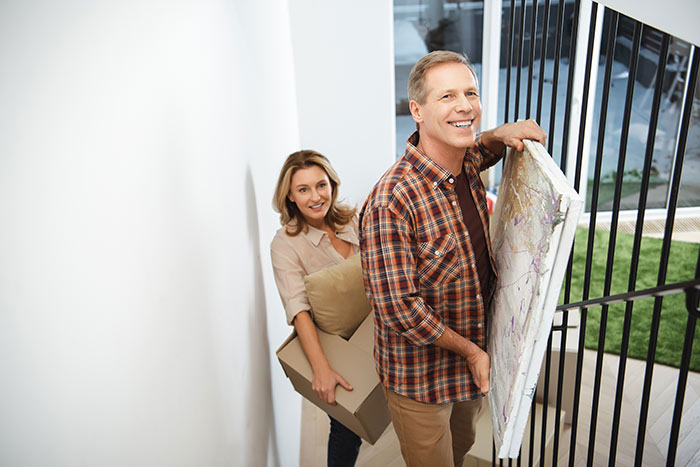 2. To love and to cherish … and to declutter.

Now that you've gotten rid of unnecessary duplicates as a family, cull through your remaining belongings individually. The idea is to only keep what you need or brings you joy, remembering that you're soon to become two or more people occupying the same space. Get rid of clothes you never wear anymore (you're sharing a closet now), toys the kids have lost interest in (the new home doesn't have a playroom anyway) and the stash of cooking magazines (we know you had every intention of using them but the recipe is online).

When in doubt about whether to keep something, think about how it will feel to move it. If it brings a smile to your face to picture it in your home together, hang on to it. But if the thought of schlepping it to a new house makes you groan, get rid of it.

You might also think about how the item would make the rest of the family feel to see it every day. It's important to remember that if you are the new member moving into a home, your presence and belongings might make others feel like their space is being invaded. It's not irrational; it's simply a reaction to change.
We don't think you should deny your own history, but if something is a strong reminder of a past relationship, for example, now might be the perfect time to donate it or gift it to a family member. As writer Sandee McGlaun said in Catalyst Wedding Co. of her experience blending homes after marrying late, "The only way to make space for the future — and make the present a comfortable, livable place — was to let go of the past."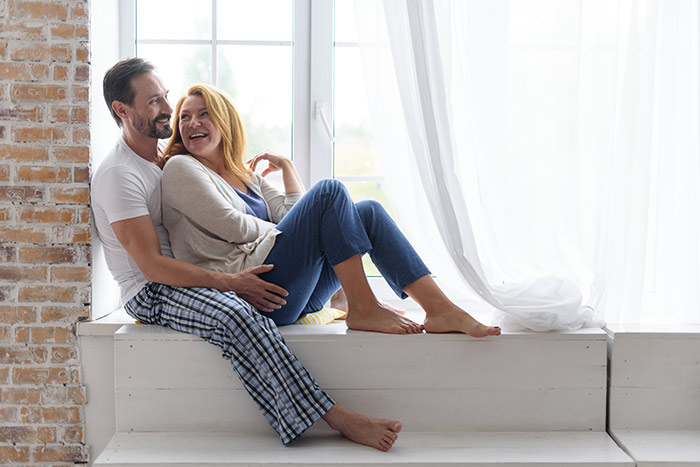 3. Vow to compromise and communicate.

This isn't so much a stand-alone step as a habit to practice early and often throughout the entire process of blending homes. All healthy relationships require compromise. As you're winnowing down your belongings, decorating, even deciding on where to order takeout while you unpack boxes, find common ground.

Communicate your desires as clearly and calmly as possible. When your partner asks you to let go of an item you just can't part with, explain why it's so important to you. When they make a case for their own belongings, listen with empathy. Then find the compromise.

If you can't decide or come to an agreement, try storing those items for three months, then revisit them. If you didn't miss an item, let it go. You might be surprised how easily "I can't live without it" turns into "I forgot about that." Use this strategy sparingly and commit to actually going back to them in three months. You don't want it to turn into just another cluttered basement corner.

If a room is more one person's "domain" – they love to cook and couldn't care less about meal prep – let them organize that space. They'll be more particular about how they want their kitchen set up if they're the one using it all the time.


Perfect the art of the multiuse space. You want a craft room. They want a home office or someplace for the foosball table. Take some tips from our guide to creating a guest room/office combo and design a room everyone can love.

Remember to include children in this process of communication and compromise. It might seem strange for a child to have sentimental attachment to a piece of furniture, but for the younger set, those attachments not only exist, but also can be surprisingly strong. Major changes in living arrangements and family structure can be unsettling for kids as it is. It might be worth keeping an item to avoid stirring up your child's resentment, even if you think that belonging is unnecessary.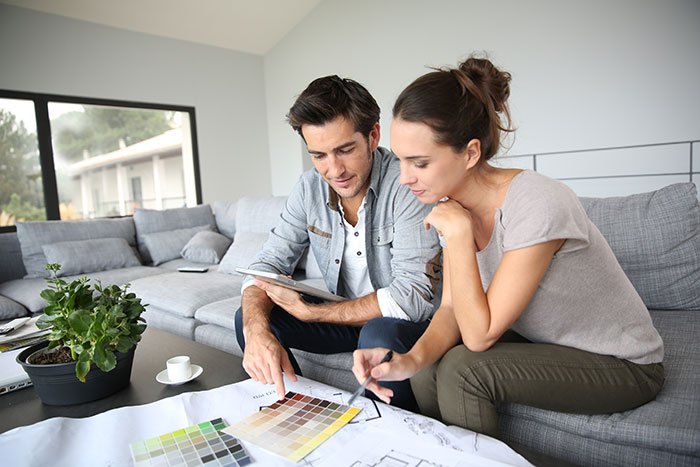 4. Be better together.

Now that you have your excess of belongings under control, you can start creating a stronger sense of "ours" by organizing and decorating your "together home." Find new pieces to fill any gaps and seamlessly blend your styles. Use these pieces – a new couch, artwork, dishes, whatever – to make it a couple's home, not someplace two people stash their stuff.
If your partner is moving into your established home, let them add and change things. You might be used to having everything a certain way, but you don't want them feeling like a guest in their own home.

Practice more compromise. A good way to blend different styles is to focus on colors. Choose colors for the walls, rugs or furniture that you both like and use them throughout the house. That will add a certain amount of cohesiveness to the whole home's aesthetic, even if you're style preferences aren't identical. Then layer in some of the quirkier, more unique aspects of your individual design tastes.

For example, if they like neutrals and you think they're boring, paint the walls greige or a more "colorful" neutral like sage green or blush pink. Then add bold, striking artwork for balance. Or maybe you pick a teal couch and "tone it down" with an oatmeal throw blanket.
We like this simple compromise, too: for common areas, hang pictures of both families or the couple together instead of paintings or other artwork. New family photos will serve as a constant reminder of the "us" as well as work around some of those artistic differences.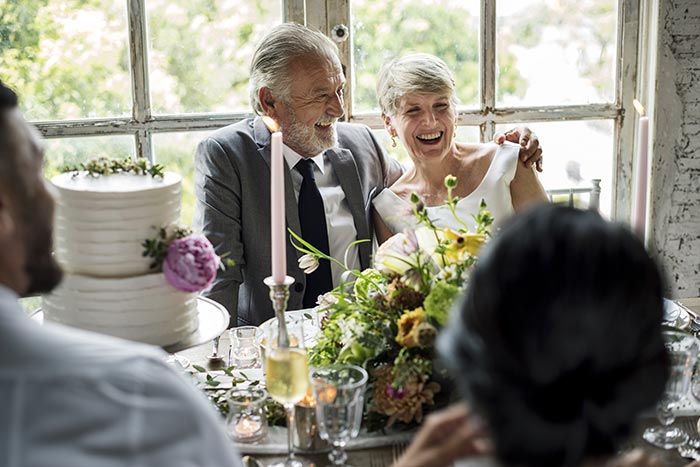 5. Marry décor with convenience.
We've talked a lot about décor and style, but remember that you're also combining routines and ways of doing things. Your home, which might be feeling like a source of contention, can also be your biggest asset.
Choose the right amount of privacy. If you marry later in life, you know that each person might be more set in their ways than they were 30 years ago. While you're starting a new life together, some alone time can also be beneficial to your relationship. Use these strategies to find more privacy with home décor.

A family command center may be especially important with (more) kids in the mix. You're not just blending homes, you're also blending schedules. Keeping track of homework, practice schedules and what everyone's favorite foods are – hello, chalkboard – will be much easier with this single station for information.
Install a smart lock. You knew we, Schlage, had to sneak this in somewhere. It isn't a stretch, though, to say that when you're blending homes, especially with children, a smart lock can make your life much easier. Perhaps you don't have spare keys to hand out to the new family members in the house. Or maybe they aren't quite old enough to trust with their own key ("What do you mean you lost it again?!").


With a Schlage smart lock, you can create unique access codes for every member of your family so they can come and go without a key. And when you connect it to your home network and pair it with a compatible smartphone app, you can even see when they use their code. That's perfect for keeping an eye on things as you all settle into new routines.
When life changes, we believe your home should, too. It doesn't have to be hard to get the house of your dreams. Find simple tips at the Schlage blog, from choosing the right door locks for toddlers to what to do when adult children move back in.