Empty nest no more? What to do when your college kid moves back.
By emily.bailey
Here are five common challenges families like yours are facing, plus a few ways your home can help maintain peace and peace of mind in your new living situation.
College in the time of coronavirus. Your 20-something is facing a lot of anxiety about whether they'll return to campus in the fall or live at home, take some or all of their classes virtually or defer their education until we've established a new normal. Last spring's graduates might be struggling with their next steps. Because you're a parent, their uncertainty is probably also affecting your own life. And if they've moved back home, you have even more challenges to navigate as a family.
According to Zillow, more than two million of the record 32 million adults living with their parents last spring were 18 to 25 years old, so if you find your nest is no longer empty, you aren't alone. Here are five common challenges families like yours are facing, plus a few ways your home can help maintain peace and peace of mind in your new living situation.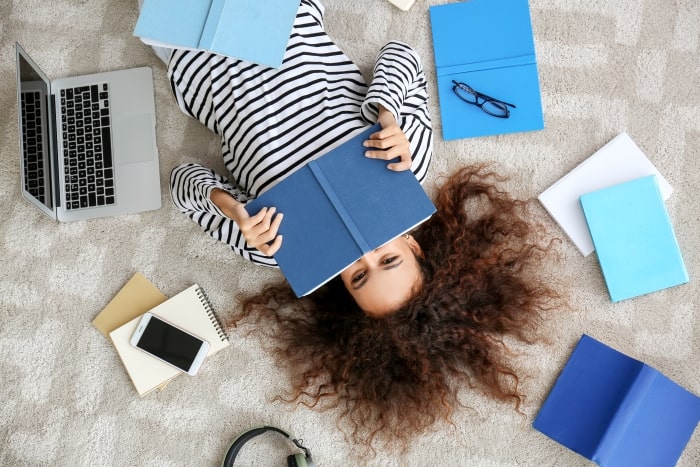 Challenge #1: Lack of independence
One of the most common worries of an adult child moving back home is losing their sense of independence. They've grown accustomed to a certain level of autonomy while living on their own at school. Many parents worry about their own level of independence as well since, when their kids moved out the first time, they found a new equilibrium. Now that you're used to a new way of doing things, will your balance be thrown off yet again?
One solution is a smart lock. When you install a Schlage smart lock, it's easier to give your adult child the freedom to come and go based on their own schedule, whether it's to get to work or late night meetings with friends. Unique access codes can be made quickly and easily, so no matter when your kids show up, they'll be covered. There's no more mad dash to make a spare key and hoping they remember to carry it with them if they're out of the habit.
If curfew is a point of contention – they think they're too old for one but you still worry – try setting up notifications on your smartphone so you know when a code has been used. With a compatible app, you'll know they made it home safely without feeling like you're hovering.
Life Lesson: Set your expectations from the beginning to avoid conflict down the road. Make it a two-way conversation and be prepared to negotiate. Maybe you agree not to set a curfew, but you do ask that they tell you when they're leaving and when they've returned.
Challenge #2: Lack of privacy
If you've had an entire house to yourself for a few years, things might feel a bit tight with another body or three. Get creative about how you divvy up the space in your home. Rework your space as necessary to make sure everyone have a place to study, sleep and socialize without crawling on top of each other.
There are lots of options for creating the perfect guest room/office, so don't fret if you've already converted their old bedroom. Many of these tips, like choosing multipurpose furniture, work for any combination room or small space. You might also try some simple décor solutions like decorative screens, curtains or French doors can create a sense of privacy even in close quarters.
Since we love door hardware, we also recommend adding Schlage Custom Combined Interior to your home. The unique design of these knobs and levers lets you switch easily between locking and non-locking functions without replacing the entire lock. So if your craft room is now their bedroom, you can simply switch functions and then back again when they've moved out at the end of their stay so everyone gets the privacy they need.
Lastly, consider how you can adjust your home's layout if you need to quarantine. Your young adult may have different views on social distancing than the older members of your household. Give them their own basement "apartment," for example, if you're concerned about them bringing the virus into your home.
Life Lesson: Decide upfront how you're going to handle each other's social lives. Do they have to ask before inviting friends over? Will significant others be welcome to spend the night? Is your adult child invited to your own gatherings?
Challenge #3: Needing everyone to contribute
As much as everyone wants to maintain their independence, it can be easy to fall into old habits with your kids expecting you to manage all the meals, laundry and cleaning for them. You can ask them to handle chores like doing their own washing up and keeping their room reasonably clean. Or agree to divide and conquer. On days that you cook, ask them to do the dishes, for example.
This phase could be the perfect opportunity to take on some larger DIY tasks. At the most practical level, your adult child is an extra set of hands for holding a ladder while cleaning the gutter, carrying heavy furniture you're refinishing or relocating, or making yardwork go faster. By taking on projects or learning new DIY skills together, you may find that you can bond with your child more easily and get to know them as an adult.
Life Lesson: Asking your adult child to contribute to the home's daily upkeep can be a generous alternative to them paying rent.
Challenge #4: Worrying about feeling stuck
For some adult children, moving back in with their parents or grandparents can feel depressingly like they've stopped making progress toward their ambitions. One way to beat this malaise is to redecorate. Let them update their childhood bedroom to suit their more mature tastes or, at the very least, make it feel different from when they were still wearing braces and pigtails. If you're worried about them not matching your own style and don't want to re-redecorate when they move out again, try some of these temporary décor ideas.
Life Lesson: Seek balance between being supportive and giving your college student their space. You want to do your part to help them avoid any anxiety associated with moving back home but you also want them feeling capable when it's time for the next stage. "Safety, security and familiarity can be a powerful thing for a young adult looking for a base to regroup, reassess and plan for the future," writes Community for Accredited Online Schools.
Challenge #5: Being on different schedules
The college student who is just starting their day at 10 p.m. and makes nachos after midnight is a cliché for a reason. If you're turning in for the night when they're turning up the TV, trouble can ensue. Install adjustable lighting so the brightness doesn't wake you up in the middle of the night. Dimmer switches, directional lighting around cabinets and even old-fashioned plug-in nightlights can help them see their way around without causing a disruption. If they're a little too noisy, you can soundproof your bedroom with sound-dampening panels, soundproof wallpaper or sealing gaps around your door.
If your smart home voice assistant seems to be yelling at all hours of the day and night, switch Amazon Alexa to Whisper Mode or Google Home to Night Mode. Alexa's Whisper Mode, as you'd expect, makes her quietly issue her responses without waking up the entire house. Google's Night Mode lets you turn down your assistant's volume and LED screen's brightness as well as keep your devices from speaking at all.
Finally, try a command center, especially if you feel like ships passing in the night. We often suggest these for parents of younger school-aged children, but you can adapt them to your current needs. Instead of cubbies for a kindergartener's crayons and toys, consider baskets for each family member's car keys and sunglasses. A bulletin board is great for chore reminders, giving others a heads-up about when they'll be holed up studying for an exam or asking someone to pick up more milk at the store … again.
Life Lesson: Join them from time to time. You don't have to regularly binge Netflix until 2 a.m., but you might find that you enjoy the occasional late night. Time Magazine's David French discovered he liked playing World of Warcraft with his Boomerang son. Now's your chance to relive some of your college glory days.
Touchless access on college campuses
If your child is going back to campus, know that many universities are taking extra precautions to keep everyone safe. That includes installing touchless access solutions on dining halls, libraries and other buildings. They might be as high tech as Schlage's contactless mobile student IDs or as simple as a foot pull produced by Ives, another Allegion brand. Schlage is most often recognized for the safety and style its door hardware brings to homes, but we are equally proud of our work in the commercial sector, making the places where you work and play just as secure.
While you may find yourself in an unexpected parenting position this year, we hope these tips make it easier to enjoy your time together and build stronger intergenerational bonds. If you're also planning for back-to-school with younger kids, check out our recent blog about using household routines to keep your family safe and sane this fall. You can also find us on Facebook and Twitter to share your ideas with us.