Guest bedroom or office? Design so you don't have to decide.
By emily.bailey
Tuesday, February 26, 2019
Until you find your fairytale castle, some of your rooms may have to pull double duty. Here are three tips for making a single room work seamlessly as both your office and a guest bedroom space.
Most of us would love a house with enough bedrooms for everyone to have their own space, a dedicated play area just for the kids and a home office that inspires work productivity. Also, a maid to clean the mansion of our dreams. But until you find your fairytale castle, some of your rooms may have to pull double duty. Here are three tips for making a single room work seamlessly as both your office and a guest bedroom space.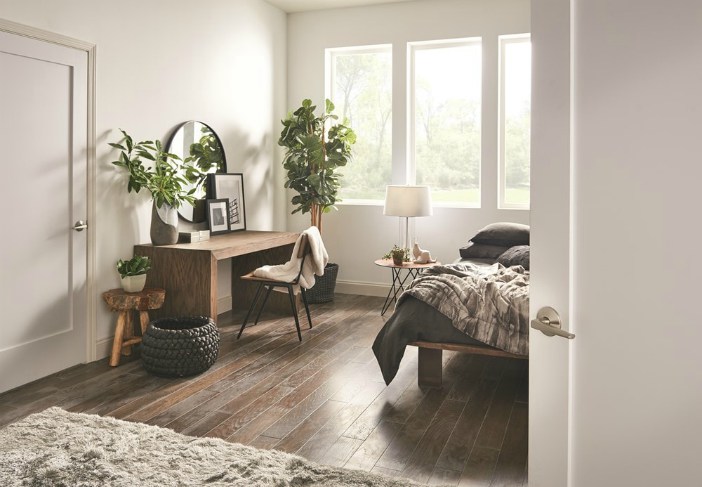 Choose furniture that works hard so you can relax.
Do you want furniture that serves multiple functions or pieces that can easily be hidden depending on how the room is being used? A sleeper sofa is an obvious multi-use choice. Some even come with built-in storage, which is perfect for stashing extra blankets and pillows. A murphy bed with shelving when it folds up also gives great versatility.
Instead of a traditional desk chair, opt for something with a bit more style that is both comfortable for you to work in and also lounge-like enough for guests to relax in. Bookshelves can double as file storage and nightstands. And we always love an ottoman that can be part storage, part seating, part side table.
If you're more into hiding what's not in use, you might try a pretty partition or screen to obscure what's not needed at a particular moment. You often see this in loft apartments and for good reason. They're a stylish way to disguise an unmade bed when your bedroom is also your living room is also your kitchen.
Bonus tip: Pair a screen with a bookcase to divide office space from sleeping space. One side can hold your files (or be a nightstand for guests depending on which way you turn it) and the other adds visual interest and covers the less attractive backside of the shelving. The screen could also act as a decorative headboard for your bed.
Add small details with a big purpose.
When it comes to smaller décor, a mirror can be a nice touch that works in several ways. We love mirrors that make small foyers seem larger and airier. The same can work in an office to reflect light during working hours. When guests arrive, use it as part of a vanity so they can get ready in the morning without having to negotiate a share of the bathroom.
Don't forget the greenery. Plants are a healthy touch, no matter the room's purpose. In a guest room, they feel especially homey. In an office, they can help you feel less stressed and boost creativity.
Because guest rooms can often be more playful than formal master suites, you can afford to experiment with colors. Choose something bright and cheery for the walls, or bold fabrics for the furniture and bedding. You're in luck too because the same blues and greens named 2019's colors of the year have also been found to spark creativity, productivity and innovation. That's what we call brains and beauty.
Make the transition simple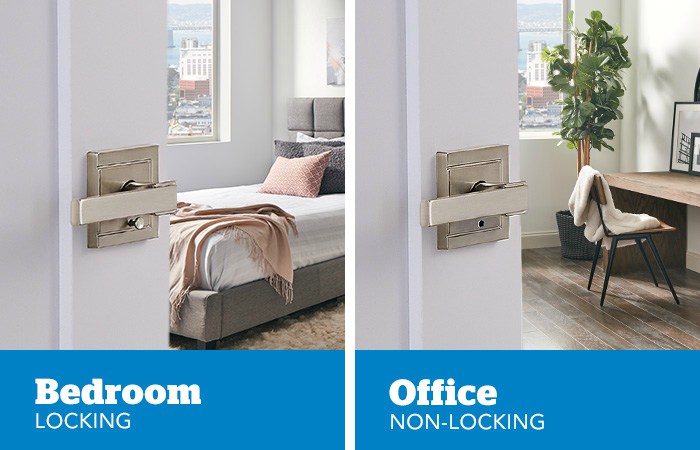 When you expect a room to fill several needs, you might also want your door hardware to match those needs. With Schlage Custom™ Door Hardware, you get 2-in-1 functionality, meaning that you can easily switch from locking to unlocking depending on the level of privacy you want for a room. Simply insert the privacy pushpin and rotate to enable the locking function. This is ideal if you don't usually lock your office but want to give guests the option to do so.
With a variety of designs and finishes, you can also update the knobs and levers on your guest room/office without having to replace the entire lock. Match the style to the rest of your house or the décor of that particular room to complement the look of any space.
It is possible to close that deal and open your home to guests, all from one spot. By choosing versatile details, you can transform any room without compromising on function or décor. Find us on Pinterest and Instagram for more style tips for the whole home.