Home improvement projects to complete in September.
By jennifer.thomas
Thursday, September 2, 2021
This guide to home improvement projects to complete in September can help you stay on top of DIY and maintenance tasks.
Are you looking at your home and trying to decide how to give it a quick and easy update? Maybe you're a new homeowner learning how to take care of your new investment. This guide to home improvement projects to complete in September can help you stay on top of DIY and maintenance tasks. Download the
September home checklist
to keep your home looking and working great.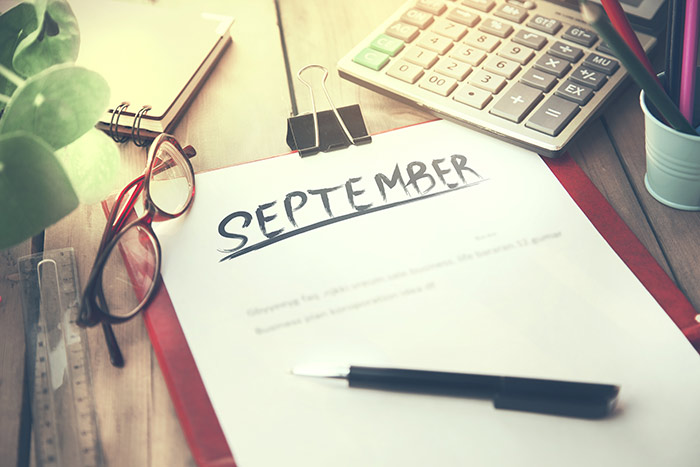 Indoor home checklist
Whether you're excited for the changing season or dreading it, it's time to prepare your home for fall.
Check safety devices and replace batteries. This includes smoke and carbon monoxide detectors as well as fire extinguishers, radon detectors and

smart locks

. Make sure they're still working and install new ones as necessary.


Clean ceiling fans. Opening windows and running ceiling fans is a great low-energy way to cool your home, but it also attracts dirt and dust. Clean the blades of your ceiling fan. Then reverse their direction to push warm air down in the cooler months.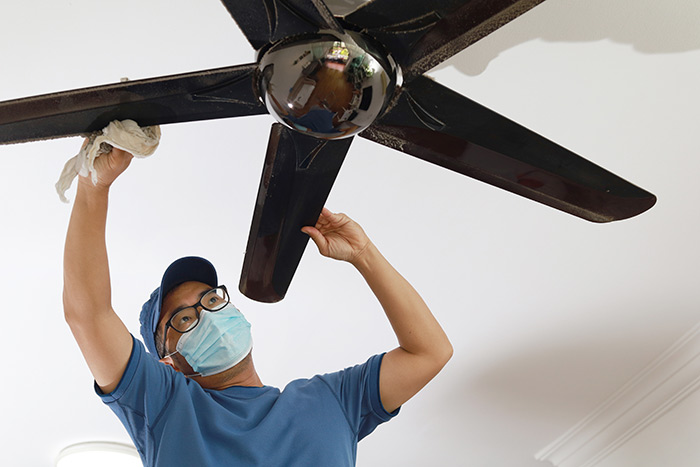 Remove window air conditioning units. When the last of the extreme heat passes, uninstall and clean the unit thoroughly so it's ready for next year. Also check that your window frame is still in good shape. If there's any new damage or warping, take care of it now so that you don't let in cold drafts.


Stop drafts and add insulation. How do you stop drafts in doors and windows? First, you'll want to

find out where the draft is coming from

. Depending on the location, you can add caulking, install weatherstripping or use insulation film for windows. There are other ways to insulate your home against the cold, of course. In addition to the walls, remember to insulate basements and crawl spaces, attics, pipes and water heaters to keep your home working efficiently.


Strengthen the WiFi signal. When kids are trying to do more schoolwork at home, you need to be on a video call and someone else is streaming movies, you might notice a lag in your internet speed. Boost your signal with a new wireless router or

WiFi range extender

.


Swap seasonal clothing. Clean and store your summer clothes, discarding any items that no longer fit, don't match your style or are worn out beyond repair. It's a perfect time to

KonMari

your closet. No joy ever came from pants that pinch, so donate them. While you're at it, bring out your winter clothes. Check for moth holes, mildew and other damage suffered while in storage.


Make a fall bar cart. Seasonal parties are about to head back indoors. Or maybe not. With the unpredictability of the weather, it helps to make your entertainment mobile. That's why we love a

fall bar cart

. Load it up with anything you need – drink mix, snacks, glasses, plates – and move it wherever the party takes you.
Outdoor home checklist
The best part about outdoor DIY in the fall? There's a little bit of everything, from organization to decoration to getting your hands dirty.
Inspect gutters, downspouts and roofs. Before the fall rains and winter snow move in, remove blockages, replace damaged or missing shingles, and repair cracked gutters to avoid leaks.


Winterize the outdoor kitchen. When you've cooked outside for the last time, get your outdoor kitchen ready to hibernate.

Houzz

recommends shutting off water lines, then draining water leading to refrigerators and sinks and opening the taps to avoid damage from freezing. Clean your grill and pizza oven (and any other cooking surface that makes this writer jealous). Finally, cover everything to avoid damage from winter elements.


Fall for seasonal porch décor. We love natural décor to welcome the arrival of fall. Consider grapevine wreaths and classic pumpkins. They can be real or artificial. Plant window boxes with a mixture of traditional flowers and unexpected vegetables. Some ideas include mums, ornamental cabbage, kale and

chili peppers

. And pay special attention to color. Reds, oranges and yellows are classics for a reason – they look good on any

porch in autumn

– but don't be afraid to branch out to metallics like copper or jewel tones like a deep purple or emerald. Need to see it to believe it? Check out these

10 inviting front door displays for fall

.


Transition potted plants as décor. Whether on your front porch, walkway or back deck, choose décor that quickly and easily transitions your potted plants from summer to fall. It could be as simple as adding a pumpkin to an existing container or planting a few new flowers that will stay hardy as the temperatures start to drop.

For the future
It's time to start thinking about getting cozy.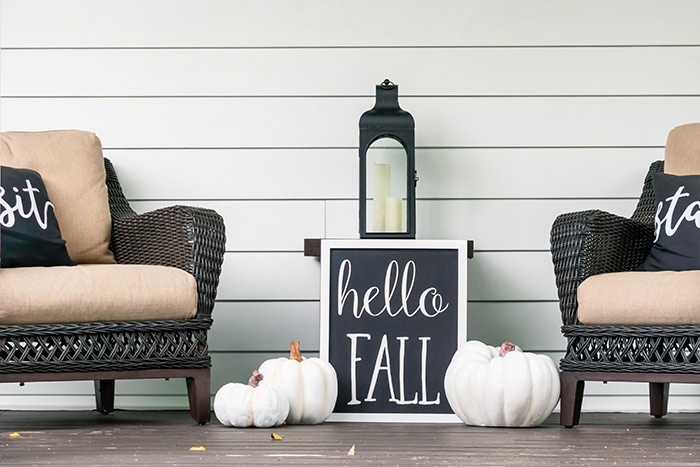 Prepare for a fire. At this point in the year, it's a two-step process. First, schedule chimney and fireplace maintenance. We recommend calling in a professional for this one so they can inspect for structural damage as well as clean the flue and remove bird nests and other debris that will block ventilation. Second, order firewood or other fuel so you're ready to hunker down on that first chilly night.


Make a fall bucket list. Just like you did in the

summer

, make a wish list of all the things you want to do in the fall. It could be DIY projects to accomplish, something crafty with the kids or

winter outdoor parties

to have with friends. If you're feeling particularly motivated,

include smaller steps

you need to take to make those dreams become a reality and start budgeting and planning for bigger projects.
For the greater good
Some of the best DIY projects are those that you complete for others.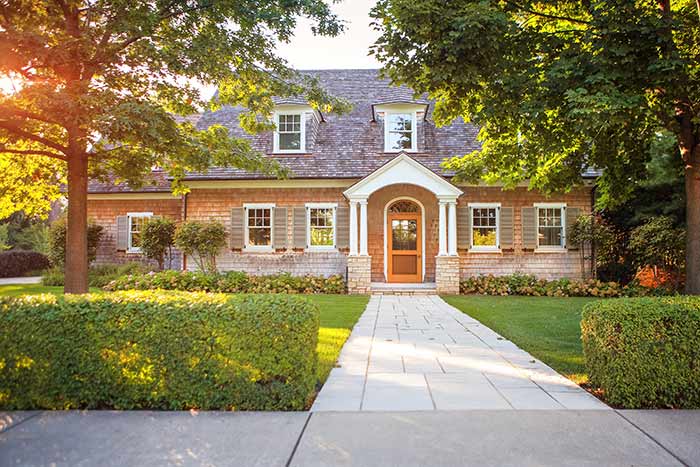 Thank your grandparents. The second Sunday in September is Grandparents Day. If you like to show your love with acts of service, you might like to honor the grandparents in your life by helping make their home safer and more comfortable. Surprise them with a smart lock or team up on a DIY project like adding closet lighting or designing a curbless shower. Not sure smart technology is right for your older family members? Read

how smart locks are great for aging in place

or find more stylish ideas for remodeling your home to keep them safe.


Celebrate Labor Day. Often considered the last summer hurrah, you can host a get-together with close friends or help organize a neighborhood block party to build community. If you have the day off work, you might also offer to volunteer in a way you don't normally have the time for. And if you want to teach the kids what Labor Day is about, try a visit to or virtual tour at the

American Labor Museum

.
In case you missed it
These tasks are great ways to care for your home and your family.
Commit to a family calendar. If you didn't make a calendar to help keep the family on track, it's never too late to start. If you did install a whiteboard or

DIY dry erase board

and then got a bit too relaxed about updating it, now's your chance to get back on track. No more losing track of appointments or answering the same question – when is Jenny's birthday party? – 100 times.


Prevent pests. The best way to keep insects and animals from damaging your home is by preventing them in the first place. The

Environmental Protection Agency

has several tips, including sealing gaps and cracks where critters could creep in. If pests have already found a way in, talk to a professional about the safest way to remove them.
Time to buy
With autumn on the horizon, you'll see plenty of deals for items you'll need in the near future as well as those that are going out of season. Here's what Consumer Reports says are the top home goods to buy in September.
Appliances: Air conditioners, air purifiers, carpet cleaners, cooktops, freezers, wall ovens, grills


DIY: Chainsaws, lawn mowers, tractors, leaf blowers


Electronics: Cell phones, printers, smart speakers, wireless routers


Home goods: Replacement windows
If our September home improvement checklist has your creative juices going, find more inspiration for décor, DIY projects and home hosting at the Schlage blog or Pinterest. We're also on Instagram!