How to create a family command center and get organized.
By emily.bailey
Thursday, January 9, 2020
Learn how to create the perfect family command center, then keep reading for a few bonus organizational hacks to make this schoolyear the best one yet.
Whether it's the new year, back-to-school season or you just can't take it anymore (!), most of us could always use some help getting and staying organized. Busy times of year especially mean balancing everyone's schedules, tracking down homework and meal planning. It's wrangling backpacks, making sure you have a hostess gift and … where is your left shoe? Learn how to create the perfect family command center. And if you need extra help keeping the kids organized, keep reading for a few bonus hacks to make the schoolyear the best one yet.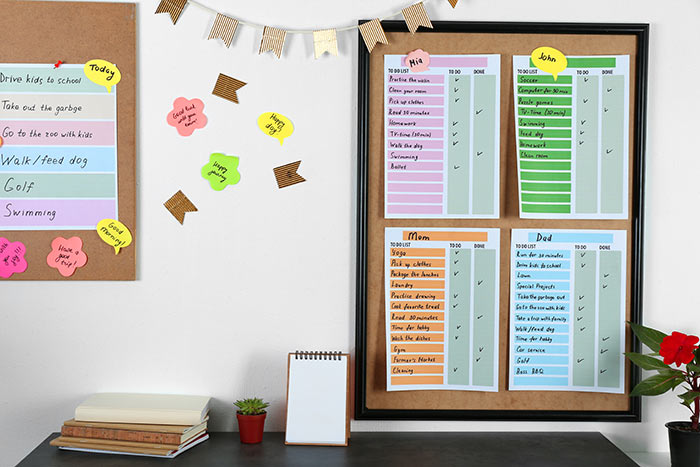 Bobby needs poster board for his science project on Thursday, Susie has basketball practice Tuesday night and you're scheduled to get coffee with Jen in the morning. Not only will your command center help you manage who needs to be where and when, but with the right pieces, you'll also remember to buy the science fair supplies ahead of time, turn in the sports waiver, and you'll be able to find your keys to get to your java date. When everything has its own place, and it's all in one place, mornings will run smoother and evenings can be dedicated to family time, not panic time.
What to include
Dry-erase board or chalkboard: Perfect for jotting down shopping list items, messages for family members and to-do lists.


Post-its: In case you need to leave a message that's a little more permanent or take it with you. Also ideal for writing encouraging notes to hide in their lunchbox.


Writing tools: Pens and pencils, Sharpies, dry-erase markers, chalk to take those all-important notes.


Corkboard or magnet board: For pinning important messages where you'll see them or hanging your kids' artwork for everyone to enjoy.


Calendar: A dry-erase or reusable monthly calendar à la

Bless'er House

for easy schedule updates or this DIY calendar from

Babble

that also adds some color.


Clock: To stick to your tight schedule mapped out in the command center.


Hanging folder system: Permission slips, mail, receipts and coupons stay contained. One slot per child helps them know where their things are.


Hooks: For anything and everything – purses, backpacks, coats, dog leashes, keys – so they don't get buried under other items, never to be seen again.


Cubbies or baskets: Great for storing backpacks out of sight, sliding shoes out of the flow of traffic, or hiding any other items you need on hand but don't want to stare at.


Bench: Ideal for entryway command centers so everyone can remove shoes before they track mud through the house.

Where to build it
Entryway: Everything you need to get out the door is conveniently by the door.
Kitchen: You congregate here every day and can keep some of those items stored in a cabinet.
Closet: Because keeping everything contained is the name of the game.
Nook: Turn that awkward space into something useful for once.
Gallery wall: Everyone can see it, so there are no excuses for forgetting a chore.
Organizational hacks for a smooth and simple schoolyear
If you're like most parents of busy kids, you're also part shuttle bus driver. Keep your car organized with over-the-seat pockets or bins. We can't guarantee it will keep the Cheerios out of the seat crannies, but at least the kids will know where to find the snacks and travel games.


Especially before the start of the schoolyear, and even throughout, purge clothes and craft supplies. You'll clear out unnecessary clutter and have a better idea of what you need to buy for the first day.


Making healthy meals can be tough when you're busy.

Good Housekeeping

suggests a lunchbox cupboard and storing sandwich fixings together for easy meal prep.


Designate or

build a homework station

. It'll help keep your kids focused and all their supplies will be contained in one convenient location without taking over the dinner table.


If you need your little one to stick to a routine but they can't read yet, create an illustrated schedule. Pictures of a toothbrush, apple and moon can help them learn when to get ready for the day, have lunch and go to bed. Place the pictures on a clock where the numbers would be.


Find more stylish and convenient solutions from Schlage on Pinterest and Instagram.