3 times of year to save money on items for the home.
By emily.bailey
Whether you're on a tight budget or just love the thrill of a deal hunt, follow these simple rules for saving money on items for your home.
Your fridge works fine, but you've had your eye on a newer, more energy efficient model for a while. Should you get it now or wait to see if the prices drop? This guide can help answer that question. Whether you're on a tight budget or just love the thrill of a deal hunt, follow these simple rules for saving money on items for your home.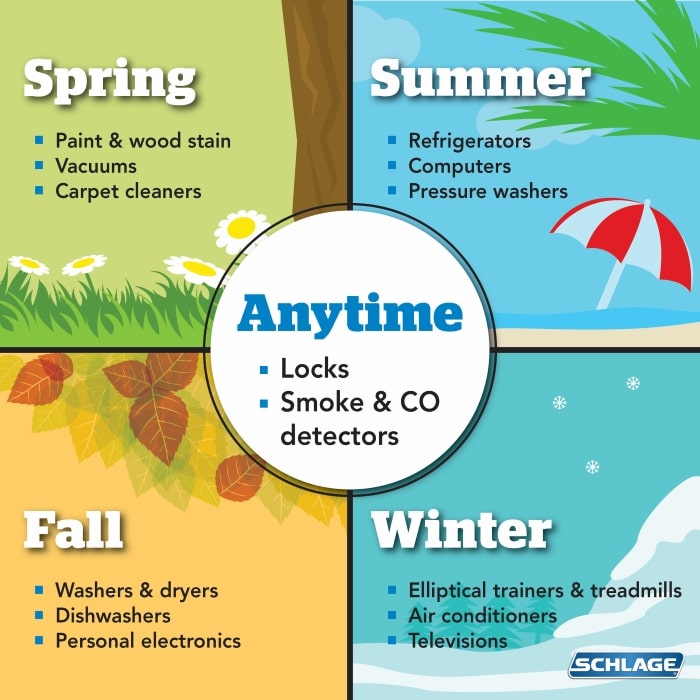 Buy big at inventory rollover
When manufacturers come out with a new model, stores need to reduce their inventory from the previous year. To get a great deal on appliances, especially large ones like dishwashers, washers and dryers, and refrigerators, pay attention to when new stock comes out. For most appliances, that means September or October. New refrigerators hit the stores in summer, so look for deals on the previous year's models in August.
Purchase out of season
The best time to buy clothes when you're looking to save money is when you don't actually need them. For winter clothes, for example, shop in the spring or even as early as February when stores are preparing to swap out their inventory with the changing seasons.
This general rule extends beyond clothing, though. Air conditioners may be cheapest in the winter, from October until about February. Save on snowblowers and outdoor furniture in October when, again, you're less likely to need them immediately. Picnic supplies can be picked up on the cheap after the Fourth of July, while wrapping paper and other holiday items go on sale post-Christmas. Need a box of chocolates? Plan your purchase for between Valentine's Day and Easter.
Strike a holiday deal
Some festive seasons are prime shopping time. Don't just think Black Friday, though, when personal electronics come with some sweet deals. Labor Day tends to be a good day for items like mattresses and laptops. Memorial Day usually offers good sales on outdoor power equipment and other DIY goods like paint and wood stain.
July Fourth (outdoor gear, swimwear) and Presidents' Day (appliances, furniture) are also worth keeping an eye on. While technically not a holiday, the Super Bowl offers deals on televisions and entertainment systems, especially the day after the Big Game.
Remember there are always exceptions
Of course, there are always exceptions to any rule. Sometimes what you need most is on sale exactly when you need it. April is a great time for vacuum cleaners and carpet cleaners, when you have spring cleaning on the brain. You can often find good deals on lawn mowers and pressure washers right before people head outside to spruce up the yard for springtime. In the winter, expect to find good deals on elliptical trainers and treadmills in January when New Year's resolutions are at a high.
There are also some items that, if you can find a good deal, you should absolutely take advantage of it. But don't hold off on important goods, like those that keep you and your family secure, just to save a few dollars. Durable locks, smoke and carbon monoxide detectors, and other safety devices should be purchased and replaced, preferably before you really need them. When you do buy these items, make sure you choose those with superior quality. A deadbolt that protects your home is not an area you want to scrimp on.
Find a month-by-month breakdown on the best time of year to buy items for your home at Schlage.com/blog. You can also find a thorough list with items ranging from coffee makers to sound bars to chainsaws at Consumer Reports.