Toddler door locks to keep your little ones safe.
By emily.bailey
Here's what you need to know to choose the right toddler door lock and best practices to keep your little ones as safe as possible.
You need your home to change with your lifestyle, and nothing changes as quickly as your kids. Wouldn't it be nice if there were a few shortcuts you could take to keep everyone safe and stress-free?
Here's a tip that will help no matter what stage your family is at: Try Schlage Custom™ Door Hardware. Its combined interior functionality makes it an ideal lock for curious toddlers, busy adults and everyone in between.
Those of us who have toddlers know that you have to be flexible. Naptime doesn't always go as planned. Healthy veggies don't always get eaten. Sometimes your hair doesn't get washed. You can worry about it or you can roll with the punches. But sometimes you can plan ahead to avoid the stress altogether. Schlage Custom Door Hardware is one of those times.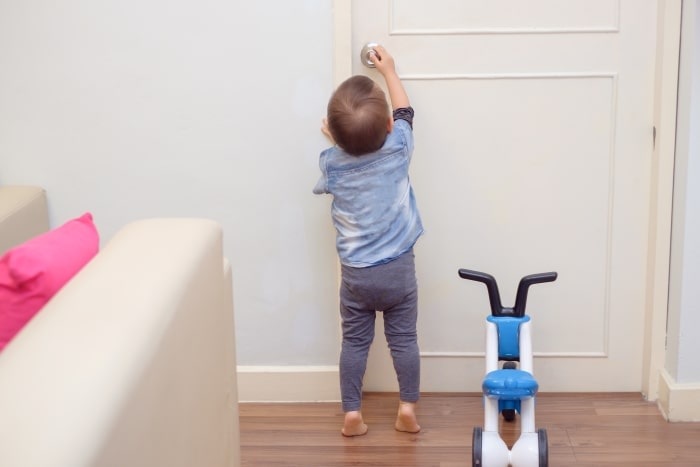 How do I prevent my toddler from locking doors?
With their innovative chassis – that's the interior component of a lock – Schlage Custom knobs and levers let you switch between locking and non-locking functions without replacing the entire lock. That gives you the flexibility you need for your curious little one without extra effort on your part.
Picture this. Your toddler has a tendency to shut themselves in a room. Maybe they think they're being funny. Maybe they're protesting carrots. Jokes aside, this can be dangerous. You might not even realize they've locked themselves in a room, making it extra risky in the event of a fire or other emergency. When your Schlage Custom Door Hardware is set to the non-locking function, Tiny Tim can't lock himself in. You can easily and safely retrieve him.
Now flash forward 10 or 15 years. Tim isn't so tiny anymore and everyone would like a bit more privacy. Simply switch your hardware to the locking function by installing the privacy pin. This is a convenient and affordable option for any room but especially bathrooms, bedrooms and even home offices. Switching back to the non-locking function if you change your mind or your lifestyle changes is simple, too.
What happens if I need to unlock the door from the outside?
Whether it's because of a sneaky toddler or just a simple mistake, you can still gain entry to a room locked from the inside using the emergency unlock tool. No more removing door knobs or trying to cajole your tike into letting you in. Each Schlage Custom Door Hardware package comes with one, and our FAQ and video show you how it works.
How can I keep my toddler safe in their room?
Having the right locks for toddlers is just one part of keeping them safe. You might also opt for a knob instead of a lever. The same thing that makes levers so appealing for some, particularly those with arthritic hands, can make them frustrating for parents of mini escape artists. A door knob may be just difficult enough for your toddler to operate, keeping them from sneaking out a back door or down to the basement.
The type of door you choose can also add a layer of security. Dutch doors were originally designed to keep livestock out of the house while still being able to open the home to fresh breezes. In the same way, a Dutch door can keep your little one in an area while still allowing you to keep an eye on them from the next room over. Although it's not traditional, you can install a Dutch door on a playroom, bedroom or other interior space for perfect convenience and safety.
Other ideas include motion sensors or video monitors that can send notifications to your phone when they detect something out of the ordinary. Some of these products are designed with baby monitoring in mind, but you could use any number of connected devices for an extra dose of peace of mind. Then, when you no longer need the camera to keep an eye on your kiddo, you can repurpose it for another location such as in the mailbox.
Learn more about Schlage Custom Door Hardware and find a retailer at Schlage.com. You can also find step-by-step instructions for how to install Schlage Custom Door Hardware on our blog.