What's the best back patio door for your home?
By emily.bailey
Use this guide to choosing patio doors to get the security, style and convenience you need.
One of the best ways to get the most out of your indoor/outdoor living space or backyard getaway is by installing the right patio doors. What's "right" is entirely up to your unique sense of style, what works best with your home's layout and how you want to use your outdoor space. Use this guide to choosing patio doors to get the security, style and convenience you need.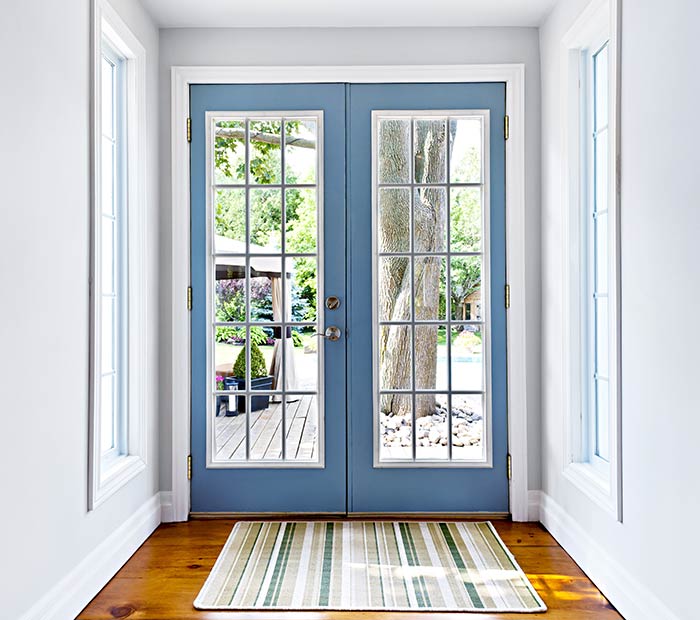 What to ask before replacing a back patio door
Like any remodeling project, it's best to think through your priorities before choosing a new back door for your patio. Here are a few things to consider so you get exactly what you want.
Security
Just because it's not facing the street doesn't mean you should ignore security when it comes to back doors. Potential intruders will typically look for the easiest point of access, no matter its location. If security is a high priority, pay special attention to the door's material. Metal doors are usually the most durable, especially compared to glass.
Sightlines
Despite some people's security concerns, glass is one of the most popular materials for back doors because of the view it offers. If you have a pool, a beautiful garden or simply want to let in extra light, glass doors are the way to go. Remember that you can always add window treatments – blinds, curtains, glass etching – if you want both light and privacy.
Swing
This is an important one if you want to be able to actually open your door. If you don't have much space inside or furniture gets in the way, consider sliding doors or those that open outward, also referred to as outswing doors. Kravelv Home Improvement Tips has more details on inswing vs. outswing patio doors.
Entertaining
Certain types of doors lend themselves to creating a welcoming environment for guests than do others. And even if you're just entertaining the kids, think about what kind of doors work best for that lifestyle. Will you get frustrated trying to balance cookout supplies while trying to unlock and open the door? Will the kids remember to lock the door on their way in and out to play?
Doggy door
If you're not big on escorting Fido out on chilly mornings and want a doggy door, consider the types of human doors that best allow for this. For example, glass doors are especially difficult to adapt for a pet flap. Another consideration is what kind of damage they might do to the screen.
Screens
Speaking of screens, if you live in a particularly buggy area or if you're a mosquito's favorite treat, remember to factor in screen doors and whether they'll work in conjunction with your main door.
Best types of doors for back patios
Now that you know how your back door should work to make life easier, let's look at your options. Below are five common types of patio doors and some of their pros and cons.
Sliding doors
They might be the most common types of doors for back patios and for good reason. They check a lot of the boxes we mentioned above. You get great sightlines so you can always see what's happening in the yard, they don't take up much space and you can easily have a screen door to let in the breeze and keep out the bugs. They generally are secure on their own, but you might be more comfortable taking some extra steps like installing a blocking bar – a rod inserted in the bottom track – and shatterproof film. If you want something more distinctive looking, though, one of the other options below could be for you.
French doors
Particularly if you have a more traditional home with classic architectural features, French doors could be your ticket. The main appeal, in addition to their style, is the amount of light they let in. It's why they were invented in the first place. You'll need a wider entryway to accommodate the dual doors and you'll want to make sure you have room for them to swing. The good news on that front is that you can find French doors that are inswing or outswing. One more consideration for French doors is if you want them both to open or have one purely for decorative purposes. Not only will this affect the function of the door, obviously, but it also impacts your hardware. Use this guide to choosing door hardware for French doors.
Dutch doors
Originally created so people could open their homes to the breeze but keep farm animals out, Dutch doors are growing in popularity again. Like French doors, you'll need special locks for Dutch doors, but that's an easy adjustment to make. Dutch doors are a good solution if your entryway is standard width, as opposed to doublewide for a French door, and if you aren't concerned about bugs. Screens won't really be an option here. Also, while you might not need to control your cows' access to the home, Dutch doors are helpful for keeping indoor pets and children in. If you like this style, start with these DIY Dutch door ideas.
Folding doors
Think of these as accordion-style doors. This higher end option is ideal if you want to feel like you're outside all the time. You often see them on long verandas where you get wide-open sightlines. And if you love to entertain, being able to fold them back and open invites guests to make their way outside and stay awhile. These doors tend be glass, so you'll want to pay special attention to how to secure a door with windows. They also tend to be on the pricier side, but the investment could be worth the look.
Standard door
Of course, there's always a standard, tried-and-true door like you'd find anywhere else on your home. What you would use for your front door will work equally well in the back. And while it might not seem particularly exciting, it does have its pros. Choosing door hardware and deadbolts is pretty straightforward. A traditional mechanical deadbolt will help keep your home safe, as will a Schlage smart lock, which also fits all standard pre-drilled doors, making installation a snap. And of course, you get all the same convenience and remote capabilities you would with a smart lock for your front door. Typical materials include aluminum or steel, wood and fiberglass, all of which can be painted. To us, that means an opportunity to experiment with bold colors you might be hesitant to try on a front entryway. Don't confuse a standard door with boring.