How to understand lever and door handing.
By emily.bailey
Wednesday, April 28, 2021
Here's what you need to know to choose the correct handing for your new Schlage door handle and lever.
Have you ever purchased a new handleset or lever, only to find that the lever is upside down after installation? You likely purchased the wrong handing. In most cases, this is easy to fix. The best plan, however, is to choose the correct handing from the start. Here's how.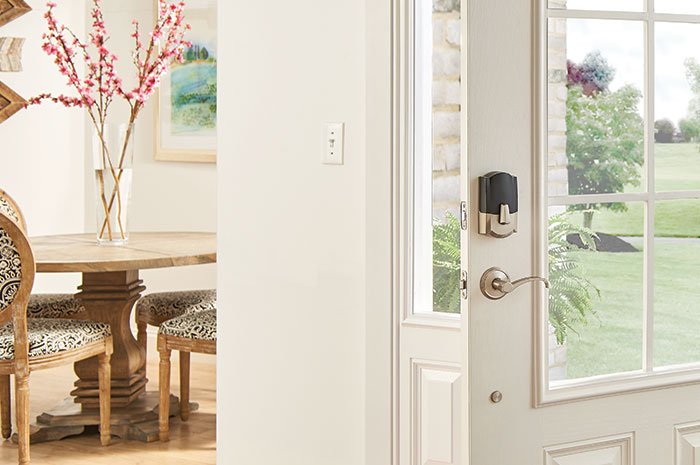 What is door handing?
Handing, when we're talking about locks and levers, refers to the direction the end of the lever points when installed on the door. For example, if you're standing on the outside of your door and the hinges are on the left, the lever will also be pointing left. It's a left handed lever. Try thinking of it this way. If the hinges are on the left but the lever points right, it will knock into the door frame. Obviously, that's not good.
It's important to note that determining handing when choosing door hardware is a bit different than how you determine handing for carpentry (ordering and hanging doors). Also, it is not related to whether you personally are right- or left-handed.
Are all levers right or left handed?
The short answer is no. Handing is only a concern when choosing non-turning levers that feature a curve and handlesets that include a curved interior lever. The Accent lever, for example, requires you to choose the appropriate right or left handed hardware. When shopping for Schlage door hardware, we note a product's handing by including LH (left hand) or RH (right hand) in the model number.
Interior Privacy and Passage levers, as well as keyed levers, include a pin tool that allow you to flip the lever in either direction. Similarly, straight levers, like the Latitude lever, have universal handing. In these instances, you do not need to choose right or left hand hardware specifically.
How do I determine door handing?
To figure out which handing you need for a handleset with interior lever or non-turning levers, stand outside the door. From this position, the door will open away from you. Now notice where the hinges are. If they're on the left, you will need a left hand lever. If the hinges are the on the right, you will need a right hand lever.
Ready for an insider tip? If you have a door that requires two non-turning levers, you will need one right hand and one left hand lever. This may be the case with French doors, for example.
Handing for your front door handles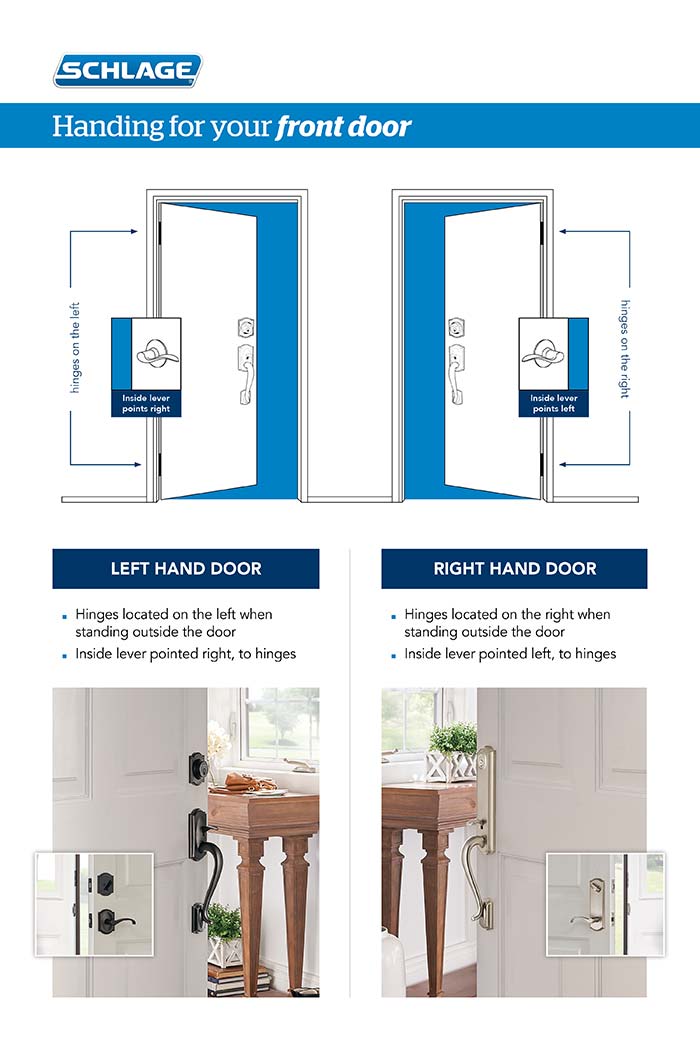 Handing for your non-turning levers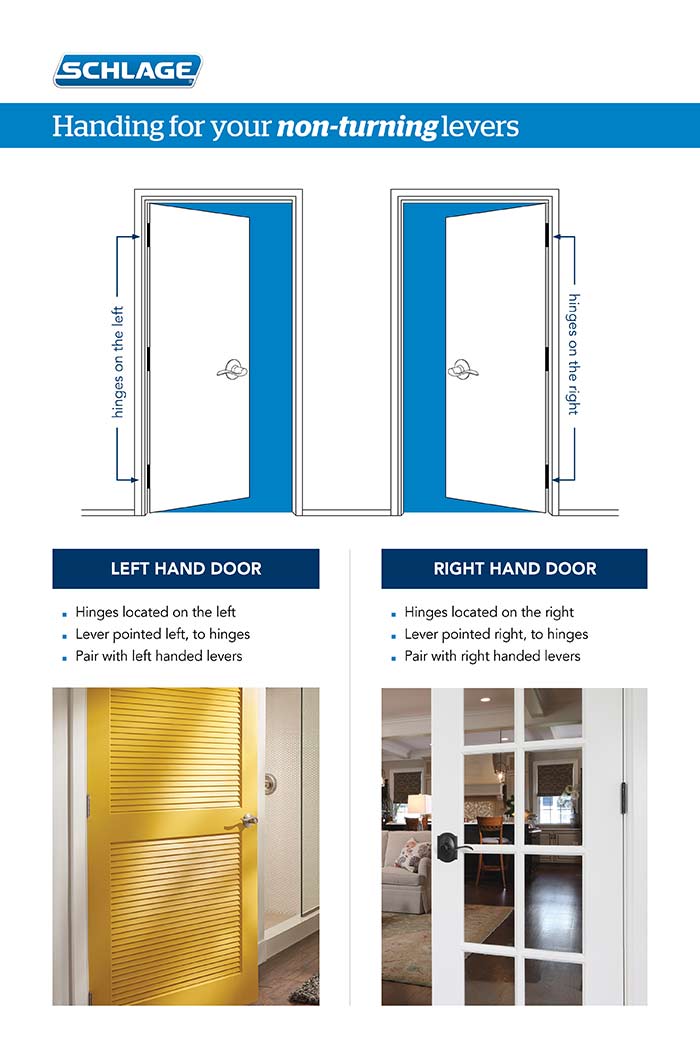 Handing for your French door levers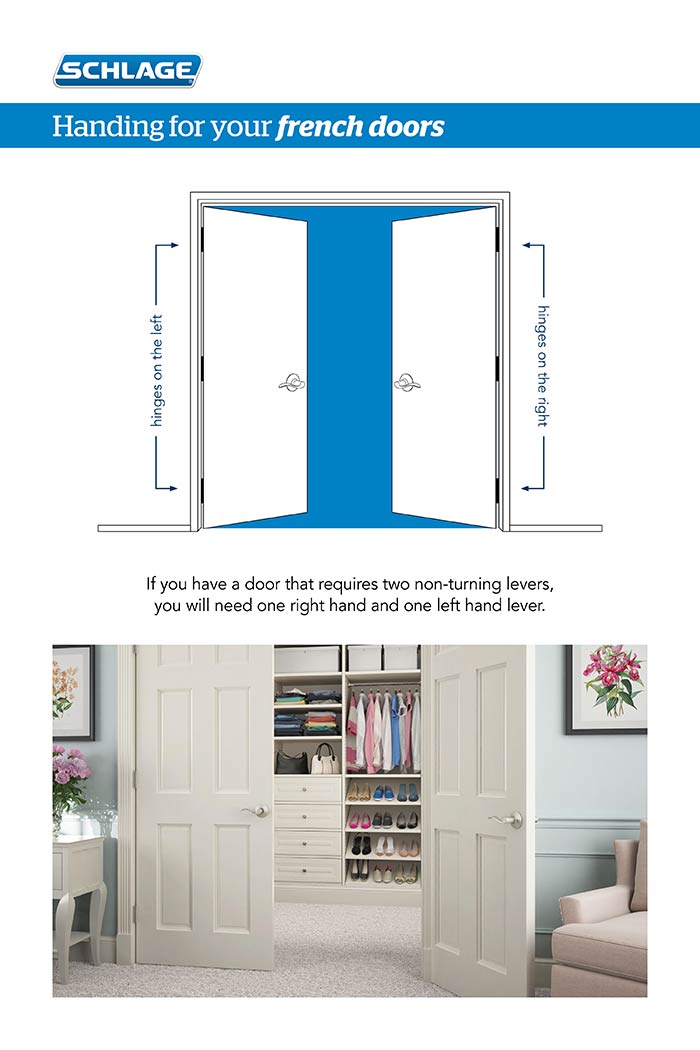 How do I change the handing of my door levers?
If you've already purchased and installed your lever but the curve of the handle doesn't look right, you may have accidentally reversed the handing. Schlage Hall & Closet (Passage), Bed & Bath (Privacy) and keyed levers can be flipped using the pin tool. The following videos show step-by-step instructions for removing and swapping levers and cylinders so your hardware is pointing the correct way.
It might also be worth noting here that some people like the look of their lever "upside down." If that's you, trust that your interior lever will still work correctly.
Non-turning levers and those paired with your front door handleset that curve the wrong way may require you to purchase a replacement with different handing. Contact the retailer where you purchased the door hardware for more information on returns and trade-ins, if necessary. It may help to take a picture of your door with you to show to the sales associate if you need additional assistance.
Find more helpful hints and tutorials in the Schlage How-To Center.