Your inside guide to choosing locks for doors.
By emily.bailey
Wednesday, March 20, 2019
Our locks should work how you want them to, no matter what door you put them on. Here's how to get the right locks for doors of any kind.
At Schlage, we believe that our knobs, levers and entryway deadbolts are not only among the most stylish, but also strong. We also believe that, above all, our locks should work how you want them to, no matter what door you put them on. They should make your life more convenient and give you peace of mind that you and your home will be secure. Here's how to get the right locks for doors of any kind.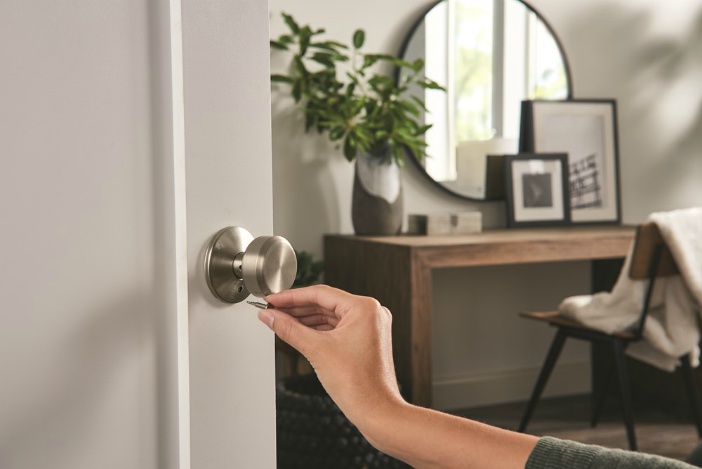 Bedroom, bathroom and office doors
When you think of the oasis spaces in your home – bedrooms and bathrooms, where you don't want to be disturbed – you likely want some extra control over who can enter. For these types of rooms, you want a knob or lever with the Bedroom & Bathroom, also known as privacy, function. Install Bed & Bath locks in a master suite as well as in guest bedrooms and powder rooms.
Interior privacy locks are also ideal for home offices so you can keep interruptions at bay while you're in work mode.
Pantry and closet doors
You want your door to latch, but you don't need to protect your cereal? Then you want a passage lock, also known as Hall & Closet. For particularly small pantries and closets that aren't walk-ins, you might want a knob or lever on the inside that is non-turning. Door hardware on the exterior side of your door grants access without an unnecessary locking function and lets you maintain your home's style.
One of the great features of Schlage Custom™ Door Hardware is 2-in-1 functionality. By inserting the privacy pushpin, you can easily switch between the bedroom/bathroom and the hall/closet functions. Why is this important? Anyone with a sticky-fingered toddler or an increasingly independent teen knows that sometimes you need to update your home as your family changes. It can also be helpful if the purpose of the room itself changes, such as converting from a media room to a nursery.
Pocket doors
Pocket doors are great for opening up room – think seamless and versatile transitions between formal dining and living rooms – or when you're tight on space like with a tiny half-bath. These types of rooms need different locks. If you're looking for additional privacy, like in that small bathroom, look for a pocket door lock. If locking isn't a concern, look for a pocket door pull, essentially a simple grip for opening and closing the door. They come in a variety of styles and finishes to complement the look of your room and to fit flush to the door.
French doors
French doors are an elegant option for both interior and exterior entryways. For interior French doors, you may need two types of locks – a different one for each door. If you aren't sure if you'll need two non-turning knobs or levers, or if you need one privacy lock and one non-turning, use our guide for how to choose locks for French doors.
For exterior French doors, you'll need the same cross and latch bore holes as interior doors as well as an additional bore hole to house a deadbolt for extra security. Choose between a single cylinder or double cylinder deadbolt based on your desired level of security.
Remember that French doors are actually two doors. You'll need four knobs or levers to outfit your entire entryway, although you might choose for some of them to be non-turning, also called dummy or inactive.
Front, back and garage doors
For exterior doors, start by deciding between mechanical or smart locks. A smart lock like our new Schlage Encode™ Smart WiFi Deadbolt with built-in WiFi gives you remote access from anywhere, no hub required. You can simply use a smartphone app to lock or unlock your door, create and manage up to 100 unique guest access codes, and even pair your deadbolt with home automation systems or hands-free devices for voice control. That's added convenience and security all in the palm of your hand.
Don't forget about the door from your garage to your house. This is a great place to add any of our smart locks or a Schlage connected keypad.
If traditional mechanical door hardware is more your taste, a handleset combines both a deadbolt and your choice of a knob or lever. It's the perfect combination of security, style and simplicity as handlesets come in several designs and finishes. Schlage locks are also designed to fit all standard doors, so installation is easy. Even installing a smart lock is simple since there is no hardwiring required and no need to call an electrician or handyman.
Dutch doors
Not all entryways are created equal, so if you have an exterior Dutch door, there are a few more things to keep in mind. First of all, you'll need four hinges – two for the top half and two for the bottom half of your split door. The knob/lever and lock should be installed on the bottom half. If you want even more security, especially for exterior doors, a deadbolt can be added to the top. Finally, you'll want a latch to connect the top and bottom halves of the door to each other. This might sound like a lot, but installation is easier than it sounds, and a DIY Dutch door can be quite economical, giving you a big style bang for not much buck.
There is no one-size-fits-all home, so why would you expect one type of lock to work on every type of door? Visit the Product Selector tool on Schlage.com for help finding the perfect lock for your doors or follow us on Pinterest and Instagram to find the door hardware that seamlessly complements your home and lifestyle.