9 smart lock myths you should ignore.
By emily.bailey
There's no denying that the right smart lock can make your day-to-day much more convenient. But do you still have concerns keeping you from taking the plunge and embracing a keyless lifestyle?
There's no denying that the right smart lock can make your day-to-day much more convenient. Having the freedom to come and go without worrying about getting locked out is a major relief for many families, and ditching the fear that someone may lose or steal a spare key cannot be replaced. But do you still have concerns keeping you from taking the plunge and embracing a
keyless lifestyle
? Here are nine common smart lock myths you can ignore.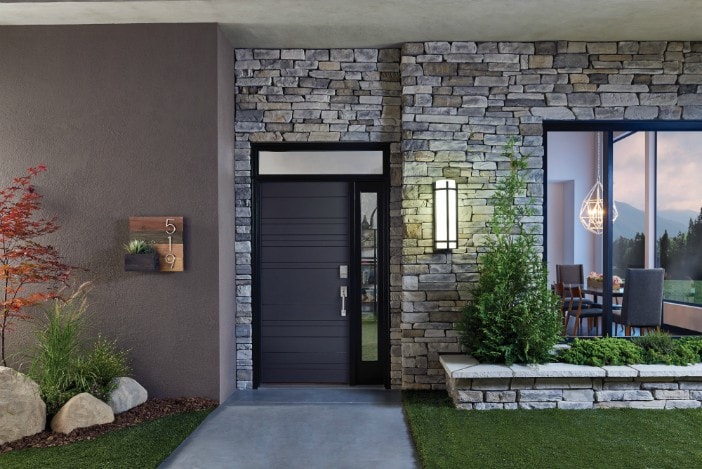 "Smart locks are too technical."
When it comes to new technology, many homeowners simply leave it to the early adopters to figure it out and avoid installing something new for fear of it being too technical. At Schlage, we've worked hard to simplify every stage of the smart lock experience. With the aid of the installation guide or our easy step-by-step video tutorials, you can install your lock in just a few minutes and the only tool you'll need is a screwdriver. It's also never been easier to set up your Schlage lock with other home automation devices and build a true smart home.
"The lock will fail when the power goes out."
All Schlage's smart locks run on battery power. That means when the lights go out, your lock will continue to function as normal. Each of our keypads and touchscreens features back-lit numbers so you'll never be left fumbling in the dark to unlock your door.
If the power does go out and your lock loses its connection to your home network, you won't be able to access your lock remotely. However, you can still lock and unlock your door at the keypad. There's no need to give up peace of mind just because the power is down.
"The lock must be wired"
Because our locks are powered by batteries, there's no wiring involved. Simply snap the lock in place while following the installation instructions and install the batteries. You'll be up and running in no time. Each lock is also equipped with a low battery warning and backup entry method in the unlikely event that your batteries do fail. We recommend changing your batteries regularly as a best practice. For more information on which battery is best for your smart lock, check out this resource.
"A new smart lock won't work with my technology."
Schlage offers a variety of smart locks, each working with a different kind of network – WiFi, Bluetooth, Z-Wave Plus and Zigbee. They're also each compatible with a variety of smart home partners, including Apple HomeKit, Google Home, Samsung SmartThings and others. If you're looking to connect to voice-control assistants or link to your Amazon account, we can do that, too. Use our Get Help Deciding tool to learn more about which Schlage smart lock works with the technology you already have in your home.
"Smart locks are a bulky eye-sore."
There's no reason to sacrifice great style for greater security and convenience. Our smart locks are available in the industry's most stylish finishes and trims. They feature a slim profile and tasteful design that creates a stylish look that effortlessly pairs well with our interior door hardware offerings.
"The numbers will wear down and someone can guess my code."
Each of Schlage's smart locks feature a fingerprint-resistant touchscreen that works in the rain and when you're wearing gloves. The numbers are guaranteed not to wear down or fade, so you can rest easy that potential intruders will not know your unique access code.
"Mechanical locks are more secure."
An important step any time you choose a new deadbolt to secure your home - whether mechanical or electronic - is to research the security grade of that deadbolt. A security rating of AAA is- the highest on the market, meaning top marks in Security, Durability and Finish. Schlage's smart locks - the Schlage Encode™ Smart WiFi Deadbolt, Schlage Sense™ Smart Deadbolt and Schlage Connect™ Smart Deadbolt with alarm - have AAA ratings so you know you've purchased the most secure lock on the market.
"A key is more reliable."
How many times have you lost your house key? Or walked out the door without it, swinging a locked door closed only to realize you cannot get back inside? With electronic locks, you no longer have to worry about that. Coming and going is easy when you're not weighed down by keys. But if you like to have that backup key - just in case - each of our smart locks provide that option for additional peace of mind.
"It's too early to invest in a smart lock."
If security weren't a concern of yours, you wouldn't be considering a smart lock. Schlage takes protecting you and your home seriously. The same commitment to quality and safety that we've put into mechanical locks for more than 95 years also goes into every smart lock we produce today. When you choose to trust Schlage, you get a limited lifetime mechanical warranty and a three-year electronics warranty, so you know we stand behind our smart locks.
Learn more about each of our smart locks at
Schlage.com
and start building the smart home of your dreams.