11 mood-boosting DIY art projects for you and your home.
By emily.bailey
Why not do something that boosts your mood as well as helps you decorate your home in a way that is uniquely you?
Creativity: good for your home, good for your budget, good for your brain. A recent study found that 82 percent of people felt better after taking part in some kind of art. Why not do something that boosts your mood as well as helps you decorate your home in a way that is uniquely you? Don't worry if you think you lack creativity or artistic skill. Here are some ideas to get you started, including some that require zero experience or know-how.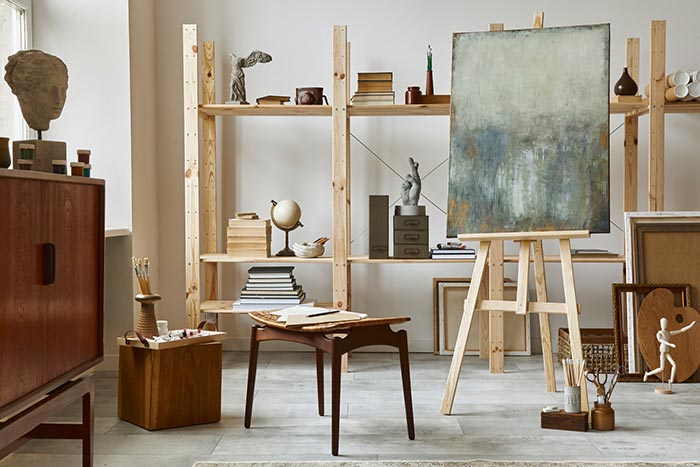 1. Paint by number
Bob Ross was great, but my happy little trees always looked … kind of sad. Paint by number kits are on the rise. With high demand comes a greater selection of scenery, animal prints and more. When you don't have to worry about getting it "perfect," you might find the whole process even more therapeutic, too.
2. Paint with your dog
You might have seen this on TikTok already, but it never gets old. Grab a blank canvas. A sheet of paper secured to something sturdy like a piece of cardboard works, too. Put dabs of paint all over the canvas. Choose your favorite colors, but don't worry about being neat. We're going for abstract art. Slide the paint-dabbed canvas in a zipper-top or other plastic bag that can be secured, then smear peanut butter on the outside. As your dog goes at the treat, it'll smoosh the paint around for a pawsome one-of-a-kind painting you won't be able to resist showing off.
3. Frame your favorite collectibles
A shadow box-style frame is the perfect way to display items that are too thick for a traditional frame and too small to stand alone. We especially like this for grouping themed items like Baby's tiny socks, a picture of your little one and birth announcement all in one neat spot. You could also do wine corks, photos of you and your friends and other souvenirs from your wine tour getaway.
4. Create an unusual gallery wall
Here's a chance to shake up the traditional gallery wall with photos. Instead of photographs, try baskets, plates or mirrors. If you have a collection of frames, create an eclectic look with hand-drawn art in some, an object in another or decorative frames with nothing in them. Choose items of different colors, sizes and textures of frames. They don't have to match. And depending on the items and frames you choose, you could make this look vintage, ultra-modern or somewhere in between.
5. Take up photography
You don't need fancy cameras and a collection of expensive lenses. Grab whatever you have, cellphone included, and start snapping. It could be pictures of family and friends, nature and animals, your favorite places around town, gorgeous scenery, whatever catches your eye. Print them out or add them to a digital photo frame to display in your home.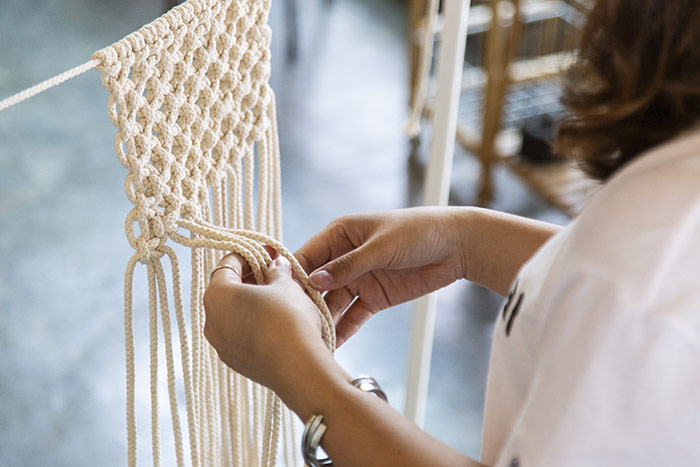 8. Sew for it
You might enjoy breaking out the old sewing machine and making something new for your home. This could be updated curtains or pillow covers, for example. Sewing can be a handy life skill, so you might want to choose a simple project to share with the kids and teach them as you go.
9. Make people think you can sew
No sewing machine or experience? No problem. Many of those curtains, pillow cases and bed skirt projects you see online can also be made without a needle. These no-sew projects typically call for fabric glue, adhesive tape or simply pinning or knotting the fabric.
10. Embroider something
Like paint by number and macramé, cross stitch is back! What we love about this is that it's so simple to find embroidery kits online, complete with the fabric, yarn or floss, and needles all in one package. Some don't even require you to be able to read a pattern; just follow the lines on the fabric. What you embroider is up to you, florals and covered bridges if you love the granny chic look, baby animals for a nursery or a sassy quote to surprise your friends.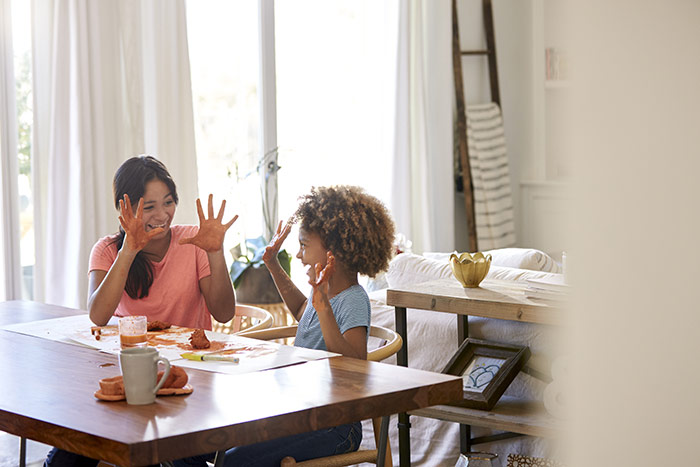 11. Throw some pottery
At its most basic level, you don't need a kiln or a bunch of clay to make your own pottery. Try air-dry clay or clay you can bake in your kitchen's oven. There are also tons of DIY cement projects, like these planters from Skill Share. The clay and cement sometimes come in different colors, but if not, you can always paint. Or get your kids to paint for you.
In addition to the mental health benefits of simply being creative, many DIY projects provide a boost through a sense of accomplishment for a job well done. These 11 ideas are just that – ideas. We could just as easily have suggesting floral arranging or rock painting or popsicle-stick log-cabin building. The point is to find something you enjoy and maybe learn a new skill in the process.
If you're looking for more DIY projects and how-to guides, find us on Pinterest or visit the Schlage blog.