Home improvement projects to complete in April.
By emily.bailey
Take advantage of the revitalizing season and tackle these projects for a safer, cleaner, happier home.
The birds are singing, the grass is finally looking greener and you can feel new life blooming around you every day. Spring is here. Take advantage of the revitalizing season and tackle these projects for a safer, cleaner, happier home. And don't forget to download our
April home improvement checklist
.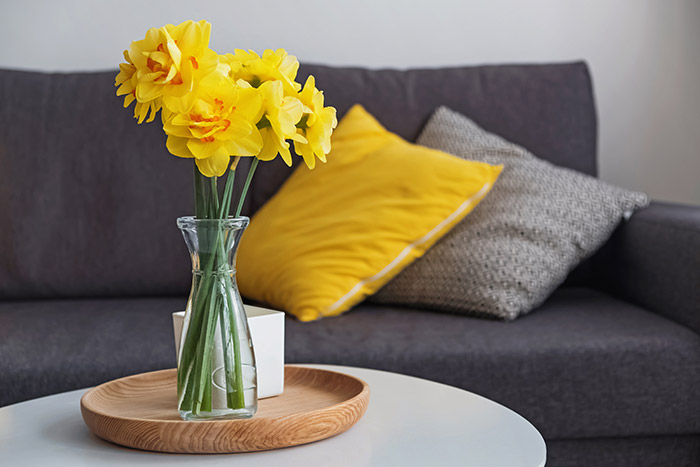 Indoor home checklist
It's spring cleaning time! Tackle these interior DIY and home improvement projects today.

Check safety devices and replace batteries.
This includes smoke and carbon monoxide detectors as well as fire extinguishers, radon detectors and smart locks. Make sure they're still working and install new ones as necessary.

Declutter.
Like we said, it's spring cleaning time. Work room by room, closet by closet or whatever strategy helps you stay focused. Trash anything that's broken, donate items that are still in good shape but go unused in your house and properly store or display what you decide to keep. Don't be pressured into thinking you have to finish your whole home in one weekend. Make a schedule you can stick to until you complete the job.

Clean the basement.
If your basement becomes the repository for all the stuff that doesn't have anywhere else to go, it's time to spring clean and purge. You might add storage that keeps the dampness and dirt away from belongings, particularly if your basement is unfinished or prone to flooding.

Inspect screens.
If you left window and door screens up throughout the winter, they might have taken a beating by the weather. Check them for tears. Replace or repair as needed before spring bugs sneak in. April is usually a good time to buy replacement windows, too, so this might be the perfect time for an upgrade.

Clean trash bins.
Whether in your garage or the kitchen, a smelly trash can is just gross. Thoroughly wash the bins with a combination of distilled vinegar, dishwashing soap and warm water. Use a scrub brush, ideally one with an extendable handle so you don't have to dive in, to loosen up all the gunk, then rinse or hose it out. Do the same with recycling bins.

Clean the garage.
Store any winter gear you no longer need and take inventory of your warm-weather items. When it comes time to garden or take on outdoor DIY projects, you want to be able to find the right tool easily. Include maintenance in your inventory, too. Remove rust from tools, install new lighting above your workbench and add safe storage for oil and other toxic materials.

Make a pet first aid kit.
April is National Pet First Aid Awareness Month. Learn the best techniques for taking care of your pet in an emergency and make them their own first aid kit. Ask your vet for suggestions and advice on what to include.
Outdoor home checklist
It's time to get outside and enjoy what Mother Nature has to offer.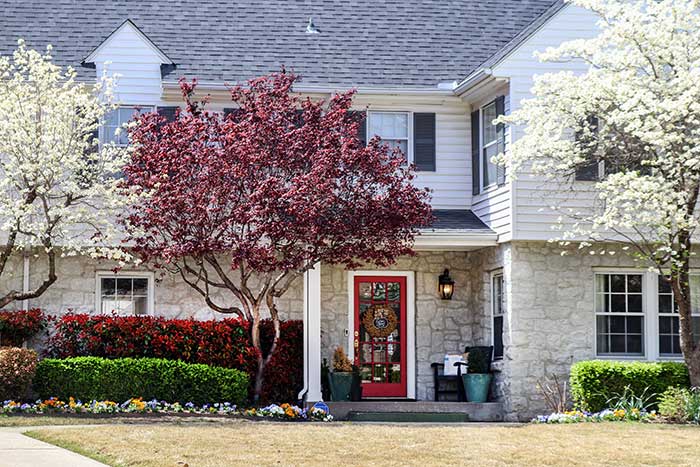 Secure railings, stairs and walkways
This is a task we recommend several times a year since it's so important to safety. Now that winter is over, double-check that everything is still structurally sound. You might find new cracks in the sidewalk or nails that have worked their way loose when wood warped. Make the necessary repairs not only to avoid fall hazards, but also to boost your curb appeal.

Test the irrigation system.
Make sure frozen ground didn't harm your sprinkler system. If you plan to change your landscaping, also decide if your current setup will still be effective at keeping your lawn and plants healthy. If you don't already have your irrigation system on a timer or synced with your smart home system, consider those options now. They can often help you conserve water, keep plants healthier and add convenience to your daily life.

Play with perennials.
Now is the time to plant new perennials and divide old ones. Depending on where you live, you might also plant some annuals. If nighttime temperatures still get pretty low in your area, though, start with potted flowers and hold off transplanting them into beds. Regardless of your zone, however, everyone can start or turn over their compost heap.

Refresh spring curb appeal.
Think beyond plants and give your mailbox and front porch a facelift. Try hanging a beautiful spring wreath, upgrade porch lighting or replace your mailbox with something that matches your style.

Clean gutters and downspouts.
Clean and repair your gutters and downspouts to avoid water damage to your home during these April showers. Make sure water is directed away from your home and its foundation to avoid leaks, mold and soil runoff.

Power wash siding.
A good scrub will bring new life to your home's exterior. It's a great alternative if painting isn't in the budget. And if you are going to paint, you'll want the surfaces to be spotless first anyway.

Control mosquitoes, termites and other pests.
Mosquitoes like standing water, so address any drainage issues you have in your yard now. Also inspect your property for termites, burrowing critters and other pests than can wreak havoc on your woodwork and garden.
For the future
There's so much to look forward to in the upcoming months. Will you be ready?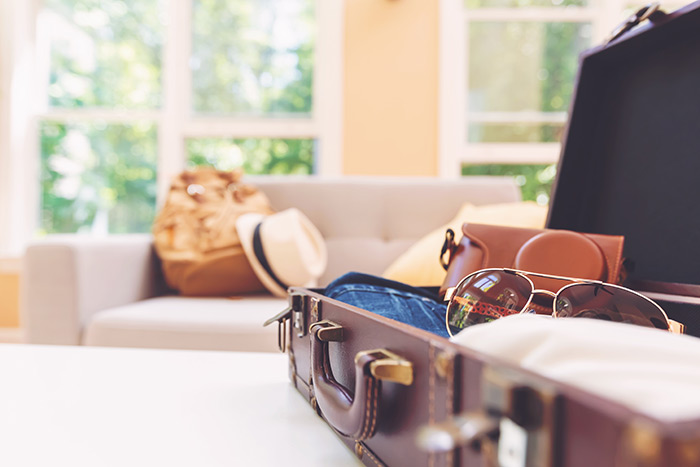 Schedule A/C maintenance.
You might not be ready to switch on the air conditioner just yet, but you'll want to be ready when the temperatures spike. Schedule a professional to make sure everything is working as efficiently as possible. You might even get them in for maintenance now to avoid the rush.

Get vacation-ready.
Maybe you're heading out of town for spring break or planning for your summer road trip. Secure your doors and windows, upgrade your mechanical deadbolts to a smart lock, install a video doorbell or some combination of the above to keep your home safe while you're on vacation. You can also connect with your neighbors or trusted friends. See if they'll keep an eye on your home, watch pets and water plants while you're away. Read this for more ways to keep your home safe while you're on vacation.
For the greater good
Not all those in need are people. Earth Day is April 22, so lend a hand to the environment and your favorite creatures, too.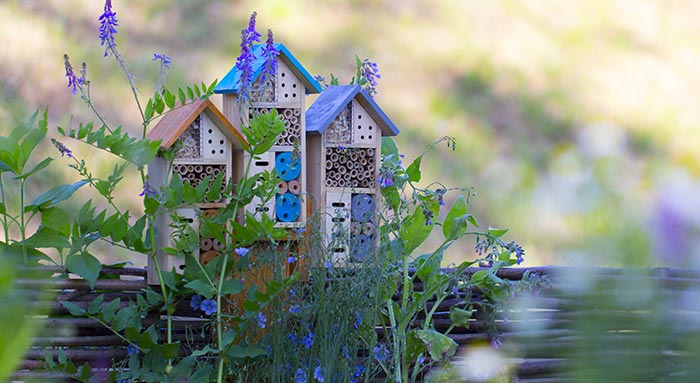 Plant a bee and butterfly garden.
You'll get to enjoy some beautiful blooms while also helping to balance the ecosystem. By choosing flowers that attract bees and butterflies, you're supporting plant diversity that the environment needs to thrive.

Volunteer for a park cleanup.
Many communities will be getting their parks and recreation areas ready for the summer. Lend a hand on local projects so that everyone can enjoy the great outdoors.

Store winter gear.
As the temperatures rise, stow extra throw blankets, your heaviest comforters and winter clothes. Before packing them all up, though, inspect them for damage, wash them and donate what you no longer need.

Tune up the mower.
Make sure the blade is sharp and ready for the first trim of the season and refuel or charge your mower. If it's been a while since you took it for a professional tune-up, now might be the time.
Time to buy
The stores know you're itching to get outside, so they often mark down the tools you need to improve your curb appeal. That's why they're among the items Consumer Reports identifies as the best purchases for April.

Appliances: Vacuum cleaners, carpet cleaners, grills

Home goods: Replacement windows

Tools: String trimmers, pressure washers, leaf blowers, lawn mowers, tractors, chainsaws