Gloomy garden? Try our budget-friendly landscaping tips.
By emily.bailey
When you're looking for a dose of curb appeal without spending a lot of money, try these budget garden ideas.
The most beautiful things in life, and in your home, don't have to break the bank. When you're looking for a dose of curb appeal without spending a lot of money, try these budget garden ideas and landscaping tips.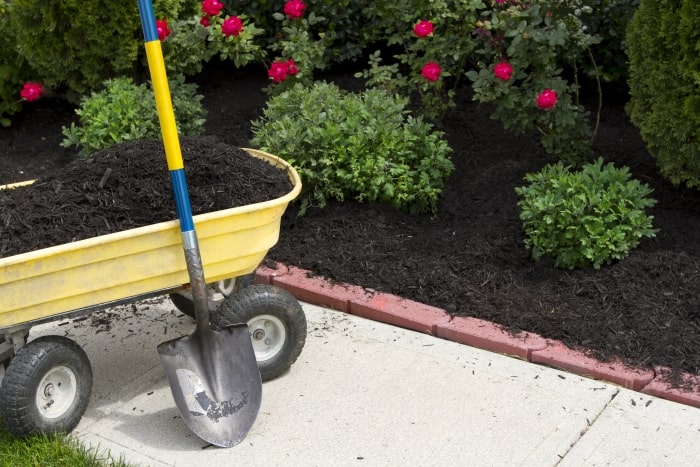 Maintain what you already have
The most cost-effective landscaping updates are just cleaning up what you already have. You probably won't have to spend a dime to trim and prune your existing plants. Pull weeds and rake up any debris that may have collected in recent months. The National Association of Landscape Professionals also suggests grass cycling, which is just leaving your clippings on the lawn to return nutrients to the soil, to help keep your lawn healthy.
Take advantage of containers
Whether you have a large yard, which can get expensive to fully landscape, or a smaller garden, potted plants can be a budget-friendly curb appeal solution. Perhaps the most important thing is to plan ahead and select your plants wisely. Choosing the most colorful flowers is always tempting, but don't ignore the sun conditions and amount of space they need to thrive. Use your imagination, too. Non-flowering plants like coleus or even small trees like a southern magnolia or olive tree are beautiful alternatives to flowers. We also love colorful vegetables and herbs.
The containers themselves can also be highly decorative, adding visual appeal. For more savings, choose a plain pot or upcycle one you already have and paint it yourself to give it a unique, updated look.
Remember your mailbox
If you have a street-side mailbox, give some love to the area around the base. Beautiful flowers are always popular, but tall ornamental grass or vining plants are also good options, especially if you want to hide an unsightly post.
Lay some multi-purpose mulch
There aren't many landscaping elements that are more multi-purpose than mulch, and when it comes to saving money, anything that pulls double duty will save you extra money. Mulch not only gives your yard that finished look and adds color, but it can also make irrigation more efficient, control soil temperature and slow weeds.
Put a border on your garden
If you like a more refined look to your garden, consider adding a border or retaining ledge. Depending on the material you choose, this can quickly get out of the budget range. However, it's one project you won't have to redo every year, so a bit of an investment up front might be worth it. If the price is just too steep for your wallet, take the free route and edge your garden. A sharp line between the grass and the flowerbed will help keep your yard from looking sloppy.
Water correctly
You don't want to waste money on all those beautiful plants only to have them wilt during the first dry spell. This might be a prime opportunity to invest in smart irrigation. It can be as high-tech as the B-hyve with real-time weather monitoring and WiFi control, or as simple as a timer for your sprinklers. Options can get a bit pricey, but consider the long-term payoff when you waste less water.
Light your landscaping
Once you've put all the hard work into your new garden, you might add a bit of nighttime curb appeal. Placed strategically, upward-facing lighting can add some drama. Something more subtle might add that magical feel that helps you relax on the porch in the evenings. As a bonus, remember that some landscape lighting can add an element of safety, either by deterring intruders or illuminating a pathway so you don't stumble in the dark.