15 DIY projects for the ultimate spring curb appeal.
By emily.bailey
Give your home the ultimate curb appeal with these 15 tips, ranging from trimming your hedges to installing crown molding around your door to updating your mailbox.
Springtime is the perfect time to get outside not just for fun, but also for making your home look as welcoming as you want it to feel. Give your home the ultimate curb appeal with these 15 tips, ranging from trimming your hedges to installing crown molding around your door to updating your mailbox.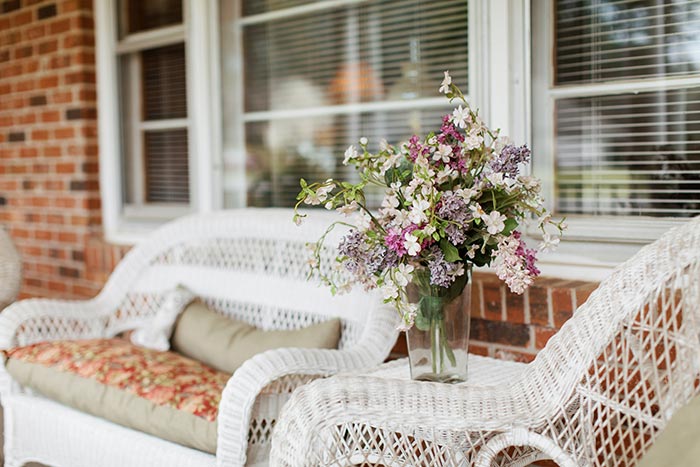 Grow
Tidy up your existing landscaping. This could mean removing yard debris left over from winter. You might trim the hedges, which can have the added bonus of improving the security around your home. Or maybe it's pruning flowers to make way for new ones or encourage new growth on your perennials.


Fill in the gaps of your landscaping. If there's a bed that looks particularly bare, add some visually interesting greenery. Don't be afraid to play with colors, heights and textures.


Keep it contained and colorful with a vibrant window box, container garden near your door or hanging flowers around your porch.

Southern Living

has some tips for gorgeous pots for your porch.
Walk
Repair or add pavers leading to your front door. It's a touch that welcomes every guest. Plus, it benefits you by keeping shoes clean and mud-free in the house. There's a range of materials to fit your taste and the style of your home – flagstone, brick, wood or even pea gravel and stone.


When replacing a walkway or installing one from scratch, don't get trapped into thinking it has to be a straight path. Interesting shapes and designs can add a lot to your curb appeal and keep you looking anything but cookie cutter. Find inspiration from these before-and-after shots from

HGTV

.


If you have a fence you're thinking of replacing, either along a path or on the perimeter of your yard, consider

box hedges

or other fence-like plants as an alternative.
Open
You can always replace your front door or add a screen door. But if an entirely new door isn't in the budget or your DIY skillset, simply paint it. A new color can transform the look not only of the door itself, but the entire front of your house. Bonus tip: Before you get started, make sure your HOA doesn't have restrictions on color.


Small in size but big in impact, updating your door hardware can change the look of your entryway in a hurry. Schlage offers a variety of designs and finishes to compliment the style of any home, and with a range of deadbolts from mechanical to electronic, they also fit your family's security needs. For front doors, check out Schlage's popular

handlesets

and

smart locks

.


Depending on the style of your home,

Better Homes & Gardens

suggests going a step farther by adding some architectural detail like trim or crown molding. There's no need to do the entire house either. Simply add this touch at the entryway, and your front door will go from boring to brilliant.
Live
With new lights, you can change your curb appeal at night, not something we often think about. Strategically placed lighting – along walkways, surrounding your porch, on your garage or driveway – can illuminate your home's best architectural details. A well-lit home is also an inexpensive way to

improve security

.


No matter where your mailbox is – at the curb or by your door – a little sprucing might be in order. Paint it to compliment the new style of your front door, redo the house numbers or add a name plaque.


Because of its sheer size, your garage door might be the most eye-catching piece of the curb appeal puzzle. Make sure it's eye-catching for the right reasons. Whether you opt to paint it or replace it altogether, think about garage doors in a contrasting color to the rest of the house. Take a cue from

Remodelaholic

. This is your chance to turn them into a legitimate architectural feature, not just have them blend in with their surroundings.
Relax
If you're going to relax on your front porch, you better have a comfy place to sit. Rocking chairs, couches, swings and even hammocks are the kind of touches that say to guests, "Come and stay awhile."


Wreaths work in any season, but if you're ready to retire them until Christmas, you have other options for decorating your door. Hang a basket with some of your favorite flowers, wood cutouts to match the season or a simple

chalkboard

that you can change from "Welcome" to "Happy Easter" to "Summer Fun Lives Here" are fun and stunning alternatives.


Want to make a bigger architectural impact?

New porch columns

– they don't even have to be load-bearing – could be in your future.