Be an MVP host with these 100 Super Bowl party ideas.
By emily.bailey
Thursday, January 23, 2020
It's the final game of the NFL's 100th season. Schlage is turning 100 this year. To celebrate both milestones, here are 100 Super Bowl entertaining tips from décor to food and more.
It's the final game of the
NFL's 100th season
. Schlage is turning 100 this year. To celebrate both milestones, here are 100 Super Bowl entertaining tips from décor to food to ideas that'll make you ask, "Why didn't I think of that?" We're pretty sure they'll help your bid for the party hosting hall of fame.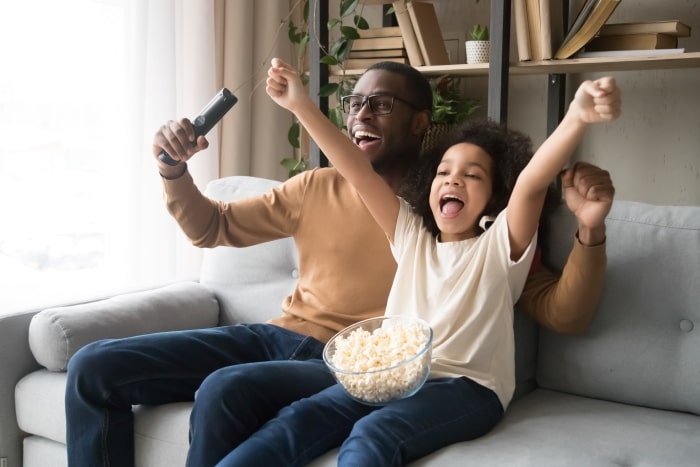 Utensil holder:

Mason jars

and recycled cans make for great utensil holders. All you have to do is cover them with a bit of paint or other crafting supplies to keep them in the theme.


Utensil caddy: If you have some six-pack caddies from beer bottles, repurpose them to hold forks, spoons, napkins and whatever your guests might need to chow down. Extra point for portability, too.


Coasters: If you're picky about protecting the coffee table but don't want to look like a nag, offer coasters that look like

swatches of field turf

. It's décor and utility in one play.


Placemats: Just like coasters, make your

placemats

do double-duty by protecting and sprucing up tabletops at the same time.


Tablecloth: It'll make for easier cleanup if you can just roll up and toss (in the trash or the washer) a

game-themed tablecloth

rather than scrubbing wayward dip off the counter.


Miami-inspired décor: With the 2020 game in Miami, give your home a tropical vibe. Think

palm-like plants, natural materials

like bamboo and rattan, and pops of

color

like coral, yellow and turquoise.


Pom-pom arrangement: Instead of a floral arrangement for the centerpiece, craft these

crepe paper pom-poms

. Choose team colors or hues that match the rest of your décor.


Front porch décor: Welcome guests by lining your walkway with some

football-themed signs

. Try a wreath with ribbon in your team's colors or

DIY a doormat

with your team's logo.


Paper lanterns: These would look great for those lucky enough to be able to host an outdoor Super Bowl party. You can find lanterns in football shapes or stick to team colors.
Make it look good
Preparation: Figure out how much food you'll need so you don't come up short of the goal line. Better Homes & Gardens offers these quantity guides for

appetizers

and

drinks

.


Potluck assignments: If you're counting on guests to supply some of the food, assign dishes so you don't end up with all the chips and none of the dip.


Amazon Alexa: Put the voice assistant in the game by asking her for help in the kitchen. Get recipe suggestions, find ingredient substitutions or set timers.


Stagger: Put the food out in waves to cut down on waste. If you don't put out all the meat and cheese at once, there won't be as many questionable leftovers that sat out all night. What wasn't needed will have stayed in the fridge, safe to munch on the next day.


Bar cart: Stock your bar cart with whatever ingredients your guests might need – alcoholic or otherwise. The added bonus is that you can wheel the drinks or food wherever they're needed as the party progresses.


Bar cart décor: When the beverages are set, it's time to make it look good. Use this guide to a

perfect seasonal bar cart

, swapping out the fall décor for anything game-related.
Coolers: Even if you choose a bar cart, a cooler or two for extra ice or alternative drinks will be appreciated.


Ice: Don't make someone miss part of the game to go on an ice run. Store it in extra coolers or even the

washing machine

, although we think that's a last resort.


Growlers: If your beer-drinking guests have more refined tastes, or if you want to support local breweries, consider growlers instead of the standard six packs from the grocery store.


Non-alcoholic beverages: Water, soda, milk for the little ones, virgin versions of your favorite cocktail.


Hot drinks: Super Bowl 2020 is in Miami, but many of us will be braving the cold. Offer warm drinks – coffee, hot cocoa, mulled wine – and be sure to have suitable glasses for serving.


"Coolers": They keep ice frozen by keeping the warm air out. That same insulating property can keep hot food warm. Tuck warm snacks in there if you're holding them back for later or plan on transporting them.


Bottle opener: Don't let this "obvious" detail slip through the cracks in the excitement of the day.


Drink "labels": Sharpies, charms or different colored cups can help guests keep track of which drink is theirs.


Can koozies: Koozies also help distinguish one drink from another as well as keep those beverages refreshing and sweat-free on the side table. You can make these

turf koozies and coasters

yourself.
Plates, cutlery and cups: Take into consideration what you're serving. Saucy foods need a sturdier plate. Chili, of course, needs bowls. Choose disposable ones for quick clean-up.


Napkins: Serving finger foods? Have a stockpile.


Toothpicks: Have plenty of toothpicks for your lil' smokies and other spearable snacks. And don't forget a discard dish for the used ones.


Warming dishes: The Super Bowl lasts more than a few minutes, so keep food warm all night with crockpots or chafing dishes.


Crockpots: If you're going to keep the food warm in the crockpot, why not cook your dish in there to start with? The smaller ones are great for hot dips.


Food labels: Help people know what's on the menu with a large chalkboard displaying the table's offerings or

individual labels

, especially if someone has a food allergy.


Buffet table: Have plenty of room for food without clogging the flow of traffic as guests load up their plates throughout the night.


Serving dishes: Do you have enough platters for that amazing food you made?


Serving utensils: Do you have enough spoons/spatulas/pie servers/pizza cutters/ice cream scoops to go around?


Crockpot liners: We love crockpot liners as an easy clean-up solution, but they also let you

warm two dips at once

.


Leftover food storage: Have enough storage containers for leftovers. You might buy plastic containers to give to departing guests.


Wings: They might be messy, but they're always delicious. A variety of sauces with a range of heat could be what gets you over the goal line in the hosting drive.


Mini pizzas: Full-sized pizzas are good, but they leave less room – on the table and in your stomach – for all the other treats.


Popcorn: Grab-and-go food is always a win when people are mingling about. Try some fun

variations

.


Ice cream football sandwiches: It might be February, but we think ice cream is always in season. Make them perfect for the Big Game with a little

creative decorating

.
Vegetable tray: Some people will be trying to eat healthy. Some just want celery with their wings. Some need an excuse to eat dip. Veggie trays meet all those needs.


Healthy chili: Chili is supremely versatile. Lean turkey and veggies can make it healthier. Swap meat for beans and you have a vegetarian-friendly option. Make it in a crockpot and you just made life easier for yourself.


Chips: More options than a Super Bowl playbook! Tortilla chips, veggie chips, with or without ridges, sour cream and onion, salt and vinegar, pretzels (even if they aren't technically a chip). If you plan on pairing them with dip, consider their strength and "structural integrity."


Dip: From guacamole and nacho cheese to vegetable dip and hummus, dipping is always fun and tasty. Editors note: I once attended a Super Bowl party with nothing but dip – cheese dip, spinach dip, dessert dip … and I don't regret any of it.


Kid-friendly food: When the younger set has picky eaters, consider familiar yet fun food like tater tots and mild boneless chicken wings (AKA nuggets).


Sliders: Small sandwiches mean easy grab-and-go, more options for differing tastes and, if you're ambitious, the building blocks for an

entire stadium

.


Condiments: Ketchup, mustard and mayo are the big three, but don't forget relish, cheese, pickles and salad dressing.


Taco bar: Any food set up as a bar is great for large gatherings, but who doesn't love tacos? People can create their favorite combinations. A nacho bar is a solid variation.


Desserts: We aren't turning down any sweets, but individual-portion desserts or those that are scoop-and-eat as opposed to needing to be cut will simplify serving.


Gluten-free snacks: Chex Mix is the simple gluten-free solution, but the ease and tastiness of some alternatives might surprise you.

Iowa Girl Eats'

mini corndog muffins and Southwestern black bean dip will be loved by all.


Gluten-free desserts: Feed everyone's sweet tooth with

flourless fudge cookies

or

espresso chocolate chip shortbread bites

.


Keto snacks: If you aren't used to cooking by keto rules, it can be overwhelming. Try these

BBQ bacon-wrapped lil' smokies

. Just about everything is better with bacon.
Keto desserts:

Cake, pie, cookies and ice cream

can all be done while still sticking to the keto diet. There's less sugar, but that doesn't always mean less taste.


Vegetarian snacks: Give your vegetarian guests something other than veggie and fruit trays to munch on. This

quesadilla recipe

is not only meat-free but also replaces the cheese with guacamole, making it vegan-friendly.


Vegan snacks: With

chocolate-covered potato chips

, it's the perfect combination of salty and sweet, regardless of whether you're vegan. And they're only two ingredients.


Dairy-free snacks: Dairy-free

cake batter pudding parfaits

? Yes, please. These look so good, you'll be making up fake holidays just to eat them more often.


Fruit: It's not the first food group you think of for a football party, but turn that

melon into a helmet

and you're in business. Healthy, vegetarian- and kid-friendly, and theme-appropriate. Check, check and check.


No-bake foods: Whether it's a no-bake cookie or these

beef pretzel poppers

, having some make-ahead snack options that don't require oven or stove space will make your hosting duties simpler.


Pantry purge: If your kids are still hoarding Halloween candy in February, set out a bowl of leftover treats for noshing. Skip the bat-shaped chocolate and your guests will be none the wiser.


Grill: For those in warmer climates or who are immune to single-digit temperatures (Hello, Wisconsin!), fire up the grill for burgers, brats, veggies and even

desserts

. Editor's note: You can bake canned cinnamon rolls on the top warming shelf of a closed grill.


Pet-friendly snacks: Be aware of what foods are at pet level, like on the coffee table, that might make them sick. Minimize risk by having pet-friendly snacks and be sure your guests know what's acceptable for feeding your furry friend.
Have some fun with it
TV: If what you have seems just a bit too small, now is a good time to invest in something that matches the size of the event. Many stores offer

deals on televisions and entertainment systems

just in time for this game.


A second TV: Some people are less interested in the actual game, so a second television in another room lets them watch on and off without disturbing others. Put it in the same room as your main TV and you have all the viewing you could ever ask for.



Puppy Bowl

: Just make sure it's on one of those TVs. That is all.
Sound bar: Provide a real game-time experience with great sound.

Consumer Reports

says January is prime time to buy one.


Cable-less viewing: An over-the-air antenna or streaming are your best bets for watching at home without cable. Hulu, YouTube TV and Sling TV are a few streaming options. Be prepared to pay at least a small fee unless you can find free trial deals. Read more at

TechNadu

.


Wireless Bluetooth speakers: Stream party music before the game starts if no one wants to listen to yet another hour of pre-game coverage.


Alexa again: Ask her to settle a trivia dispute, get rule clarifications during the game and even

request burns

for the other team.


Seating: Big couches seat a crowd. Chairs that can be moved easily are also a plus if people like to rearrange themselves according to conversations as the night wears on.
Gathering place: For downtimes in the game or before the action has started, give guests someplace to gather and hang out together.


Commercial ratings: Let guests share their opinions (and rib others') with friendly

rating signs

that range from "Change the channel" to "YouTube Sensation."


Super Bowl bingo cards: Make your own or use

this template

. Squares could be based on game action or commercials. Do it just for fun or offer prizes at the end.


Friendly wagers: How long will the National Anthem last? What will the first commercial be? Use a dry erase board or simple cards for each guest to track who's "winning."


Photo booth: If you really want to commemorate the evening, create a unique photo booth for Instagram-able shots, and don't forget the football-themed props.
Kid-friendly games: For those who can't stay focused for the entire game, have some activities on hands to keep them entertained all night long. Try

Flick Football

or Hot (Potato) Football if you have more room to play with.


Cornhole: Good for adults and kids, cornhole keeps guests entertained without interrupting conversations or snacking.


Flag football: If you take the party outdoors, you might have enough space for a more active game. Pick teams and get a game of flag football going.


Pinata: They come in all shapes and sizes, so why not get a

football pinata

, fill it with candy and let the fans of the losing team work out some frustration?


Distractions by Alexa: Not really into the game? Trying to distract others from your team losing? Activate the

SuperbOwl Alexa skill

.


Party favors: Choose something small and round – maybe a delectable chocolate bon bon – and you can

turn those favors into penalty flags to-go

.


Ladies' Night: Having a

girly girl's football party

? The game-day strategy is the same for any other Super Bowl party but with more pink and glitter.


Why didn't I think of that?
Invitations: Make sure guests know when and where to join the fun. Remember to include any assigned potluck dishes or supplies you'd like them to bring. Snail mail it, text it, put it in a Facebook group.


Ring Video Doorbell: See who's at the door without having to leave your other guests. As a bonus, the Ring Video Doorbell 2 works with the

Schlage Encode™ Smart WiFi Deadbolt

for security and convenience year-round.


Alexa … again: Did you lock the door after your last guest arrived? Don't miss a play.

Ask Alexa

to check the status of your Schlage smart deadbolt and lock it with a simple voice command.



Schlage Home app

: Did you lock the door after the last guest left? Use the Home app on your smartphone to lock your Schlage Encode Smart WiFi Deadbolt or

Schlage Sense™ Smart Deadbolt

with the push of a button. No need to get out of bed.


Doormat: For any gathering, especially when the weather might be questionable, help keep your floors clean and dry with a functional and fashionable doormat for people to wipe their feet.


A place for coats and shoes: For most of the country, February means parkas and snowy shoes. Prepare your entryway for hanging cold-weather gear and maybe a boot tray to protect your floors.


Slippers: A nice touch for this gathering or any

winter party

is to offer guests slippers or warm socks, especially if you're asking them to remove their shoes when they come in the house.



Electrical multi-outlets

: For when you're short on outlets and guests need to charge their phones.


Pet retreat: If your pet gets nervous around crowds or unknown visitors, or if your guests aren't animal fans, have a safe place for Fido and Fluffy to retreat to, like a spare bedroom. Give them water, treats and their favorite toys to keep them occupied.


Stain remover: When spills happen, be ready to get that wing sauce/wine/chocolate stain out of the carpet before it's too late.


Trash cans: Have more than usual available and pull them out of their hiding place under the sink so people don't have to hunt.


Trash bags: You'll likely go through more than one over the course of the party. Make replacing them easier by lining your trash can with multiple bags before the festivities even begin.


Cleaning supplies: Make sure you have everything you need to get the home in tip-top shape before and after the game. The right supplies probably won't motivate you to clean up afterward, but they will make it easier to just get it done and over with quickly.


Bathroom supplies: Lots of eating and drinking plus more people in your home than usual can equal more traffic in the bathroom. Toilet paper, clean towels, hand soap and, yes, a plunger, are required.


WiFi password: If you're comfortable giving your password to guests, make it easy for them to log in. Create and display a

QR code

. Not everyone has unlimited data for posting their favorite party pictures or looking up NFL trivia.


Outdoor heaters: Even in more moderate climates, you might need some temperature assistance from

outdoor space heaters

during the second half.


Guest room: If guests are coming from farther afield or like to experience all that a party has to offer, make sure your

guest room is prepared

for overnight visitors sleeping off the revelry.
What did we miss? Share your Super Bowl party hacks with us on Facebook and Instagram.