Make your day with Amazon Alexa
By emily.bailey
Whatever you're looking to control, Alexa is exploring all that is possible with today's smart homes, taking home automation voice technology to the next level and boldly going where few have gone before.
"Alexa, Earl Grey, hot." While this might not be the most important request you make of your Alexa device today, her answer of "Unable to comply; replicators are off line…" is sure to delight.
From charming pop-culture Easter eggs to advanced home automation functionality, Alexa-enabled devices have become a staple in smart homes around the world. Featuring an ever-evolving list of skills, people have fallen in love with the convenience and charm of Alexa. So, if you're planning on picking up an Alexa device on Prime Day this year, Schlage would like to remind you of all the great things you can expect.
Managing your thermostat. Controlling your home's lighting. Locking your front door. Whatever you're looking to control, Alexa is exploring all that is possible with today's smart homes, taking home automation voice technology to the next level and boldly going where few have gone before. Better yet, Alexa is not alone. Many of today's most respected and innovative brands – like Schlage, GE, Phillips, Ring, Nest and others – are supporting smart-home technologies with products that were literally once the stuff of science fiction.
"Alexa, what can you show me?"
Alexa-enabled devices are designed to work with a range of brands innovating in the home automation space.
Alexa can control the volume of your Sonos wireless speakers. Phillips Hue lighting can be turned on and off or dimmed, just by asking. Your front door can be locked with your voice thanks to the innovative Schlage Connect™ Touchscreen Deadbolt. In fact, you can monitor many of the safety systems in your home from video doorbells to security cameras. And this is just scratching the surface. If you've been considering adding home automation technology into your life, now is the perfect time to get started.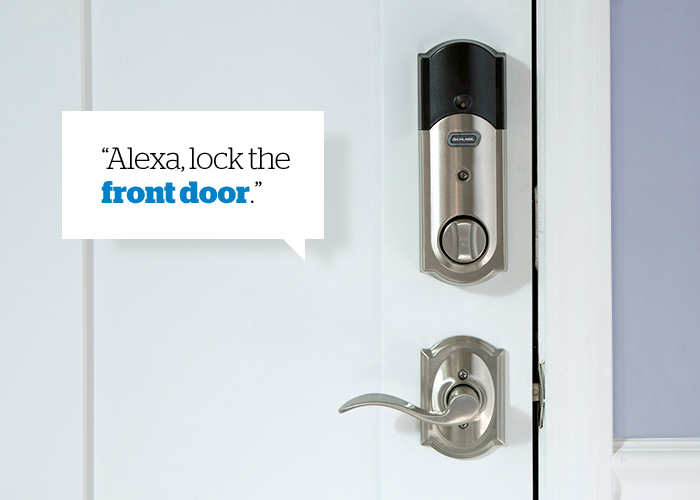 "Alexa, lock the front door."
It's no surprise that Schlage is among the leading companies innovating for the smart home of today (and tomorrow). In 1909, Schlage's founder, Walter Schlage, received his first patent for an electronic door lock that could also turn the lights on and off. Now, nearly 100 years later, the company he founded is expanding its innovation footprint by introducing a whole family of smart locks that can be accessed from your smartphone or from your Amazon Alexa-enabled devices.
With Schlage Connect™ Touchscreen Deadbolt and Schlage Sense™ Smart Deadbolt, Amazon Echo users can lock their doors with their voice. Convenience. Peace of mind. They're just a voice command away and represent but a fraction of what voice-activated home automation promises to bring to you and your family.
"Alexa, play Holst Jupiter on Spotify"
There are a wide range of Amazon Alexa-enabled devices for you to consider, each sporting its own particular set of features tailored to your preferences and the specifics of your home automation system. From the Echo Plus smart speaker, to the compact Echo Dot, to the video-enabled Echo Show, there are plenty of options to match your needs. Pick your favorite and then sit back and enjoy, as a whole world of possibilities in home automation open up for you.
"Alexa, what's the date?"
With all home automation devices, a little research and preparation can go a long way in making sure all of the products you pair with your system are compatible and will work properly. You'll be well on your way to making yours one of the more than 5 million smart homes in America today.
By 2020, it is estimated that there will be more than 50 billion connected devices, including more than half of all cars on the road! Since you can get started exploring the Internet of Things for as little as $500, when you consider the convenience, safety, security–and fun–connected technologies can bring you, it's certainly worth looking into.
And there's no better time to start than right now. Today only, enjoy special savings on the Schlage Connect™ Touchscreen Deadbolt. Get keyless access from anywhere with combined advanced features and compatibility with your home automation system. Save, too, on an assortment of Schlage hardware designed to bring safety, simplicity and style to your interior doors, as well.