Smarten up your home with unique devices for every room.
By emily.bailey
Wednesday, January 22, 2020
With some high-tech and smart gadgets, it's obvious why you would want them in your home. But with rapid changes and the onslaught of products straight out of science fiction, there's still plenty to be surprised about. Here are some of our favorite smart devices for every room in the house.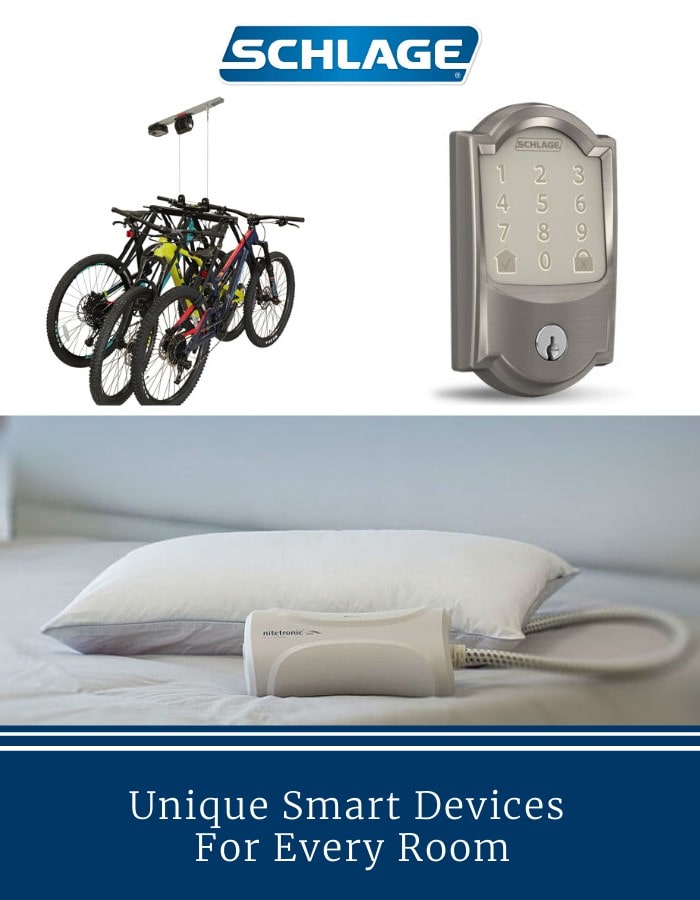 Bedroom
We need our bedroom for sleep and that's why we picked the smart pillow as one of our favorite tech products for our nighttime oasis. There are several to choose from and they address a range of needs so that you and your mate can get a better night's sleep. Some connect to an app that will report back your breathing and heart rates, while others monitor bedroom conditions like temperature and air quality, and inflate when they detect snoring.
Kids' bedroom
Help your kids sleep better with a device that fends off nightmares. The Lully Sleep Guardian 2 is a pad that you slide under your child's mattress. When it detects movement from night terrors, it vibrates softly enough to keep them peaceful but not so hard that it wakes them. You'll get feedback via your smartphone so you can track their sleep habits and keep a journal of how severe the nightmares are when they do occur.
Bathroom
Smart toilets do some pretty interesting things like clean themselves, warm your backside and feet, and light up, but they're still new enough that their price puts them out of reach for many of us. Our next pick is privacy, or switchable, glass. Ideal for bathrooms with large windows that open onto the master suite or with an outdoor shower, the glass goes from transparent to frosted at the flip of a switch. Enjoy views when you want them, privacy when you don't.
Kitchen
Smart ovens, refrigerators and even microwaves are top of mind when talking high-tech cuisine. For something a bit more modest (and maybe ideal as a gift for a loved one), we like Drop Scale. Along with the Drop App, you can receive recipes tailored to your cooking skill level and preferences, sync it to your smart appliances and get substitution suggestions when you realize you're short an ingredient.
Living room
Your honey is sleeping on your shoulder or the cat is on your lap, and you want to turn the ceiling fan on. With a smart overhead fan, you can without disturbing anyone. The Haiku L from Big Ass Fans can be controlled via a remote, smartphone app or voice command. You might end up wanting one for your bedroom, too.
Home office
Writing in notebooks just became new-school again. Whether you have a home-based business or work remotely, you can use smart pads to jot down ideas and send them directly to the cloud through a smartphone or other device. One like the Rocketbook Wave is reusable. Just erase by popping it in the microwave.
Laundry
Sadly, the clothes-folding robot is not yet available. So in the meantime, we'll go with a smart leak detector. Regardless of whether your washer and dryer are also smart, the FIBARO Flood Sensor will notify you if it detects water on the floor.
Garage
Once you've installed a smart garage door opener, expand your horizons to the smart bike lift. This one from Garage Smart holds multiple bikes that you can raise and lower from ceiling-mounted hooks using nothing but your smartphone. It helps to keep your bikes safe and your garage clean and organized.
Entryway
We know it's obvious, but we honestly can't think of a better smart device for your front door than a smart lock. Improve home security when there are no spare keys to lose. Gain peace of mind by being able to lock and unlock your door remotely through a smartphone app. Add convenience when you know trusted friends and family can come and go as they please by using an access code. It's great for overnight holiday guests and everyday life.
Schlage offers a variety of smart locks depending on your lifestyle and preferred technology. Find the right lock for you and your family with our Get Help Deciding Tool.
Backyard
Whether you want internet outside for backyard parties or need it for better connectivity with security cameras, garage door openers or smart irrigation, a WiFi extender can save you a lot of headaches. With a range of weather-resistant options available, CNET.com walks you through other considerations like choosing one that's compatible with your router.
Smart homes go beyond lighting, thermostats and smart speakers. The trick is to find the devices that best complement your lifestyle and add the greatest levels of convenience and security. For more smart home tips and ideas, visit the Technology archives at the Schlage blog.