Choosing historically accurate colors for your older home.
By emily.bailey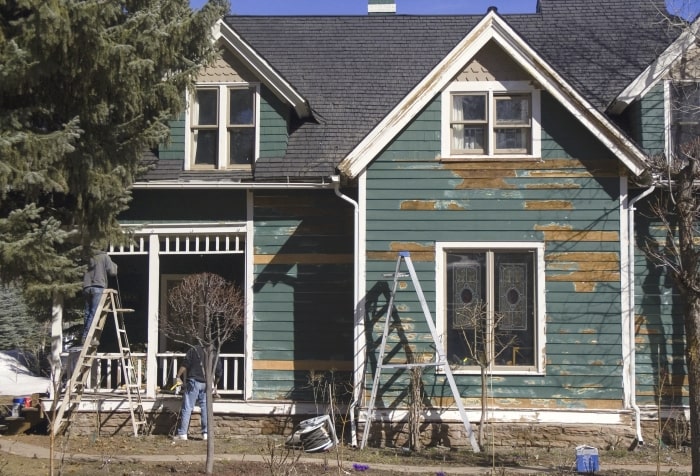 Your classic beauty deserves to let her true colors come through. Choosing an historically accurate paint color for a traditional home can have its challenges, but when done well, it's a sight to behold. Do you know which hues to use on your historic home?
Especially if your home is on an historic registry, your hands may be tied when it comes to painting and renovating. Follow the regulations, but if you need help figuring out the right colors for your golden oldie, or if you just want to exactly match the tones that originally graced your walls, you can hire a professional. They'll take samples and use high-powered microscopes to dig deep into your home's colorful history.
If you don't have any restrictions and need inspiration, visit historical homes from the same period as yours and see what they have (or haven't) done well. Of course, you can also use our tips for picking the perfect palettes for your Georgian, Federalist, Victorian or Craftsman-style house.
Georgian & Federalist
The most traditional in the United States, Georgian and Federalist homes date from the 1700s to 1800s. Because this traditional architecture spans so much time, there are slight variations in color palettes, but you'll also see some common themes.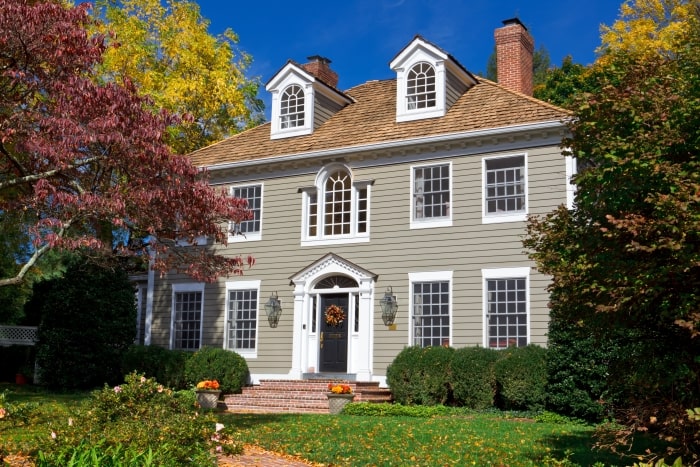 Earlier Georgian houses tended to have darker bodies, or exterior walls. Softer colors such as white or yellow were used for the trim, window sashes and other details. The bodies of later Federalist homes were most often white or straw colored, although you would have also seen orange, slate and darker "Georgian" colors. Exterior trims were subtler, sometimes being painted the same as the body. Both styles favored dark colored doors – chocolate, black and dark green. HistoricIpswich.org does a great job of breaking down colors by era.
While Georgian and Federalist homes often featured more muted colors, there are instances where you'll find much brighter hues. Surprising to many is the chrome yellow room at Thomas Jefferson's Monticello. As BobVila.com points out, bright colors were more expensive at that time, so while you saw less of them, they did exist. We think this gives you license to expand your color horizons a bit more, even if your home is traditional.
Need door hardware for your 18th-century home? Try a Schlage Andover or Georgian knob or Accent lever with Camelot trim. And a Satin Brass finish will fit right in.
Victorian
To many, Victorian homes, from the late 1800s, lacked restraint, and it wasn't necessarily a bad thing. You see lots or ornate woodwork, glasswork and patterns, and colors should be used to accentuate those details. But there's still a "right" way to paint a Victorian home if you want to maintain historical accuracy.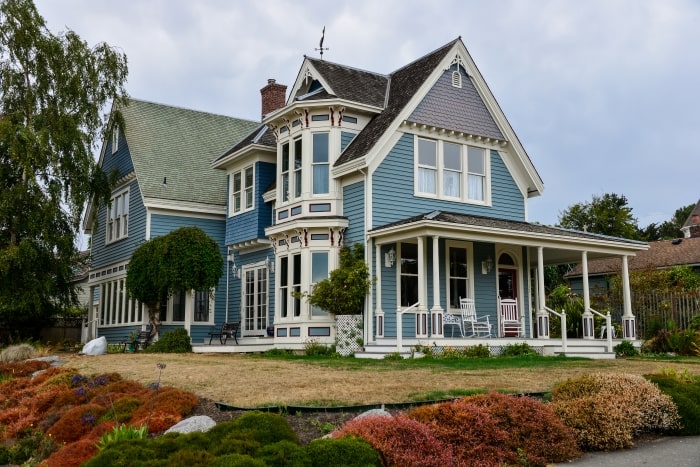 Three-color schemes were popular with Victorian homes, although it wasn't uncommon to see some with four or more. This doesn't give a free pass to go color crazy, though. This Old House recommends sticking to one section of the color spectrum, picking different tones in the green family, for example. Which brings us to the second point. San Francisco's "Painted Ladies" are famous for their brightness, but Victorian homes historically used nature-inspired colors, not pinks and purples.
Remember that subdued doesn't have to mean boring, especially with Victorian or Italianate architecture. For example, using what California Paints calls Apache Tan, Sleeper's Entry, Tyson Taupe, North Gallery and Cherry Cola (that's five colors if you're counting), you can showcase your classic beauty while keeping it, well … classic. Just save the darker colors for the architectural details – window sashes, gingerbread, turret banding – to help them stand out. Old House Online has more great tips for figuring out all those colors for a true Victorian home.
When looking for hardware to complement a Victorian home, consider a Schlage Flair lever or glass Alexandria door knob. Polished Nickel and Antique Brass make great Victorian-inspired finishes.
Craftsman
Craftsman, or Arts & Crafts, homes became popular in the early 1900s. The style was an attempt to get away from what some saw as overly decorated Victorian architecture. Wood, stonework and similar natural elements are iconic characteristics of Craftsman homes, and earthy color schemes with muted greens, browns and cool blues that mirror streams or stone follow suit.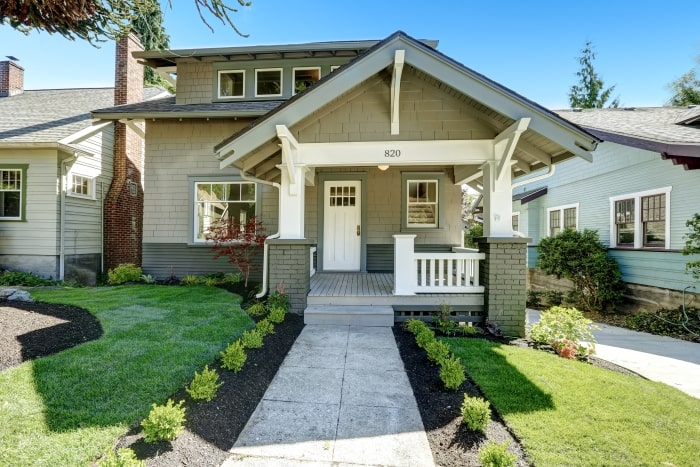 Warm colors – orange, red, yellow – work well with the abundance of woodwork. We like Behr's combination of Mesa, Briquette and Bison Brown for this interior. If you're looking for more contrast, however, slate gray and blues from the other end of the spectrum complement woodwork quite nicely. Behr's Scotland Road and Amphibian captures that look on this exterior.
For a Craftsman-style home, we recommend the Schlage Avila lever with Addison trim in Aged Bronze. Or try the Schlage Andover knob. Knob or lever, this multi-tone finish will complement the woodwork in nearly any Arts & Crafts home.
Visit Schlage.com for all the styles of door knobs and levers to help make your mature home the star of the block. You can also learn more tricks for bringing modern design to your charming older home with our Design Guide.