How to afford Schlage door hardware on a $100, $500 or $1000 budget.
By emily.bailey
Wednesday, October 17, 2018
If you're thinking about a single-room update, or even a whole-home renovation, one of the quickest, easiest and most affordable things you can do is update your door hardware.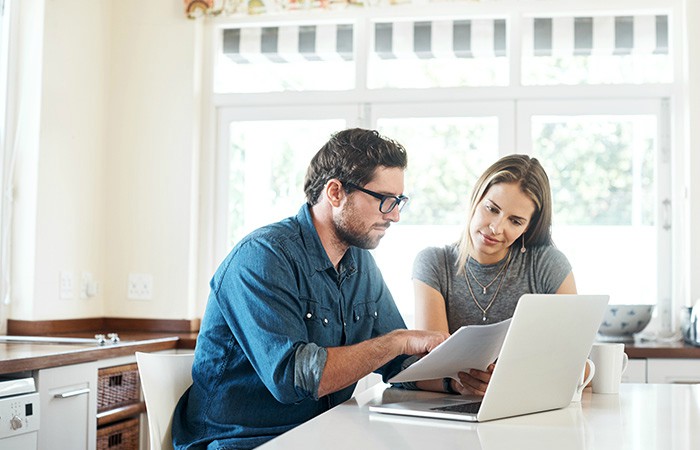 According to a recent Houzz survey, home renovations are on the rise, with 2017 yielding significant growth and 2018 expected to be even bigger. If you're among those who are thinking about a single-room update, or even some manner of whole-home renovation, one of the quickest, easiest and most affordable things you can do is update your door hardware.
Updating your home's door hardware is a project that can be easily customized to fit your project's needs, regardless of your design concept or installation preferences. And best of all, it can be done affordably for any budget! With Schlage door hardware, whether you're replacing a builder-grade doorknob with custom hardware or a keyed entrance door lock with a keyless smart lock, you can tackle this project in your spare time with just a screwdriver.
Going for a coordinated interior? Looking to blend a number of complementary styles? Are you exploring split finishes, giving each room its own, singular look? Whatever your preference, Schlage offers a wide range of simple, secure, stylish and affordable hardware options to fit your budget. With a little know-how, you'll be on your way to a door hardware makeover that you can appreciate for years to come.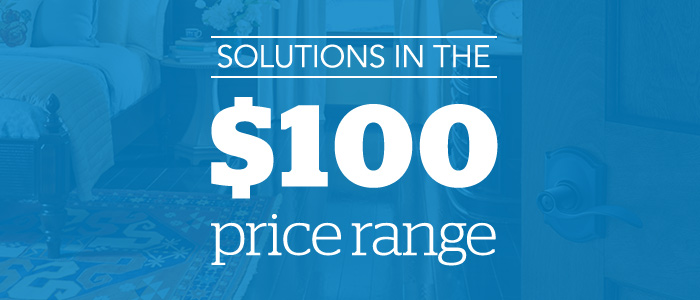 SOLUTIONS IN THE $100 PRICE RANGE
For nearly a century, Schlage has been perfecting the door lock, offering an assortment of both mechanical and electronic door locks that have set industry standards for performance and style.
Exterior
For around $100, you can replace your entry door lock choosing from a wide selection of deadbolts, knobs, levers and complete handlesets. In this price range, you can also upgrade a mechanical deadbolt, replacing it with a stylish, keyless electronic keypad lock or deadbolt to enjoy the industry's highest residential security rating with the convenience of keyless access.
Interior
As for your interior doors, that same $100 or so can replace upwards of 4 interior traditional door knobs or levers, depending upon function and the specific styles and finishes you choose.
When shopping for interior door hardware, it's important to take things like trim, knob or lever style and finish into consideration. Premium decorative trims and styles could drive up the price of your interior hardware.
Another important consideration when shopping for interior hardware is the warranty. Because you will touch your interior door hardware several times per day, it's important to look for quality hardware from a company that offers a warranty of some kind. Schlage offers a limited lifetime mechanical & finish warranty and limited 3-year electronics warranty.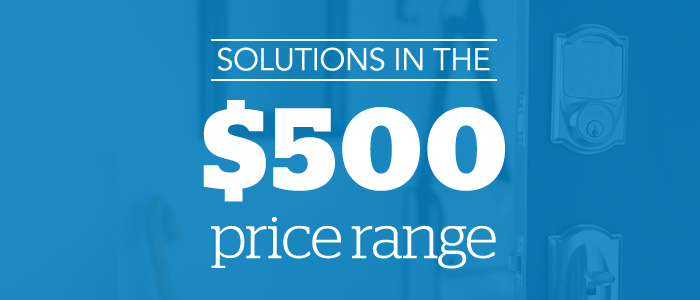 SOLUTIONS IN THE $500 PRICE RANGE
For around $500, you can coordinate the door hardware throughout your home, from your front door to your back door and pretty much any door in between.
If you're really looking to take advantage of the wide range of styles, trims, finishes and value for which Schlage is known, this is the place to start.
Exterior
Considering joining the growing number of homeowners investing in smart home living? Schlage smart locks are a great place to start building your smart home and they make an ideal addition to an existing one without breaking the bank. Schlage brings you an assortment of smart lock options from which to choose, including the Schlage Sense™ Smart Deadbolt and Schlage Connect™ Smart Deadbolt. They both set industry standards for keyless entry, as well as remote access management and monitoring from your smartphone. As an added bonus, each deadbolt fits standard door preps, installs with just a screwdriver, and is battery-operated, making them more accessible more than ever!
In the $500 price range, you can easily select and install a smart lock, matching handleset grip and accessories (like house numbers and kickplates).
According to Ted Roberts, Style & Design Chief for Allegion, maker of Schlage locks, "Your front door is not just for wreaths anymore. It's a space where you can make a statement. Perhaps the easiest and most cost-efficient way to update your look is with new door hardware. And with so many styles available, you can complement everything from traditional to farmhouse to modern decor. Your front door can set the tone of your home, whatever your style. Quickly. Easily. Affordably."
Interior
In this same price range, you can upgrade all of the interior door hardware in your home. Replacing all of the door hardware throughout your home is an easy and affordable project that can tie all of your rooms together, giving them a more custom look.
This price range will allow you to select from the Schlage Custom™ Door Hardware collection, which puts you in control of your hardware's style. With Schlage Custom™, you can create a door hardware look that's unique to your home's style. This collection allows you to easily match your interior door hardware with exterior Schlage Custom handlesets. Coordinate a complete look- inside and out- with a large selection of designer knobs, levers and trim in lustrous, long-lasting finishes. You can also customize the locking function of interior doors quickly and easily; no tools required.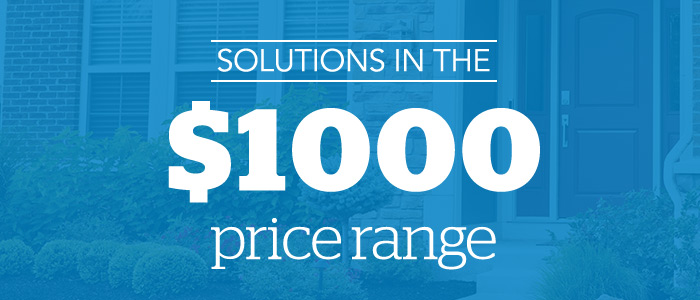 SOLUTIONS IN THE $1000 PRICE RANGE
For around $1,000, you can expect to give your entire home a door hardware makeover, from the front door to the back door and everything in between!
In this price range, you'll be able to choose from the full array of styles, trims and finishes available to you, including designer hardware from the Schlage Custom™ Door Hardware collection.
You'll also be able to incorporate a smart lock or two into your makeover! Gone are the days when smart locks were merely for front doors. Installing one on a back door, home office or a garage door adds an additional layer of security and keyless convenience for the entire family.
Schlage offers a wide range of keyless locks to fit your smart home needs. Each of our locks has different benefits for different users, allowing you to select the smart lock that's right for you and your home. Do you prefer a Bluetooth or Z-wave enabled lock? Are you an Apple device household? These smart lock comparisons will help you select the right lock for your home and your family's access needs.
Matching styles throughout. The versatility and style of split finishes. The blending of a variety of styles. At this budget, you're only limited by your imagination. You might even have enough left over in your budget for a nice dinner out to celebrate!
THE POSSIBILITIES ARE ENDLESS
Whatever your budget, and whether you're tackling your entire home or just one room at a time, you owe it to yourself to explore the range of possibilities open to you with Schlage door hardware. Also know that your quest may not end with your selection of knobs, levers and appropriate systems, finishes or trims. You can also easily upgrade your hinges to a matching finish to really put an exclamation point on your project.
For more information, visit Schlage.com for the latest on affordable, premium door hardware. How much will it cost? Find purchase information here to see just how far you can make your budget go with the safety, simplicity and style of Schlage.