A Mid-Century Modern masterpiece with Schlage and Amy Matthews.
By emily.bailey
Tuesday, October 23, 2018
After 50 years, the clean, sleek, distinctive look of Mid-Century Modern has been making a comeback. But to Amy Matthews, Contractor, DIY Designer extraordinaire and TV host, it never really went away.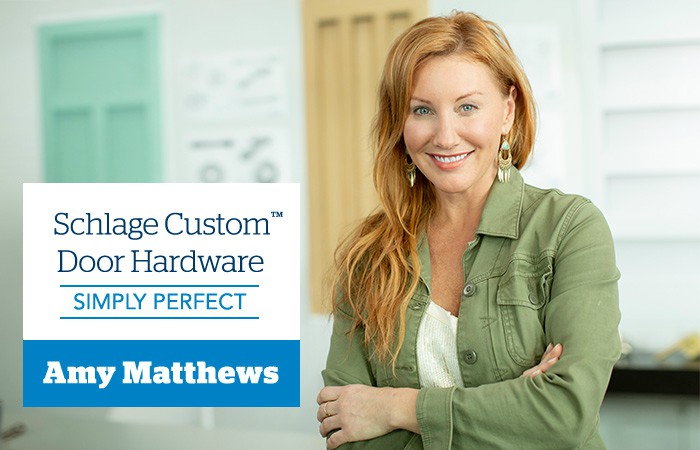 After 50 years, the clean, sleek, distinctive look of
Mid-Century Modern
has been making a comeback. But to Amy Matthews, Contractor, DIY Designer extraordinaire and TV host, it never really went away. And there's a good reason for that. Mid-century modern style is all about simplicity and functionality. At its core, it's about stripping things down to basic design, bare elements and the inclusion of natural elements and textures offset by touches of bold color and contrast. There's a timelessness to it which has made it so unique since its heyday in the 1950s and 1960s.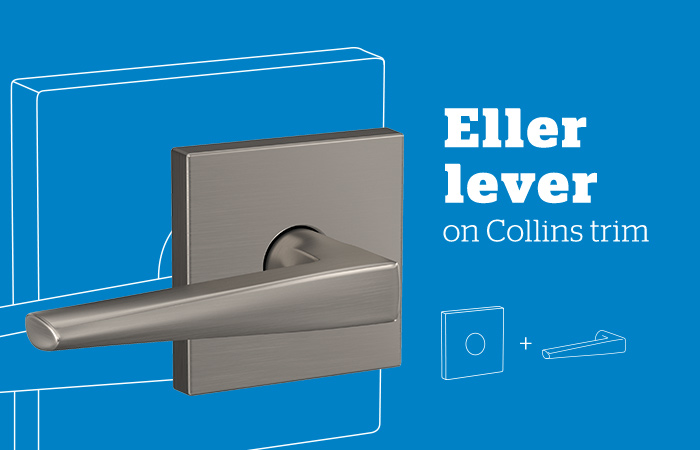 Mid-century modern was the direction Amy chose for creating an entire design around a single piece of Schlage door hardware – the Eller lever. In the second installment of her four-part series in which she creates imaginative mood boards in this fashion, Amy took her inspiration from the soft, simple lines of the Eller lever to design a mid-century modern masterpiece.
The Eller lever features a distinctive silhouette and a decidedly modern style with the brushed nickel finish serving as a contemporary highlight in contrast to the wood, stone and period touches that Amy selected.

It's minimalist style to the max. And if you've watched Mad Men, you know the look. We think you will love Amy's take on this iconic era of interior design.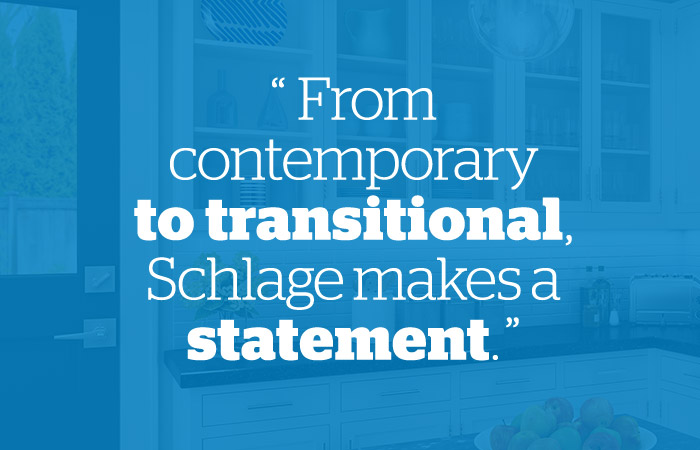 The inspiration
Schlage's Eller lever was created to be mainstream enough to work in a variety of contemporary to transitional settings. Its soft, curving Scandinavian design and clean precision make it the ideal starting point for building a range of modernist looks. The Eller also pairs with a number of available trims and finishes which allow for versatility in design. Talk about open possibilities. According to Amy, she really "jives" on this particular look.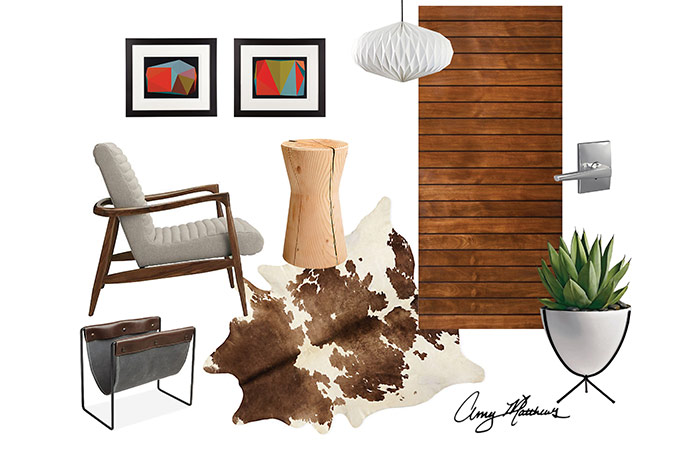 The mood board: authentic, clean and all-natural
Starting with the Eller lever, Amy embraced the challenge of designing the mood board around the door hardware. She wanted immediate contrast with the rich, natural wood of the door and its ruddy texture. She also wanted to juxtapose the brushed nickel and modernity of the lever with warm hues and patterns. This was reflected by Schlage designers in the furniture stylings, the simplicity of the dark gray, textured tile flooring as well as the warm, inviting colors chosen for room accessories and appointments. The outcome was clean, modern, natural and truly inspired.
The look: modern and sleek
Amy's mood board carefully considered the entire aesthetic of the room. She built the mood board around the Schlage Custom Eller lever and paired it with a rich, natural wooden door. She wanted to really pull out the contrasts afforded by the naturalness of the wood, contrasting colors like pale green and dark gray with the brushed metal finish of the Eller lever (the only metal in the room). Other accent colors like corals and reds were included in the geometric accent patterns in the pillows, rug and other accessories.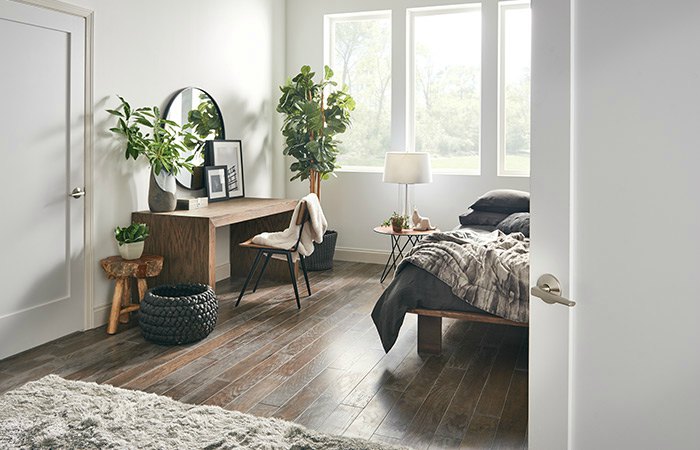 The name says it all
One system. Endless possibilities. Whether replacing outdated or broken locks, remodeling a single room or simply adding new, decorative details, Schlage Custom Door Hardware makes personalizing a single room–or an entire home–as simple and easy as can be. It's perfect for tailoring door hardware designs to the specific needs of every room.
One screwdriver is all it takes to customize the style, finish and even functionality of Schlage Custom door hardware. A small locking pin lets you customize the door's locking function to your needs. And a wide range of designer knobs, levers, complementary trims and long-lasting and lustrous finishes deliver a whole new level of versatility in both style and function.
For more information visit schlage.com. And to see Amy and Allegion Style & Design Chief Ted Roberts in action bringing this room to life, click here. You, too, can create a room like this. Affordably. And all it takes is a little imagination and the safety, simplicity and style of Schlage.