New Schlage Custom™ Handlesets extend the possibilities of stylish entry design.
By emily.bailey
The bold look of our latest ¾ handlesets allow homeowners to create the perfect first impression for their home with exterior locks that set the standard for safety, simplicity and style.
Personalization and flexibility. These two concepts are turning up time and again in design blogs and articles as people look to elevate the style of their homes. The bold look of our latest ¾ handlesets allow homeowners to create the perfect first impression for their home with exterior locks that set the standard for safety, simplicity and style.
Some color trends (the rose gold thing) are on the way out while others (brown is back) are on the way in. Bright, expressive colors are also popular, with Ultra Violet, of all things, taking center stage as Pantone's Color of The Year. Styles, colors and character are changing from room to room as people express their own personal style and strive to "embrace natural character and authentic textures in their home" according to Leigh Spicher, design director for a leading home builder.
Schlage Custom™ Door Hardware and the newly introduced ¾ handleset provide a unique opportunity, offering a breadth of products that perfectly suit today's focus on flexibility, style and functionality.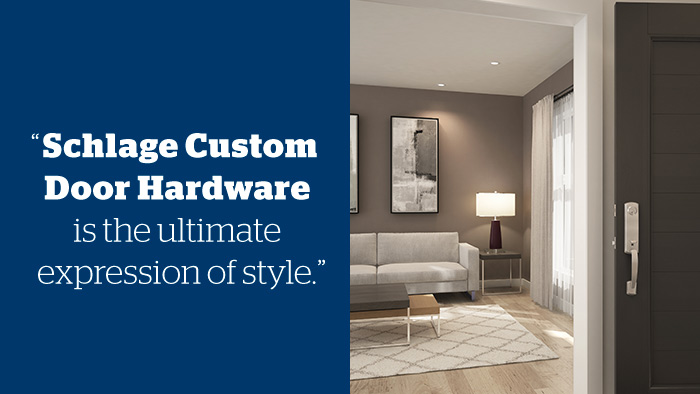 The name says it all
One system. Endless possibilities. Whether replacing outdated or broken locks, remodeling a single room or simply adding new, decorative details, Schlage Custom Door Hardware makes personalizing a single room–or an entire home–as simple as can be.
A screwdriver and an allen wrench are all it takes to customize the style, finish and even functionality of any door lock. It's that easy. A wide range of designer-inspired knobs, levers, complementary trims and long-lasting and lustrous finishes help make for the ultimate first impression when Schlage Custom handlesets greet visitors at the front door. And brand new ¾ handleset designs, launching this month, add even more possibilities. The distinctive ¾ trim from the grip to the deadbolt creates a stylish, architectural look that is unmistakable and will literally give your entrance door a makeover.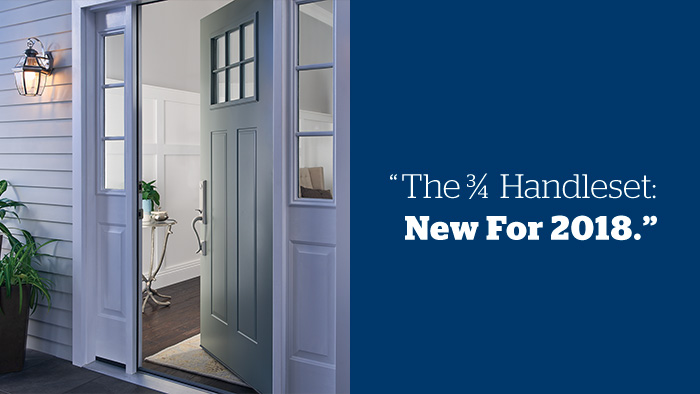 Flexibility in function
Design flexibility is just the beginning. Inside the home, Schlage Custom Door Hardware works for a hall or closet door as easily as it does on a locking bedroom or bathroom door. If a homeowner wants to add the ability to lock the door, they simply insert the included locking pin. Without any additional tools, and in just a moment, they can add or remove the locking pin to suit the needs of any room at any moment.
Well suited for style, performance and value
"Price is what you pay. Value is what you get." This has never been more true than with Schlage Custom Door Hardware.
Regardless of function, regardless of style preferences, the sky is the limit whether a homeowner is looking for a coordinated look throughout their home or wants to mix and match styles on different doors. They can even mix and match styles and finishes on both sides of the same door depending upon what they've chosen for a specific room's décor – from traditional to transitional to contemporary and beyond.
The innovative core of Schlage Custom allows for a range of options, allowing for a quick, convenient style update without having to remove the whole lock. And Schlage's premium design won't break the bank, delivering a custom designer look that installs in minutes. And at an affordable price.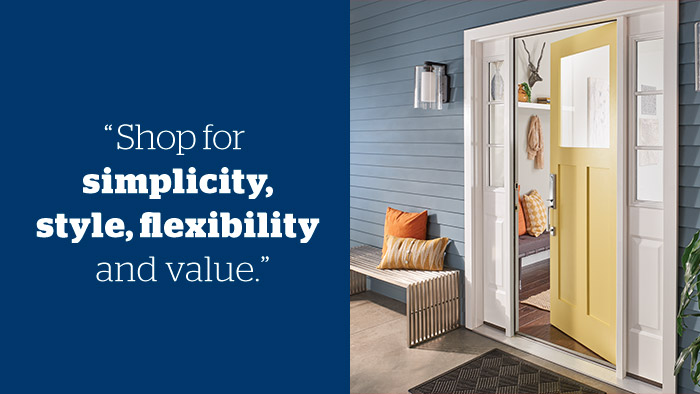 According to Ted Roberts, the Style and Design Chief at Schlage's parent-company Allegion, "Today's home styles call for flexibility, simplicity, premium style and value. It's no surprise that these have been principles upon which Schlage was founded almost 100 years ago and that we continue to deliver upon, today."
Schlage Custom Door Hardware was designed with both form and function in mind. Explore the possibilities at Schlage.com and purchase online at amazon.com and build.com and coming soon to homedepot.com and lowes.com. Enjoy the safety, simplicity and style of Schlage.