Ted talks front porches: how history and style repeat themselves
By emily.bailey
A passionate architectural historian, Ted talks about the evolution of the front porch in America, its up and down history and its recent renaissance.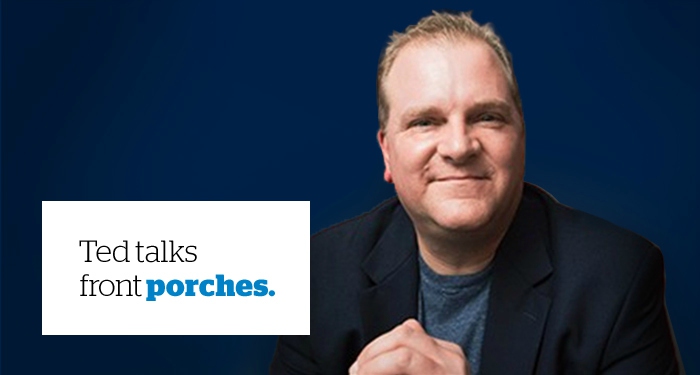 Last April, we explored some budget-friendly tips for getting your front porch in tip-top shape each Spring. Creating first impressions. Making your porch a living space. Simply dressing up your front door. There's no end to the simple, affordable and stylish ways to welcome the season–and the world–to your home.
Where did it all begin? And what can we look forward to as front porches make a major comeback as both a functional and fashionable statement?
For some insight, we turned to Ted Roberts, the Style and Design Chief at Allegion. A passionate architectural historian, Ted talks about the evolution of the front porch in America, its up and down history and its recent renaissance. He also shares his vision for the future of front porches and their role in creating a sense of community.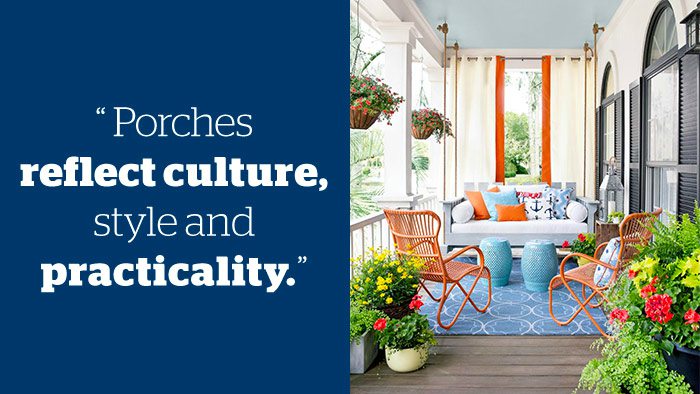 Q: What can you tell us about the historical significance of the front porch?
A. "Homes, throughout history, have always reflected our cultural and practical needs. In colonial times, there weren't many porches. It wasn't until after The Revolutionary War that they began to appear in the South, driven by the need to escape the heat. The porch served a function. It was a comfortable part of the house because of its cooling breezes and protection from the sun. But it was also a meeting place, a comfortable place to socialize. And the nation was growing."
Q: That was the beginning, what happened next?
A. "Over time, the porch evolved, getting more expansive and becoming an even more functional meeting space. This continued into the 1920s. As our cities and towns grew, porches became a social phenomenon because homes were being constructed so close together."
Q: And then the popularity started to decline?
A. "Yes. The 1920s into the 30s saw a drop-off, mostly due to new technologies. With the automobile, people simply weren't at home as much. Also, the dirt and noise from the roads made porches less inviting. On into the 1950s, you had the advent of radio and TV which tended to keep people in the house. And then came air conditioning! Now you didn't even have to go outside to catch a cool breeze."
Q: When did the front porch start to make a comeback?
A. "While there was a slight comeback in front porches for a time between 1970 and about 2000, we saw many home designs dominated by garage doors. Technology had again forced a design shift that put the front porch on the back burner and two-car garages at the forefront.

Two things are leading today's comeback. We're becoming more social, number one. And number two: home delivery. We once had the milkman making deliveries, but that faded as communities grew and small local grocers became big chain supermarkets. Now it has come full circle with technology allowing for everything from meal services to package deliveries. The result: a functional need to have a protected place for such things. This simple need has contributed to the morphing of the front porch into a useful and social showplace for the home.
Q: Where is the porch going?
A. "Based on what we're seeing, it's not going anywhere. The porch has become a unique space and a showcase for one's fashion sense and is important to the curb appeal of a home. While it's not your living room, people are bringing the same design sense to the space. Plants, furniture, ceiling fans, outdoor televisions, the traditional porch swing, occasional tables, built-ins – these are all now part of the front porch landscape. And will continue to be."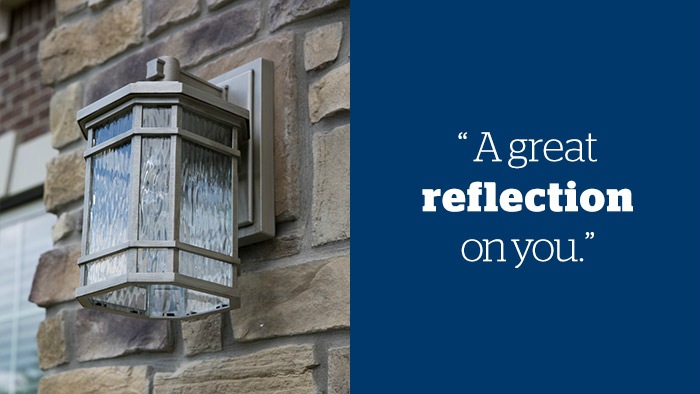 Q: How has this impacted the front door, itself?
A. "Your front door is not just for wreaths anymore. It's a space where you can make a statement. A reflection on "who owns this house." You can dress up your door with things like pictures frames and family crests. You can refinish an old door or transform it entirely with large-pane glass or fancy cut glass with black muntin separating the panes – a huge trend right now.

"Perhaps the easiest and most cost-efficient way to update your look is with new door hardware. And with so many styles available, you can complement everything from traditional to farmhouse to modern decor. Your front door can set the tone of your home, whatever your style. Quickly. Easily. Affordably."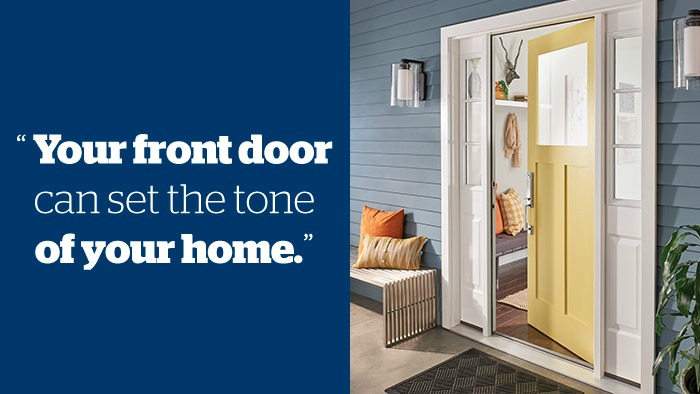 Q: What does this mean for Schlage?
A. "We've built our business by keeping pace with the needs of our homeowners. For instance, as front doors have become larger, we've included an assortment of oversized handlesets in our Schlage Custom™ Door Hardware line that will come out later this year. We also offer a broad assortment of knobs, levers and electronic locks that can be paired with a range of Schlage products depending on the style or door application."
The front porch is back, big time, and Schlage continues to be bring innovation and style to this important space, just as it has for more than 95 years. For more on how Schlage can open up a world of possibilities for your front porch, visit
Schlage.com
.