Best gardening tips to create deck privacy with plants.
By emily.bailey
Wednesday, September 13, 2023
When you're looking for an outdoor retreat without losing curb appeal or feeling boxed in, try these plant ideas that give your deck more privacy.
We love spending time outside in our backyards and on porches. The fresh air, sunshine and family time can't be beat. Many of us are less enthusiastic about prying eyes, whether from neighboring houses or passers-by. When you're looking for an outdoor retreat without losing curb appeal or feeling boxed in, try these plant ideas that give your deck more privacy.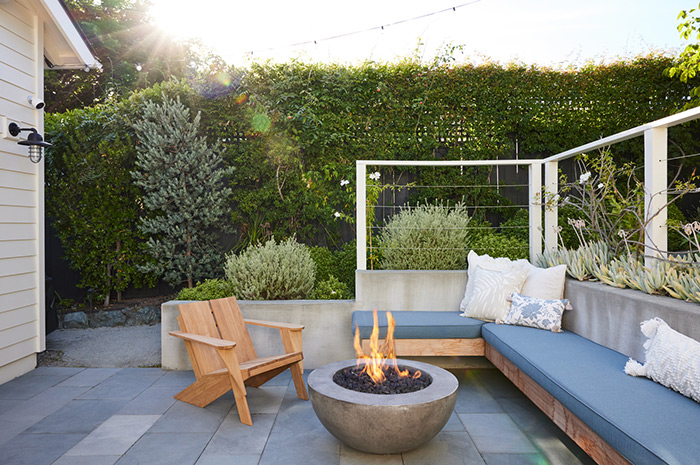 Best backyard plants for patio privacy
For backyard privacy that feels more natural than a fence or that creates the illusion that you're relaxing in a nature preserve, choose tall plants for your garden. Of course, look for varieties that thrive in your region, but you might consider some of these popular plants for equal parts beauty and privacy.
Ornamental grasses
For coverage high and wide – many varieties can grow as tall as eight feet and spread to about six – ornamental grasses are dependable plants for privacy. Zebra grass grows well in most zones and, because its foliage is multicolored, a nice addition to your curb appeal. Fountain grass and pink hair grass are other options. The kiddos might also get a kick out of their fuzzy spikes, great for a sensory garden as well as privacy.
Bamboo
The most important thing is to choose your bamboo varieties wisely. Some are invasive and difficult to control. To help avoid that, choose a clumping variety, which grows taller versus out over wide areas. Also, choose a type of bamboo that will survive in your climate zone. Red Dragon, for example, can take temperatures as low as -20 Fahrenheit, so you even cold-weather homeowners can enjoy privacy. You'll need several bamboo plants, spaced a few feet apart. The denser the plants – don't worry about overplanting bamboo – the greater the privacy.
Palms
We especially love palms for adding privacy to smaller patios or porches. It doesn't have to be some huge, coconut-producing variety. Look for Areca, Lipstick or Needle palms instead. Because most palms don't winter over very well, you might grow them in a container and bring them indoors when the temperature gets too low. Now, can't you just imagine yourself lounging in a comfy chair or hammock, surrounded by tropical fronds?
Fast-growing trees
None of these options will give you privacy overnight. You can speed things up a bit by choosing fast-growing plants and trees. Arborvitae, also known as Thuja, is one of the most popular varieties due to their hardiness and low maintenance. Leyland cypress and many other evergreens are solid picks, too. If you aren't a fan of having trees close to the house, plant them along your property line in place of a fence.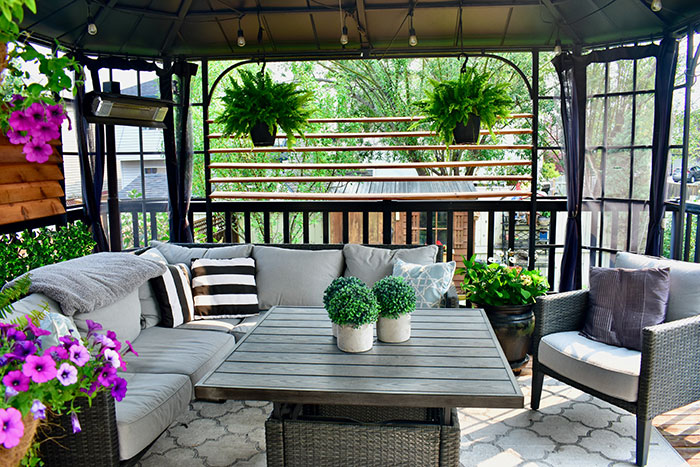 Potted privacy plants
A container garden is another great way to add privacy to a deck or patio. Not only will the plants help shield the sun or your neighbors' attention, but so will the pots or whatever structure you hang them from. Hang plants high and let them drape, or start them low and let them climb.
Vertical veggie garden
Vertical hanging gardens are the perfect solution for those who are looking to create privacy with plants but have limited space to do so. These gardens utilize vertical space, allowing you to grow plants upwards and save valuable floor space. A great low-cost tip is to repurpose a shoe caddie and transform it into an herb planter. Or try growing climbing plants like beans, cucumbers, and even tomatoes on trellises or vertical planters to create a beautiful and functional privacy screen.
We especially like I Spy DIY's vertical garden makeover and addition of a Schlage smart lock and lever on the back door. It's the perfect companion for gardening enthusiasts who want both security and easy access to their outdoor oasis. With keyless convenience and remote access, it ensures your home is always secure, giving you peace of mind while you tend to your garden. No more fumbling for keys when going in or out of your back door, just a simple touch or code entry!
Hanging plant wall
One of the best things about this plant privacy wall is in that you can upcycle many of the materials to make it yourself. Reuse old shutters or pallets, for example, or frame some chicken wire or lattice panels. Once you have your structure in place, hang small potted plants using hooks or rope. The combination of plant varieties and arrangements is endless. This is customized DIY at its finest.
Suspended window boxes
Are they window boxes or hanging planters? There's no need to choose. Use sturdy chain to suspend the boxes from a covered porch or pergola, and fill them with plants that drape over the edges. Think ferns, trailing snapdragon and sweet potato vine. The Spruce has even more ideas for spiller plants for container gardens.
Potted climbing flowers
Climbing or vining flowers like jasmine or clematis make the perfect potted privacy plants and add beautiful color to your curb appeal and privacy at the same time. Repurpose tomato cages or use a stake or trellis to give your flowers something to creep up. With a few containers side-by-side, you'll have a gorgeous and colorful living privacy screen. Climbing roses are a great addition to an existing fence, too.
Fast-growing trees
Privacy is key to enjoying your back deck or patio. Especially when houses are close together, having a secluded area where guests can relax without any distraction is important. By strategically placing tall and dense plants in rail planters, you can create a natural barrier that adds a touch of privacy to your space. Choose plants like bamboo, tall grasses, or even climbing vines to create a lush and secluded space.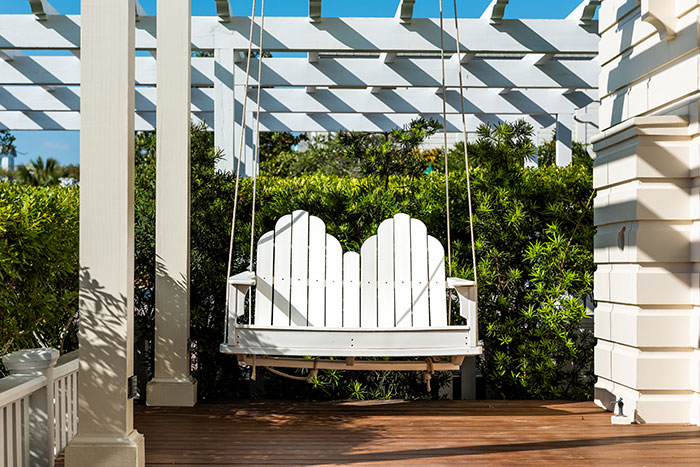 Consider long-term maintenance
When it comes to using deck and patio plants for privacy, it's important to consider the maintenance aspect as well. While plants can provide many benefits and added privacy to your space for years to come, it is crucial to choose the right plants and be mindful of their growth habits. Some plants can get out of control, requiring excessive trimming and potentially creeping into your neighbor's yard. Additionally, certain plants with aggressive root systems can cause potential decking or foundation issues.
So, while enjoying the benefits of privacy, it is essential to keep these factors in mind and choose plants that are manageable and won't cause any unwanted complications. With proper planning, you can create a private outdoor sanctuary that brings beauty and tranquility to your space.
Looking for more ways to add privacy to your home? Or maybe you're just hoping to spruce up your curb appeal for the warmer months? Visit the Schlage blog for more DIY tips and tricks that will help make any home feel like a haven.