The smart Father's Day gift guide.
By emily.bailey
Father's Day is just around the corner, but have you found the perfect gift for dad yet? Get him something he will use every day of the year.
He doesn't need another tie and he certainly has plenty of socks. With Father's Day just around the corner, give Dad something he actually wants: high-tech toys. The good news is that if he's like most dads, he's totally into electronics. With that in mind, and with the popularity of smart homes on the rise, how about a gift that he'll not only love but that will make his life easier?
Many smart home devices – lights, locks, thermostats – require some kind of home automation hub or other device to connect it to your internet. We'll get to those lights and such in a minute, but first, the hubs that help make the magic happen.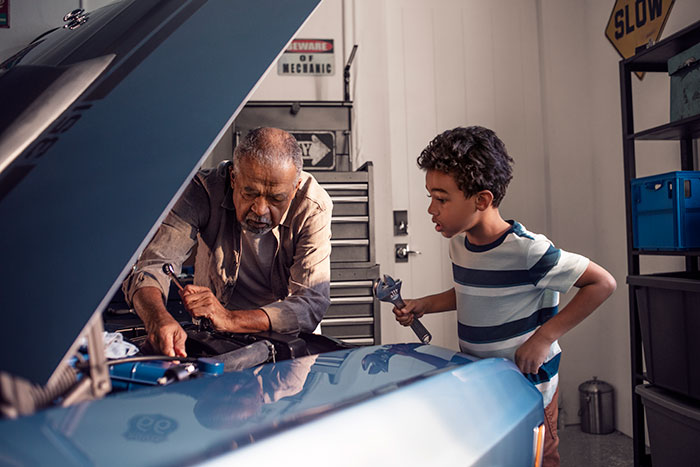 Smart home hubs for your smart guy
Apple TV®
Apple TV is a great, all-in-one gadget for any tech dad's home. It's TV customized to him and the family. The Apple TV app lets Dad watch whatever he wants – HBO Max, Disney+, Amazon Prime Video, Apple Originals – whenever he wants. He can listen to music, work out at home, use Siri and play games, too. And when top-notch quality with the latest bells and whistles is important to him, be sure to check out the Apple TV 4K.
Apple TV also connects with HomeKit®, giving remote access to compatible devices, including the Schlage Encode Plus™ Smart WiFi Deadbolt. You – or Dad – can create custom scenes to control your home's settings, like locking the door at a certain time every night. And if you have other compatible smart home devices, those custom scenes can include things like turning your thermostat down when you leave for work in the morning and back up before you get home.
Samsung SmartThings®
If you think Dad is going to love customizing everything, SmartThings might be exactly what he's hoping for. Not only can you set routines (similar to Apple TV's scenes), you can use the SmartThings app to create even more customizable scenarios, like Smart Away that uses Caséta by Lutron to randomly turn lights on and off when you're not home. Of course, there's remote access through the app and compatibility with so many other devices, ranging from Samsung appliances and the Schlage Connect® Smart Deadbolt to garage doors and home entertainment systems.
Ring Alarm
The Ring Alarm Base Station works on a Z-Wave mesh network, meaning it can serve as a hub for the Z-Wave-certified Schlage Connect Smart Deadbolt. Syncing your compatible Schlage Connect lock and the Ring Alarm improves your home's security and lets Dad control the lock from the Ring App. Plus, Ring Alarm is also compatible with other in-home devices – smoke detectors, flood sensors, motion detectors – so he can customize and play tech wizard to his heart's content.
Shop Schlage Connect Z-Wave locks
Another option could be the Ring Video Doorbell paired with the Schlage Encode™ Smart WiFi Deadbolt. The Schlage Encode lock features built-in WiFi, so technically the video doorbell doesn't serve as a hub. But the two make a perfect combination, letting you see who's at the door and unlocking it remotely for trusted visitors.
Schlage is constantly adding partners that work with our smart locks. For an up-to-date list of compatible smart home hubs, security systems and access management systems, visit our Works With page.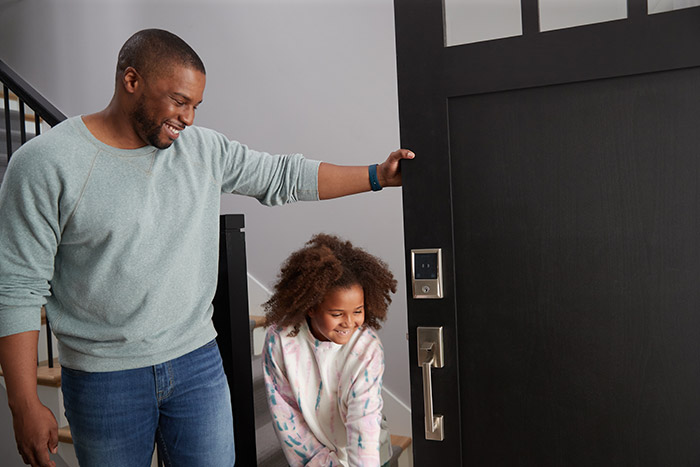 Smart locks
Schlage has locks that work with all three of the smart home hubs we mentioned earlier. But if Dad wants a smart lock without the extra step of a hub, choose the Schlage Encode deadbolt with built-in WiFi. No additional hubs or accessories are required for remote access, and you still get to enjoy compatibility with other smart devices, not to mention voice control with Alexa and Google Assistant.
Give your dad the gift of going keyless for Father's Day. Now he will never have to worry about losing his keys or wonder if he locked the door before going to bed. If he goes for a run or tackles an outdoor DIY project, he can still lock up the house without being weighed down by keys. He'll be able to control the lock through his phone from anywhere and, maybe most importantly for that high-tech guy, look really cool doing it.
Amazon Alexa
It seems that most homes have at least one Alexa-enabled device, such as the Amazon Echo and Dot, these days. While you may already know that they have voice-controlled speakers that act as your own personal assistant, there are always new requests to make and automations to set up. Need a reminder to water the lawn? Just ask Alexa to add it to your schedule. Running low on dad jokes? Alexa can provide some new material. Need to reorder batteries, request an Uber or order Dominos? Alexa can do that for you, too.
Alexa is also compatible with many smart home devices including Schlage Connect Smart Deadbolt, when paired with a compatible hub, Schlage Sense locks or the Schlage Encode Smart WiFi Deadbolt. When you're ready for bed, ask Alexa to turn off the lights and lock your front door. If Dad is always hot but hates getting up to adjust the thermostat constantly, he can ask Alexa to do it for him. Think of all the things Dad can do with voice control and automation so he can focus on family fun.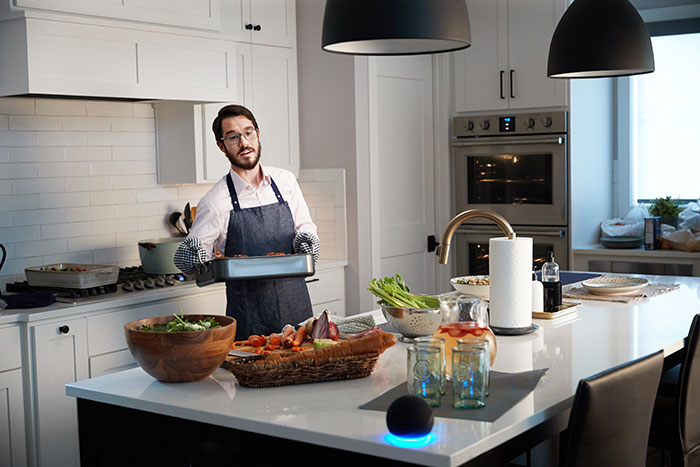 Lights
The Philips Hue lights are energy-efficient LED lights that offer a completely new lighting experience. These lights let you or your special dad dude customize the look and feel of your home. Change the shade and intensity of your lights, even syncing them with your TV shows and games, automate them to run whether or not you're home, or use ambience settings to help everyone sleep better. Dad could even set them to a certain color when he is in "do not disturb" mode, especially important if he's working from home … or watching the big game.
Thermostat
Smart thermostats might not sound super glamorous, but they could still be the perfect gadget for your dad this Father's Day. After all, he's not paying to cool the whole neighborhood! For the patriarch who watches the budget and the environment, try something like the Honeywell Home WiFi Smart Color Thermostat. Fully customizable schedules for each day of the week, remote control via a smartphone app and even smart response technology, which automatically adapts to your schedule and learns your preferences, make this an appealing gift.
We know your dad is special and he deserves a gift that's as unique as he is. If you need more help choosing the perfect smart lock, try our Get Help Deciding tool.