Why smart locks are a smart vacation rental business decision.
By emily.bailey
If you're preparing for summer business, let Schlage answer your questions about how this simple upgrade can improve the security of your rental property and help boost business.
Do you manage a vacation rental? Then you really ought to have a smart lock. If you're preparing for summer business, let Schlage answer your questions about how this simple upgrade can improve the security of your rental property and help boost business.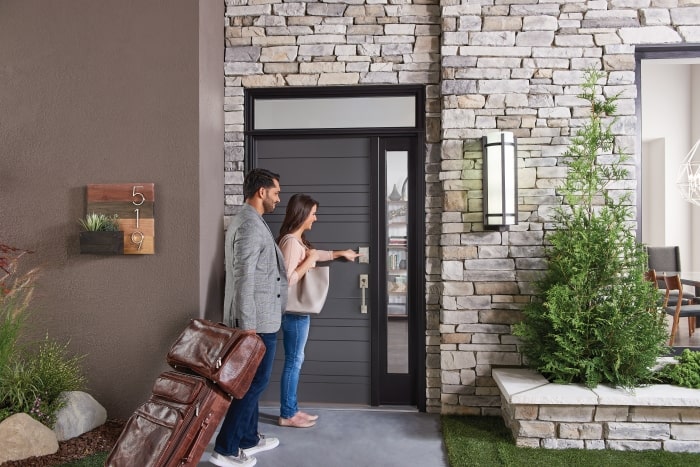 Smart locks for vacation rental questions and answers
It's always a hassle exchanging keys. How can a smart lock make that easier?
Because no key is required to lock and unlock a smart lock, there's nothing physical to exchange. You provide a unique access code to your guest, which can be done via text, email or, in some cases, directly through the booking website. This means that you never have to wait around for your guests to arrive, freeing you up to do what matters most to you.
Can I control when guests have access to my rental property?
Absolutely. With the Schlage Encode™ family of wifi smart locks, you can schedule access codes to be active only at certain times. For example, if you know your guests are staying Friday through Tuesday, simply use the Schlage Home app on your smartphone to schedule the access code for Friday after noon – when your house cleaner is finished making the place shine – through Tuesday night. Your guests have access when they need it and there's no worrying if someone is entering the house when they shouldn't be.
Because you don't need to provide a physical key, it's impossible for guests to make a copy and come back later when they haven't book a stay. That means you can avoid "repeat guests" of the worst kind, those who want to make off with your TV, or worse.
What if a guest forgets their access code?
The solution is a lot easier than if they lose the key. It's as simple as texting them the access code you originally assigned to them. And because you create any code you like, you can make it something they'll never forget, like the last four digits of their phone number.
If they're in a real pinch, you can also use your smartphone to lock and unlock the door from anywhere for them with any of the Schlage smart locks.
How can I tell if the house is secure? If I don't have to get the key returned, there's no way to know if the guest locked up when they left.
When you have any of our three Schlage Encode wifi locks paired with the Schlage Home app, you can check your lock's status at any time, from anywhere. If you know your guests have departed but your app says the door is unlocked, a simple tap on your smartphone screen can secure the deadbolt.
Can I give access codes to others, like house cleaners or maintenance workers?
You can give access codes to as many trusted individuals as you like, including those working for you to keep your rental property working perfectly. Schlage Encode WiFi smart locks have memory for up to 100 unique access codes, while Schlage Connect™ Smart Deadbolt (not compatible with the Schlage Home app) holds up to 30. Give service providers their own unique code on a permanent basis or only at certain times when they should be completing jobs for you. Again, there are no spare keys to worry about, and you can see when the cleaners came and went using the Schlage Home app's activity tracker.
How can a smart lock help my rental property make more money?
True, smart locks tend to be pricier than traditional mechanical deadbolts, but adding quality door hardware is worth the investment. Smart locks give greater peace of mind to both you and your guests, making it more likely that they'll be willing to pay a little extra to stay with you. When potential visitors view pictures of your vacation rental, a front door with a smart lock that says, "We take your safety seriously," can be a deciding factor in whether they choose you over a competitor. And from a simple dollars and cents perspective, you'll save money when you no longer have to replace keys, rekey a home after losing a spare or waste time on simple tasks when you could be using your time more wisely.
Don't underestimate the draw of a smart home, either. Consider a home automation system that allows you to link multiple smart devices and create convenient scenes. For example, with a smart thermostat, smart lights and a smart deadbolt, you can create a "Welcome" scene. When you receive a new booking, activate your scene from anywhere so the house is the perfect temperature and lights are on to greet late-night arrivals. It's attention to these details that make guests want to come back for more.
Do guests really care if the property has a smart lock or a traditional deadbolt?
Yes! More travelers are recognizing the superior security smart locks provide. That means they feel more comfortable staying at your property and leaving their belongings in your rental home. Quite simply, if they don't feel safe, they won't come.
Many also appreciate the same convenience you do – not needing to wait for you to show up with the key or to return it at the end of their visit and not worrying about carrying or losing a key while they're sightseeing. It's small upgrades like this one that send a strong message to guests.
Use our Get Help Deciding tool to choose the right smart lock for your vacation rental. When you upgrade to the safety, style and simplicity of Schlage, you're giving your business – and your house guests – the peace of mind and convenience that pays off for everyone.