Fake a winter getaway with these home décor ideas.
By emily.bailey
Thursday, January 28, 2021
Winter is the season for nestling into the warmth of home. When cabin fever sets in, though, we all need a little help to escape. This isn't your typical staycation. Plan your perfect at-home getaway with these décor ideas. You might just be able to trick the senses and transport yourself to a wintery cabin retreat, a beach cottage or even a Mediterranean destination.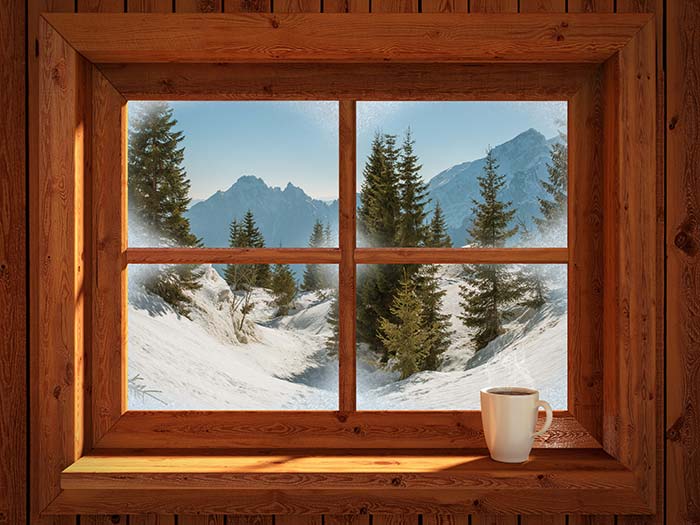 Destination 1: Winter Woods Cabin Retreat
For some of us, the best thing about winter is the chance to stay home and burrow into blankets with a hot drink. Still, a change of scenery can be nice. Combine both those things by creating a cabin-like retreat in your own home. We're taking inspiration from the mountains and ski resorts to get started.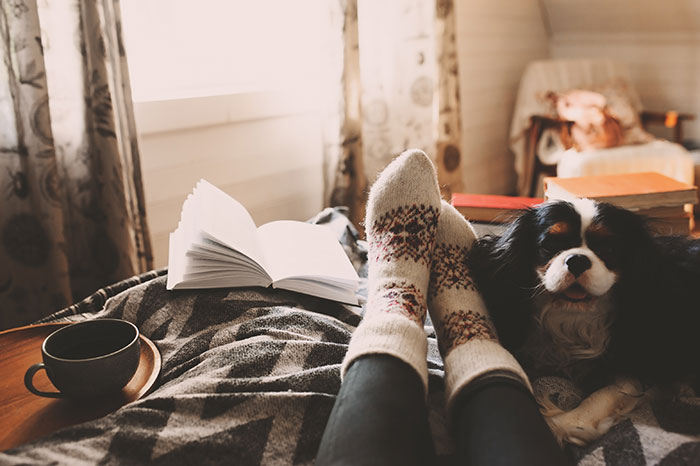 It wouldn't be a wintery cabin without a cozy fireplace. Deck your mantel with seasonal décor. Hint: That doesn't mean Christmas-themed. Lanterns with real candles or LED lights, "potted" pinecones and photos of your favorite winter scenery are a good place to start.
Stash a beautiful basket nearby with extra wood, even if you have a gas fireplace. A few birch logs, regardless of whether you plan to burn them, will help create the mountain cabin feel. If you don't have a hearth, you're still in luck. You can always install an electric fireplace, no construction necessary. A faux mantlepiece works just as well for your décor, too.
We like the idea of oversized furniture. You can always go for natural wood furniture like a sparse pine chair, but there's something to be said for a plush chaise lounge or a wider-than-usual armchair to snuggle into with your book and tea. Don't forget the throw blankets, either. They'll definitely help you pull off the hygge vibe. Next, think about adding tables and consider how you'll use them. If you're a family that loves boardgames during long winter nights, go for a sturdy coffee table. On the other hand, a simple side table, possibly one you repurpose from elsewhere in your house, should be enough if all you need is a place for your drink.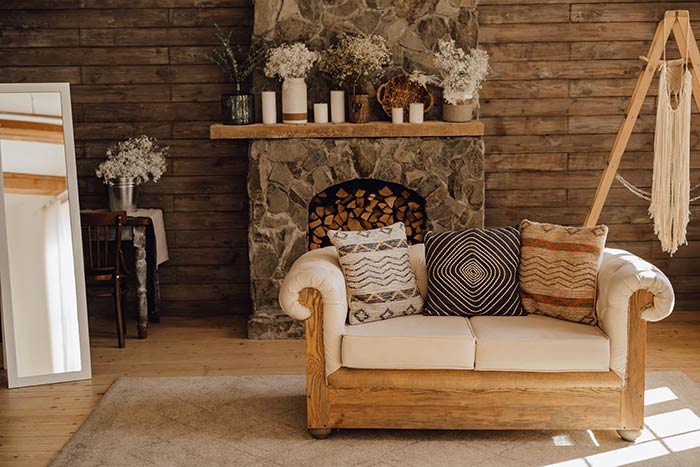 Set the cozy mood with soft lighting. Try table or floor lamps with a subtle glow instead of harsh overhead lighting. You don't want to be sitting in the dark, but you also shouldn't feel like you're on the streets of downtown Miami at noon.
Two senses we rarely think about when decorating – scent and sound – are especially important when trying to trick your brain into thinking you're somewhere else. Evergreen boughs are a nice natural touch that not only look nice but smell even lovelier. Scented candle fans have plenty of options, too. In addition to evergreen, you can also look for spicier scents like cinnamon or clove. Bergamot, moss and caramel are also popular for the season. Some candles have special wicks that actually sound like crackling fire, as well.
Destination 2: Beachy Cottage Getaway
When you're craving the sunshine, head to the beach with coastal décor and design. This is a great opportunity to give your patio furniture extra life, especially if you bought more during quarantine. Bring it inside and anchor it with a coastal-themed rug like one of these from Houzz. You might be surprised by how nice outdoor furniture looks inside.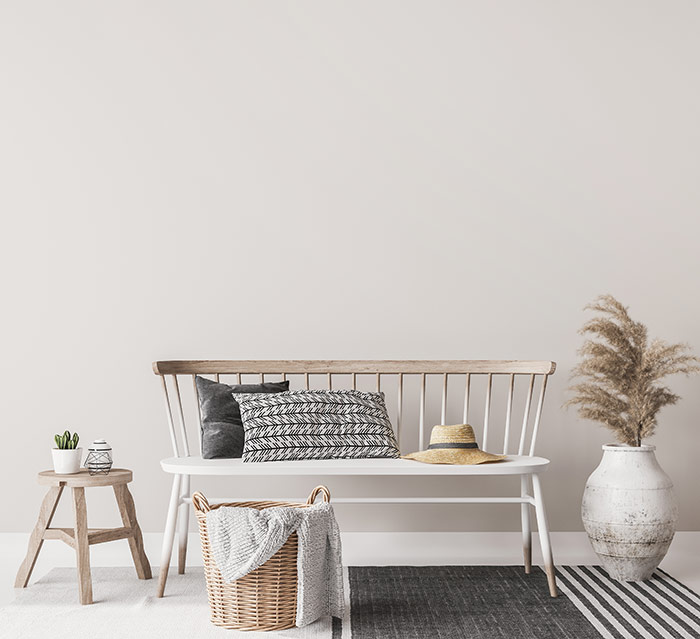 Rattan furniture – chairs, rugs, baskets – not only have the natural feeling you expect at a beach cottage, but they're also wildly popular right now. We think an indoor hammock is just the right amount of unexpected whimsy to make your home feel like your favorite vacation spot. Anchor a full-sized hammock to your walls or hang a hammock chair in smaller spaces.
Your beach décor could be as literal as seashells, nautical lanterns and boat paintings or more subtle with natural materials, sea glass vases and photos from your last beach vacation. Turn to blues and greens that remind you the water and the sky, then punch it up a bit with doses of yellow and coral. We're not talking just about paint color for your walls, though. You could upcycle a piece of furniture with new paint or add pillows, curtains and other textiles in those hues.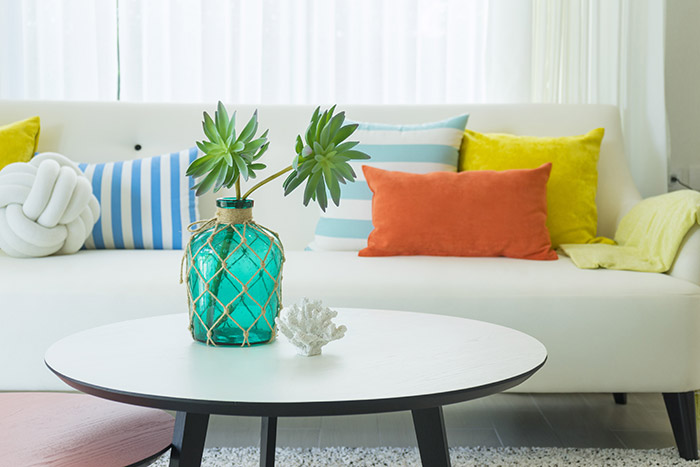 If you're going to re-create the beach at home, you have to have plants. There are plenty of indoor plants that are reminiscent of tropical locales. Try palms – Areca and ponytail palms are especially good plants if you have pets since they're non-toxic – or bromeliads and hibiscus, which have vibrant flowers. We say greenery is one area you should feel free to go a bit overboard (no boating pun intended). The more you have, the more it will feel like you're lounging outside. Plus, plants have the power to improve our mood, something you might appreciate during chill winter nights.
When choosing scents, citrus candles like lemon or orange, or anything labeled "sea breeze" are your clear choices. And if you want to close your eyes and really escape, ask Alexa to play ocean sounds while you relax.
Destination 3: Mediterranean Escape
Looking for a more exotic locale? Mediterranean can be interpreted in so many ways. Perhaps you steal elements from the beach, or maybe you go more global with hints of Bohemian Modern. Either way, choose the furniture, colors and accessories that make you feel like you've gone on an adventure, no plane ticket necessary.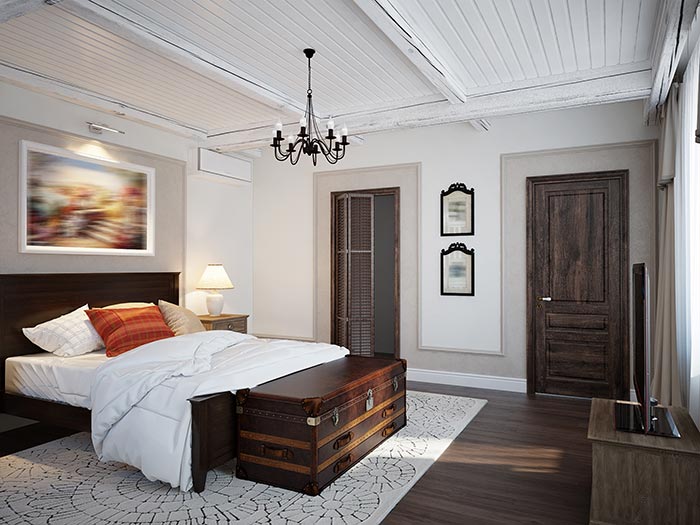 Mild Mediterranean weather means al fresco dining, but if the windchill keeps you inside, just bring the bistro table in. Place it on a simple indoor-outdoor rug or, if you're looking for a DIY project first, some mosaic tilework. You might be able to find some easy stick-on tiles that work just as well and look just as beautiful. If you don't have a bistro set or were hoping for something a bit more lounge-worthy, try floor pillows, perfect for stretching out in luxury.
That bistro décor also calls for string lights. Don't worry about them looking out of place indoors. They'll still be the perfect complement to bright colors, whether it's wall paint or textiles, and other global-inspired accessories. And speaking of accessories, we think is an ideal time to hang some of those vintage travel posters or artwork from around the world.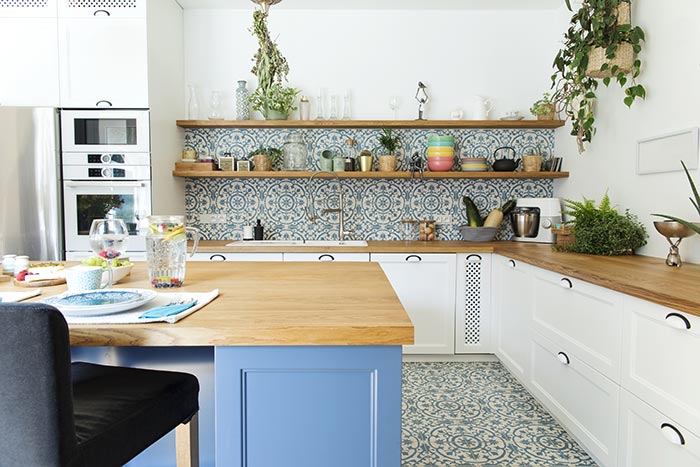 Depending on which part of the Mediterranean inspires your décor, you could go any number of routes for indoor plants. A classic Italian garden? Perhaps you choose a potted topiary. More seaside? Look to something in the fern family. Pay attention to the pots , too. Choosing the right container can be an easy way to add color and texture that helps transport you to another place.
Your version of the Mediterranean could have any number of scents as well. That ocean smell – minus the stinky fish, of course – could be for you. Or maybe it's more in the herb family. Thyme and rosemary might trigger memories of Italian villas, and the best part is that if you grow them yourself, you'll always have fresh ingredients for your next homecooked meal. Oleander is a good choice if you're more interested in florals, or fig for fruit lovers.
At Schlage, we firmly believe that home should be where you're happiest. Find more ways to transform your house into a sanctuary the Schlage blog, or search for inspiration with us on Instagram and Pinterest.