Creative ways to use the 2021 colors of the year.
By emily.bailey
When we saw paint companies' announcements for their 2021 colors of the year, we started thinking about how we could use those hues in our homes without picking up a roller.
Need a color shakeup but don't want to take on a massive painting project? We hear you. We love adding color throughout our home in small doses for two reasons. First, it's easier. It often takes just a few hours to see the total transformation of a coffee table versus a few days for an entire room. And if you choose to decorate with accessories instead of paint, it's even simpler. Second, there's less commitment. If you don't love it in real life – it looked so good on the paint chip! – you haven't spent a ton of time and money on something that didn't work out.
When we saw paint companies' announcements for their 2021 colors of the year, we started thinking about how we could use those hues in our homes without picking up a roller. Here are some of our favorites.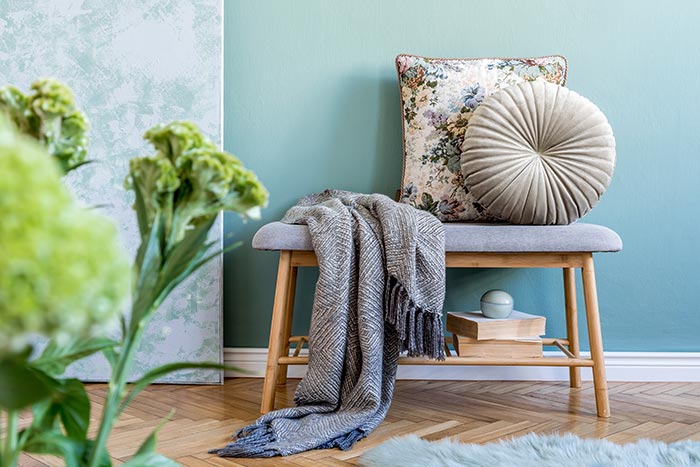 Passionate – HGTV Home by Sherwin-Williams
They say that this red wine-inspired color can stand on its own or be used as more of an accent. If bold is your jam, you might love painting an entire bookcase with HGTV Home by Sherwin-Williams's Passionate. We've seen whole built-in shelving units, top to bottom, cabinet doors and all, painted in this hue. It's a rich, masculine look for a den, especially with dark woods in the room.
Alternatively, you could paint just the backs of the cabinets. It's still dramatic enough to be noticeable but offers a pleasant style surprise in unexpected places. Try it on the interior of a bookcase or kitchen cabinets. Brass accents pair nicely with it as well, so swap out those cabinet pulls and other door hardware in the room while you're at it.
Long Horizon – HGTV Home by Sherwin-Williams
Dark-painted cabinets are trending right now. We saw how beautiful I Spy DIY's black cabinets were in her kitchen remodel, especially when paired with matte black light fixtures and door hardware. For an equally dramatic color but with a touch more softness, we like this deep blue. HGTV Home by Sherwin-Williams's Long Horizon pairs well with warmer tones – think oatmeal or Copper Kettle – so you might like it if you have lighter walls or want to go for the two-tone look with your cabinets.
Epoch – Graham & Brown
Painting your front door is a great way to update your curb appeal quickly and at relatively little expense. Deep colors, reminiscent of jewel tones, are popular choices. They make a bigger statement than you might expect given the relatively small square footage you're painting. Graham & Brown's Epoch is a deep plum color that's warm and inviting, exactly what you want to welcome guests to your home. It'll also add a punch of visual interest if you have a white, light brown or other neutral-colored exterior. Complete the look with a new front door handleset. With a deep plum like Epoch, we'd choose Satin Brass or Matte Black finishes.
For a smaller interior project, look for textiles in the Epoch or plum family. Throw pillows would be beautiful for a couch that's a lighter lavender shade or a more neutral greige. Bonus points if you also use
Graham & Brown's Timepiece Amethyst wallpaper
, which was the inspiration behind Epoch in the first place.
Misty Aqua – PPG
Babies are expensive. If you're upcycling a garage sale fine to save money or updating a family hand-me-down for your bundle of joy, we like PPG's Misty Aqua. It's a little bit blue, a little bit green and 100 percent refreshing. It would look perfect in a gender-specific or gender-neutral nursery, as a fresh coat of paint for a crib or changing table. You could also choose window treatments, cushions for your rocking chair or even stuffed animals in a similar color for the same effect.
Maple Leaf – Valspar
Valspar's Maple Leaf is billed as an ideal hue for a subtle accent wall, letting you dip your toe in this design technique without feeling like you have to choose black or fire-engine red. It complements other, cooler earth tones, so if you have lots of indoor plants or blue walls, you might love the relaxing contrast Maple Leaf brings to your décor.
For a smaller project, consider using Valspar's color as the base for an upcycled piece of furniture. Repaint a coffee table and then use more dramatic colors for an original design on the top. Or paint a two-toned dining chair with a Maple Leaf seat and
Vegas Green
legs or cushion.
September Skies – HGTV Home by Sherwin-Williams with Wander pattern – Apartment Therapy
If the reason you're hesitating to commit a new color to all your walls is because you're afraid it will be too bold, here's a solution. Some wall colors, when you don't have your furniture in place or artwork hung, can feel overwhelming. Fortunately, you can tone them down just enough with complementary décor. That's why we're choosing to go all-in with HGTV Home by Sherwin-Williams' September Skies. It's fresh and energizing on its own, and even more so with neutral, white curtains, mid-tone natural wood and a range of textiles.
For the complementary look, check out "Wander,"
Apartment Therapy's 2021 Pattern of the Year
. It's a biophilic – plant-inspired – mix of teals, browns and greens. The designer, Jess Franks, describes it as "that moment right at the end of summer/beginning of autumn." Put that way, it sounds like the perfect partner for
September
Skies.
See what other design trends might be perfect for your home at the Schlage blog. We'll not only show you the latest styles making homes beautiful today, but you'll also find the DIY tips you need to make it come to life.