Budget-friendly storage solutions for anywhere in your home.
By emily.bailey
Try some of these storage hacks with items you can use multiple ways and in nearly any room of your house.
When we say we're going to finally get organized, we often immediately turn to storage containers. All of a sudden, we're consumed with plastic tubs, under-the-bed totes and rollaway racks. Don't shop for hours trying to find the perfect bin, only to spend too much money on something that doesn't work like you wanted it to anyway. Instead, try some of these storage hacks with items you can use multiple ways and in nearly any room of your house.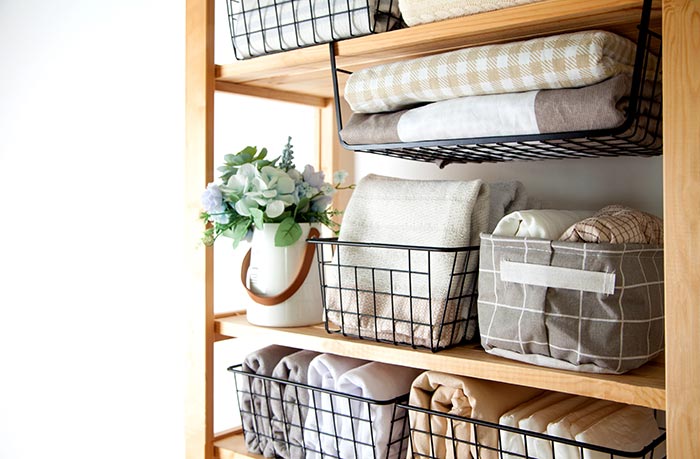 Shallow, open tubs or baskets
These are great for storing objects you use frequently but have odd shapes and won't stack neatly. Instead of giving them free reign of your cupboards, store water bottles, travel mugs and Tupperware in shallow tubs or baskets. You'll be able to see what you need quickly and when you keep the container in the same area as the lid, you'll always have a match.
Pull-out shelves are super convenient in kitchens, bathrooms and closets, especially if mobility and balance are a concern. It makes it easier to find things without bending down or crawling in the back of a cabinet. While it isn't terribly difficult to retrofit your existing cupboards, an even quicker solution is those low and shallow tubs. Pull out the bin you need, search through it on the counter, then slide it back where it belongs.
Wire racks
The type of rack you choose is as varied as how you use it. It could be a rack that's actually designed for organizing kitchen cabinets, or you could upcycle an old file organizer. Either way, use them vertically or horizontally as space allows and stack your cookie sheets, lids for pots and pans, smaller baking dishes or cutting boards on them.
If paper clutter is more of an issue, use them in an entryway or command center. Assign each rack to a different family member or purpose. Organize mail, schedules, shopping lists, homework and permission slips that need to make it in a backpack or purse before you leave the house.
If you or a family member are crafty, use a wire rack to organize your supplies. It could be construction paper, scrapbooking material or coloring books. It might also be the perfect system for organizing gift boxes, greeting cards and other wrapping supplies.
Tension rods
We usually use tension rods for hanging curtains, but there's no need to stop there. Put a shorter one under the sink and hang bottles of cleaning supplies on it. This works in the kitchen or the bathroom.
Another bathroom storage solution is hanging a tension rod in the shower. Use it for loofas, baskets with shampoo and other necessities if you don't have a shelf or enough ledge space for the whole family's needs.
Do you need more space to hang clothing and accessories in a closet? Add another tension rod. We tend to waste a lot of space in the lower half of our bedroom closets. Customize it with a rod toward the bottom for hanging pants. Tension rods are also good for storing scarves, ties and belts, especially in those narrow unused spaces at the sides of the closet. In an entryway closet, hang baskets from the rod as an alternative to shelving or cubbies and have kids store all their "get-out-of-the-house" gear there. Finally, tensions rods in a closet can make for an instant shoe rack.
Over-the-door shoe organizer
We're big fans of over-the-door shoe organizers for things other than shoes. These sheets of pockets come in either plastic or fabric to fit your needs and style. One place to hang the organizer is in an entryway closet. The pockets are big enough for most shoes as well as gloves, sunglasses, keys and portable chargers. If you have a dog, it's an ideal place for their leash, poop bags and toys. Don't make them wait for walkies.
Hang it in the kids' room or play area for toys and craft supplies. The lower pockets especially will let them self-serve when they need crayons or that one particular stuffy they can't sleep without.
Try an over-the-door shoe organizer in the bathroom to store toiletries. This could be your hair dryer, extra toothpaste or your travel-sized shampoo collection. The organizer works great in a linen closet or even just on the back of the main bathroom door.
We could go on and on. Hang the organizer in your bedroom for accessories, whether jewelry or work attire like ties and belts. Put it in the office for spare electrical cords, business cards you've collected or spare supplies like Post-It pads and pens.
Pegboards
Perhaps the two most common places for pegboards are the garage and kitchen. In either location, these are a great way to customize hanging storage. Tools, pots and pans, even spices can have odd shapes, making storage difficult. With a pegboard and some hooks, however, you can adjust as your needs change and make sure everything is within reach when you need it.
Don't stop there, though. Because another benefit of storage pegboards is that you can make them as big or small as you need, they're great over your office desk or in a bathroom as a jewelry rack. We've also seen this as a storage solution for small rooms and apartments. One large pegboard painted in a fun design allowed Our Sixth House to combine artwork with shelving in a single, compact project.
One final note: Don't think that you have to hang your pegboard vertically. Queen Bee of Honey Dos installed one in a deep drawer to organize her dishes. We can see this pegboard hack in any number of drawers, from a desk as a makeshift filing system to a linen closet for organizing towels.
Labels
Especially if you're going to get organized by storing items in closed containers or drawers, you'll need labels to make locating the contents easier. If you can't find them, you'll forget you have them and end up wasting money to buy more. Get a traditional label maker. They can be pricey, but most people think they're worth the investment. To label glass containers like pantry jars, try a paint pen. Chalk paint or adhesive chalkboard paper are also fun alternatives.
For little ones who aren't reading yet, organize their toys in bins with picture labels. Have a box full of Legos? Put an image of the blocks on it so there are no more excuses for stepping them.
Another great way to save money on storage is to upcycle items you already own or that you find at garage sales. If you're up for a little DIY project, find ideas on the Schlage blog, starting with creative ways to upcycle old doors and door hardware.