Homes of the Century: 100 years of bathroom beauty.
By emily.bailey
Thursday, October 1, 2020
Here's a look at bathrooms of the last 100 years as we continue our Homes of the Century series.
There are two kinds of people – those who never want to think about bathrooms and what you do in there, and those who want to luxuriate in a bubble bath with a book and glass of wine and never leave. That first group is thankful for walk-in showers and probably couldn't care less about the décor. The second gets nostalgically teary-eyed over claw foot tubs. Whichever person you are, you have a place in history. Here's a look at bathrooms of the last 100 years as we continue our Homes of the Century series.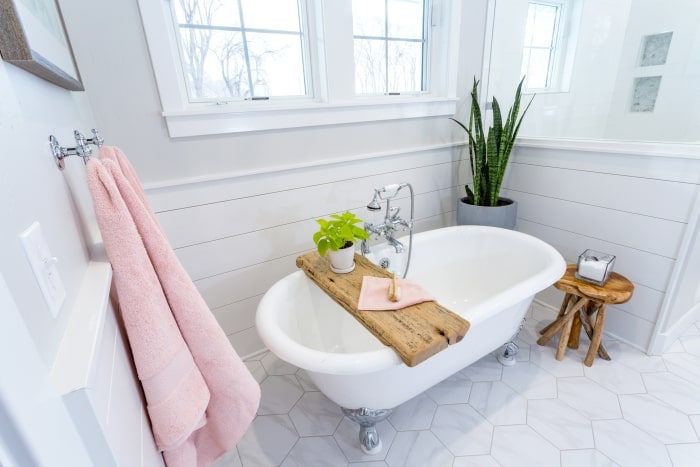 Bringing the bathroom indoors
Indoor plumbing and piped-in water, rather than outhouses and carried-in well water, started making their appearance in middle-class homes in the early 1900s.1 It was also around this time that many future homeowners purchased blueprints from a catalog to either construct a house themselves or provide to a builder. In this 1921 Sears, Roebuck & Co. catalog, the inclusion of a bathroom – indoors – was called out in the plans.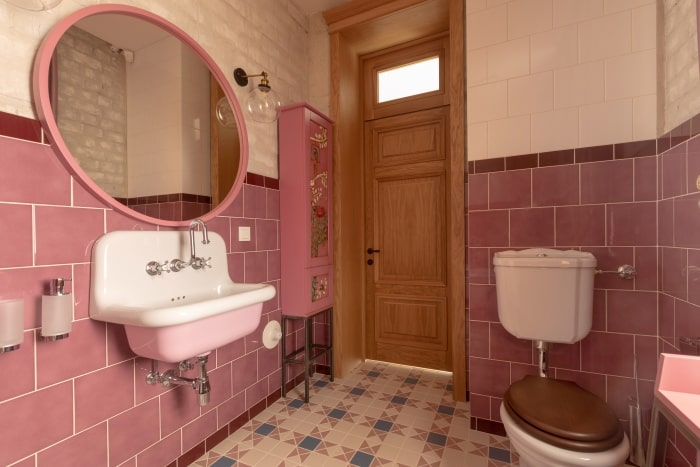 Because those blueprints also came with all required construction materials, Sears spelled out, piece-by-piece, what you got to build your own modern bathroom: "Chippendale bathroom outfit, 30-gallon galvanized range boiler, two compartment laundry tub, size 48x24 inches, and cast iron enameled one-piece apron sink, with all necessary galvanized iron supply and waste pipe, soil pipe, calking lead, oakum, galvanized fittings, faucets, traps and connections, etc.; in fact, everything required to install the entire system in a first class, sanitary manner." However, it added, "Water supply system not included."
And of course, you had those early clawfoot tubs. Designed with sloping backs and ornate feet, they were a status symbol for the wealthy. Tubs of all kinds began to go out of favor with time, as we'll soon see, but clawfoot tubs started losing their footing during World War I when the metal was needed for the war effort.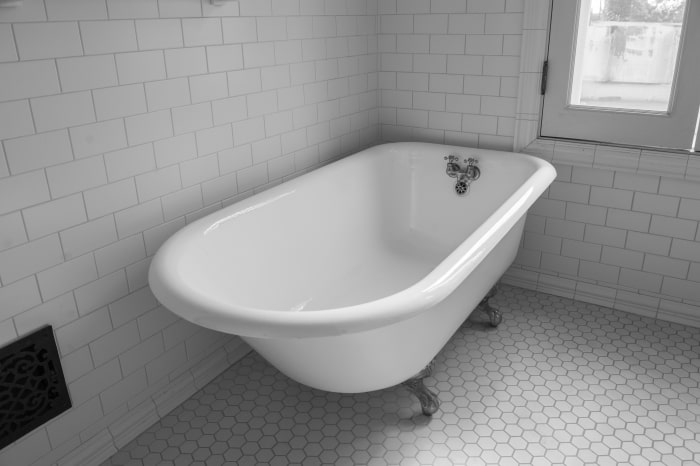 Swapping tubs for showers
In those early days, it didn't take much for a bathroom to feel luxurious. This one from the 1920s may have been pretty plush with its rug, dressing table and curtains, but one piece missing by today's standards was a shower. If one of these early bathrooms did have a shower, it was usually a wall-mounted attachment with curtain surrounding the tub. It wasn't until the 1930s that you could expect to see a shower in average homes, not just those of the wealthy.
As America became more suburban, daily commutes increased and that meant that leisurely baths were no longer practical. Showers turned into a time-saving morning necessity. Maintenance also forced out free-standing bathtubs in favor of those resting on the floor and abutting the wall. You no longer needed to clean underneath, a blessing if you were keeping up with a 1920s cleaning routine.
Getting bigger and bolder
By the middle of the century, we saw more bathroom sets, complete with matching sinks, bath and, for the first time, vanities. Like kitchens of the 1940s and 50s, there was a lot more color, too. And, of course, the 70s loved patterns.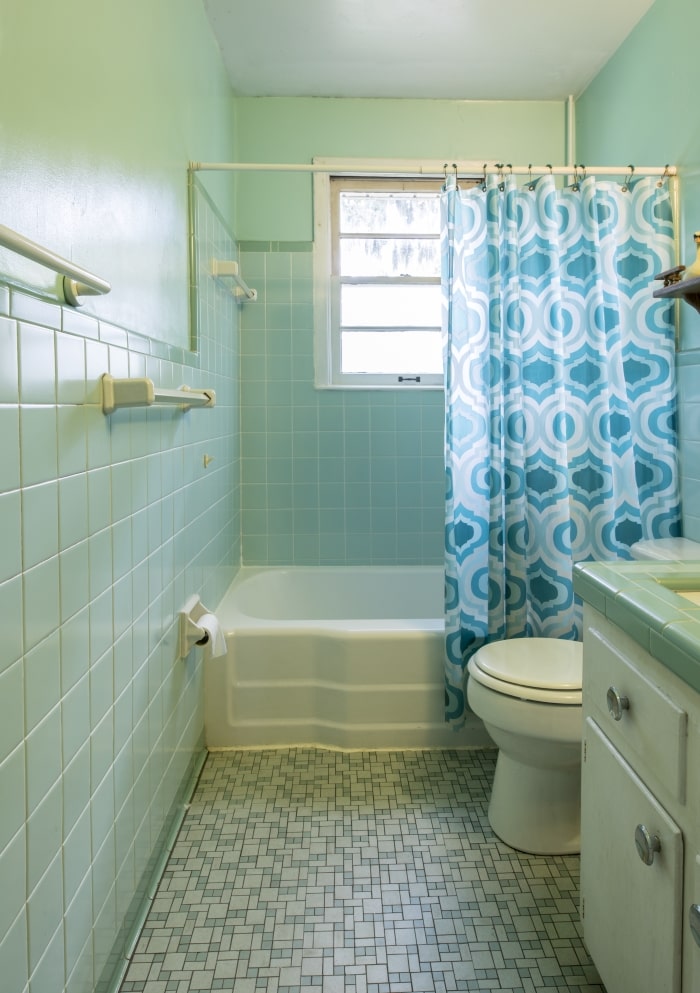 There's still no shortage of color today, especially in powder rooms. Bold paint and textured or
plant-based wallpaper
are popular for these small spaces. While many homeowners still gravitate toward black-and-white for an updated classic look, there's no doubt that half-baths are prime real estate for testing today's hottest design trends.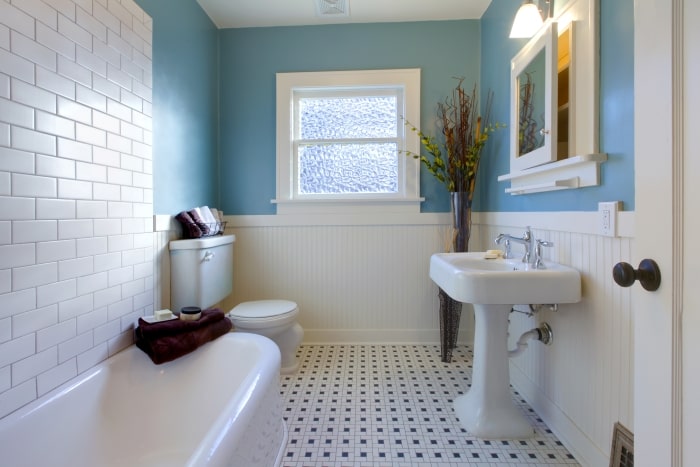 As time passed, it seems that bathrooms just got larger and larger. A 1987 Architectural Designs magazine, a successor of the Sears, Roebuck & Co. catalog, detailed one of its new master baths. "The master suite section features a deluxe compartmentalized bath with garden tub, double vanities, shower and two walk-in closets."2
What's also notable about this home's "deluxe" floorplan is that this was not the only bathroom. Having multiple privies at the turn of the century would have been unheard of, but with time, this home not only had an on-suite bathroom, but also a first-floor powder room and a full, five-piece shared bath for the second-floor bedrooms.
Re-creating the spa at home
Modern bathrooms still look to give us that luxurious spa feeling. A freestanding tub is back in fashion, often in different materials and shapes than before. Another popular way to make bathrooms, bathtubs included, feel even more like an oasis is with "human-centered lighting." These bathroom fixtures from Kohler tie into our circadian rhythm to make any soak your most relaxing yet.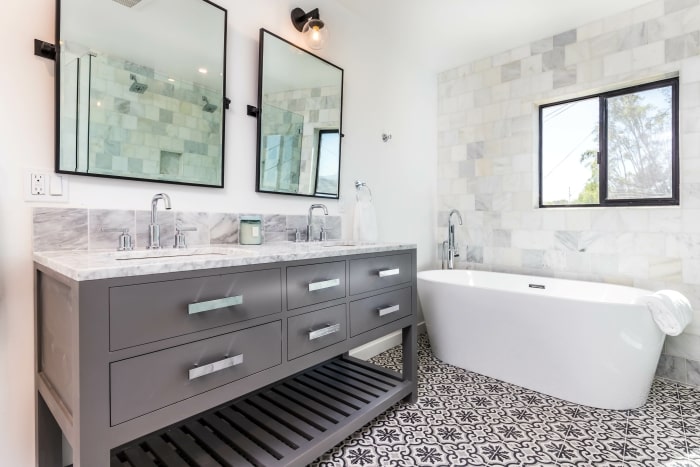 Showers haven't gone anywhere, though. After a stretch where rain shower heads and jacuzzi jets were all the rage, some homeowners today are ditching those features in favor of showers with water-conserving technology.
How we enclose our showers has transformed with time as well. Floor-to-ceiling glass partitions have been trending in recent years in an attempt to make bathrooms feel larger and add a bold style statement to a room that has historically been a bit bland.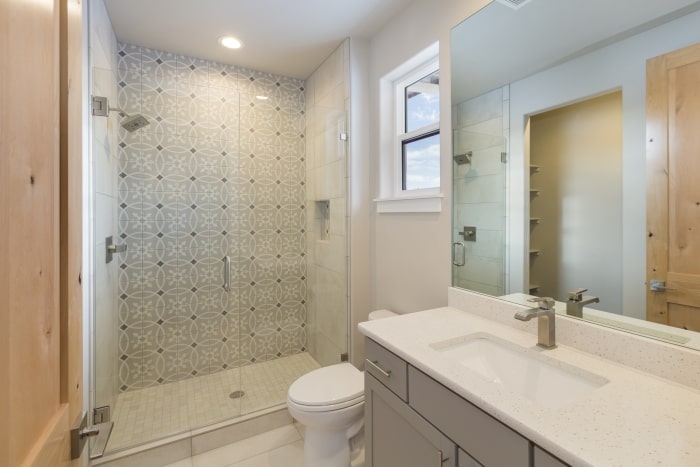 Even as 1920s styles such as freestanding bathtubs and classic tile come back around, it's safe to say that having to actually use a 100-year-old bathroom would be a shocking experience. Enhancements in technology and new ideas of comfort continuously transform our lives and our homes. Find more home history and help Schlage celebrate its 100th anniversary at
Schlage.com/100
.
1 Kyvig, David E. Daily Life in the United States 1920-1940: How Americans lived through the 'Roaring Twenties' and the Great Depression. Ivan R. Dee, 2004.
2 "Country Kitchen and Deluxe Master Bath." Architectural Designs, April 1987, p. 21.