5 essential smart products to improve your home security.
By emily.bailey
Wednesday, September 30, 2020
With everyone claiming "smart home this" and "smart home that," where do you begin? Let us remove some of the confusion. Here are five high-tech yet simple products that can improve your home security.
Technology – that constantly evolving beast that is either loads of fun or a source of endless headaches. Which innovation do you pick? Which should you pass on? And with everyone claiming "smart home this" and "smart home that," where do you begin? Let us remove some of the confusion. Here are five high-tech yet simple products that can improve your home security.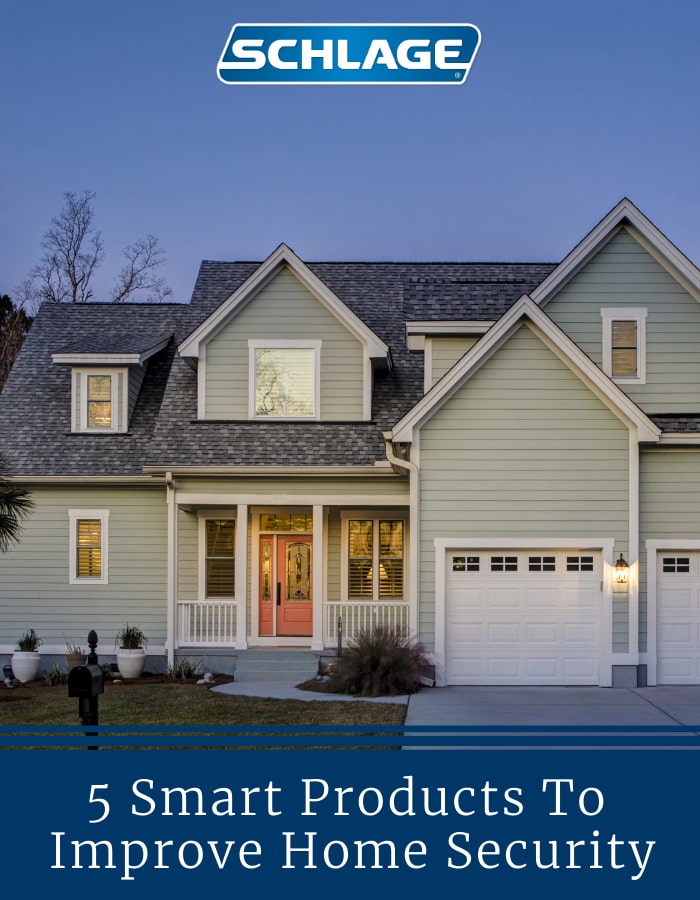 1. Smart lock
Smart locks are typically more secure than traditional mechanical deadbolts. When it comes to Schlage smart locks, you'll find some of these leading security features.
Most Schlage smart locks have a built-in alarm that can detect a disturbance at the door and alert you via your smartphone. You'll find this option on the Schlage Encode™ Smart WiFi Deadbolt, Schlage Sense™ Smart Deadbolt and Schlage Connect™ Smart Deadbolt with Z-Wave Plus technology.


Unique user codes for trusted individuals can be added and removed as necessary, letting you control who has access to your home and when.


With no need for a key, you don't have to worry about a spare ending up in the wrong hands.


Check the status of your deadbolt from anywhere, and if the door is unlocked, simply lock it using a compatible smartphone app.


Schlage smart locks feature the same data encryption technology used for online shopping to help protect your information.
And you can improve security even more when you pair it with a smart home hub that controls other devices like your lights or motion-sensor cameras.
2. Video doorbell
Knowing who is at your door before you get off the couch is convenient. Knowing who is there before you unlock the door while you're at the office is a necessity. Get that enhanced smart home security we just mentioned by combining a Schlage Encode deadbolt with the Ring Video Doorbell. With these devices together, you have the ability to see who's on the porch, decide if you want to give them access and unlock the door using your smartphone. It's a great way to have both peace of mind and convenience in the palm of your hand.
3. Backup power supply
A storm blows through and you've lost power. You still need to keep your home and family secure. For some devices, you'll need a backup power supply like a generator. For others, like Schlage smart locks, there's no need to worry. All our electronic locks are battery operated, so they'll continue to work even if the power is down.
Generators are starting to go smart, too. Consumer Reports explains how you can now use your smartphone to monitor usage on some models.
4. Glass break sensors
Intruders like to pick the easiest entry point, and that's not always the front door. Sometimes it's a window or maybe it's a glass patio door. Install sensors that can alert you when glass is broken. Safety.com shows you what to look for with this perimeter security device and names its favorite options.
5. Voice control
Being safe in your home isn't just about stopping intruders. What if you or a family member have fallen and can't reach the phone to call for help? Just say the word and Alexa or Google Assistant can place a voice-activated call and unlock the door for your neighbor. Convenience at your fingertips is a time saver. Control with your voice could be a life saver.
To make your home as safe as possible, be thorough. A strong deadbolt is vital, but you'll be better off when you combine that with a variety of security measures to cover all your bases. Start by using our Get Help Deciding Tool to find which Schlage smart lock is right for you. Then check out what technology works best with your favorite deadbolt to start building your safest home yet.