Homes of the Century: 100 years of kitchen transformations.
By emily.bailey
Here's a look at how American life over the last 100 years has transformed the kitchens in our homes.
What better way to see how American life has changed in the last 100 years than by taking a look at how our homes have transformed during that time. Their size, the uses of rooms, how we decorate and the appliances we outfit them with all give a glimpse of what everyday life might have been like for the average family. In this second installment of our Homes of the Century series, we take a look at kitchens.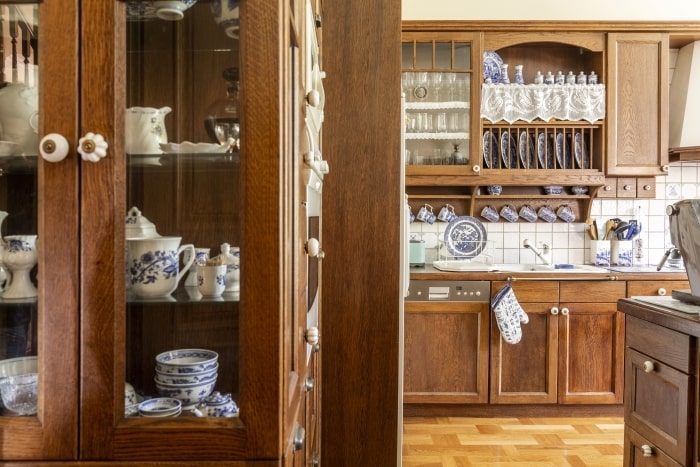 Kitchen convenience in every decade
You would be hard-pressed to name a room that has changed more dramatically in the last century than the kitchen. Technology like refrigeration, toasters and electric ranges altered not only how we cook and feed our families, but also how we gather and entertain.
In the 1920s, before today's technological innovations were available, homebuilding catalogs focused on modern kitchen convenience and cleanliness. "The kitchen is big, yet the work can be done quickly as in the most up to date kitchenette," it is written in the 1921 Sears, Roebuck & Co. catalog from which potential homebuyers could purchase blueprints to DIY their own home from foundation to roof. "This is because the sink, cupboard and range are side by side." This kitchen seems simple enough at first glance, but calling out side-by-side appliances for their novelty and modernity? That says something about early use of space.
The same Sears floorplan addressed our constant struggle to light the home. "(There) is plenty of light for work, and the housewife will appreciate having a window directly opposite the stove so that the light will shine into the oven. Brooms and cleaning utensils as well as refrigerator can stand on the landing. This landing makes it unnecessary for the iceman or peddler to step on the clean kitchen floor."
Electricity was just becoming more widespread, allowing homeowners to switch away from more dangerous gas lighting. And refrigeration in this house clearly would have been an ice box, a plain wooden box with metal tray designed to hold the day's ice delivery and catch the melt. Electric refrigerators weren't common appliances until almost 20 years after this catalog's publication.
Instead of
Hoosier cabinets
, some homes built in the 1920s got built-in cupboards. "This cupboard," wrote Sears, Roebuck & Co., "has a series of compartments, both under and above the kitchen sink proper. Look at the illustration below and judge for yourself how attractive, bright and sanitary we have made this home for the housewife."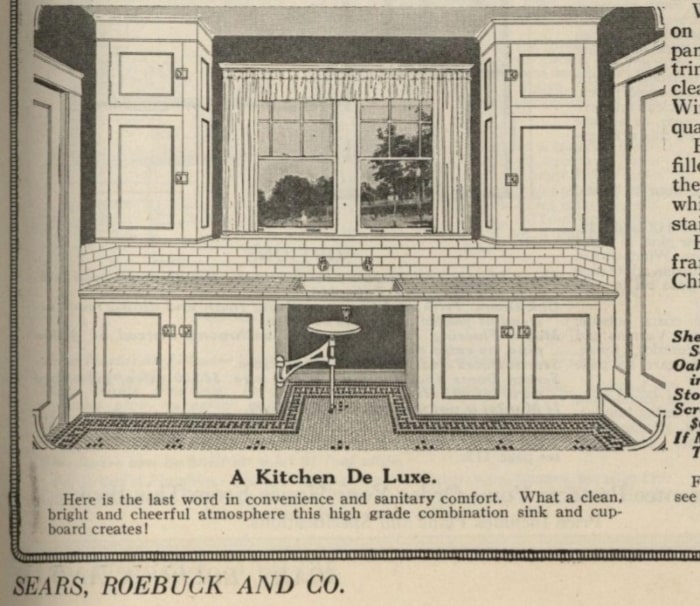 The execution of the "modern" kitchen clearly changed over time – cabinets in the 1920s, electric refrigerators in the 40s, islands and pass-throughs in the 50s – but the key selling point remained the same. It was all about conveniences that would make it easier for a housewife to serve her family.
In 1921, "The kitchen is conveniently located and planned to save steps." In 1953, the Practical Homes catalog wrote, "Following the approved trend, the dining and kitchen areas are combined for efficiency as an aid to the busy housewife." In 1987, Architectural Designs magazine wrote, "The kitchen is equipped with conveniences, lots of cabinets and easy access to both formal dining room and breakfast nook with bay window." 1
And today? Better Homes & Gardens shows us a kitchen island "framed by generous stretches of countertop space, including one wall that accommodates the sink, dishwasher, refrigerator, and microwave. This consolidation of essentials -- all opposite the cooktop -- saves steps for the cook." Saving steps and side-by-side appliances? Sounds a bit like the "modern" 1920s kitchen.
Function finally meets form
When we look at style, we see various ebbs and flows. After years of believing all-white kitchens were more sanitary, kitchens of the 1940s and 50s got a lot more colorful. Turquoise appliances and pink or canary yellow cabinets were not uncommon.
Colorful kitchens is a trend that has matured well. Painted cabinets, especially blue in 2020, are popular again.
Three-tone kitchens
are also having their day in the sun, proving that color is still in, even if it is more restrained than in previous decades.
Perhaps more than ever, we're striving to combine that all-important convenience with appearance. Making a kitchen functional for our needs remains one of the primary reasons we remodel. As we tackle those renovation projects, however, we no longer see a need to sacrifice style in the name of function, even when we're watching the budget. We turn to cost-efficient details that set our homes apart. Different finishes and designs for faucets and lighting as well as cabinet and door hardware are all ways to make a personal statement without breaking the bank. For those who can afford them, professional-grade appliances in customized colors are one of the year's growing trends. And with that new light fixture, you don't even have to rely on a window across from the range just to see what's in the oven.
We could go on for another 100 years about all the features, big and small, that have changed in kitchens over time, but that would be as difficult as describing each unique family to walk through those kitchens. We'd love to hear how your family kitchen has changed through the years. Share with us on Facebook or Instagram.
For more home history and to help us celebrate Schlage's 100th anniversary, visit Schlage.com/100.
1 "Colonial with Three Bedrooms and Options." Architectural Designs, April 1987, p. 23.