Schlage celebrates a century of moms around the world.
By emily.bailey
Get the important stuff taken care of – a card, the perfect gift, restaurant reservations – then brush up on your Mother's Day facts and prepare to astound Mom over brunch.
With all she does, every day should be Mother's Day. (In case you're panicking now, it's May 10 this year.) Get the important stuff taken care of – a card, the perfect gift, restaurant reservations – then brush up on your Mother's Day facts and prepare to astound Mom over brunch.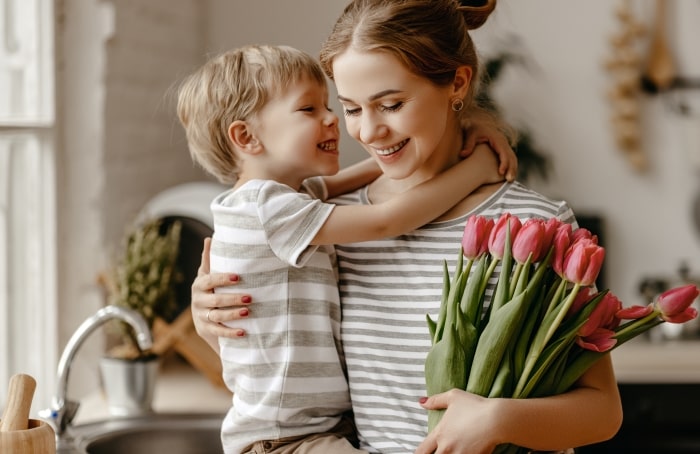 When did Mother's Day start?
Mothers have been around since the beginning of time, but it wasn't until 1914 that Mother's Day became an official U.S. holiday. We celebrated it in some fashion before then, and other countries got in on the action as well. We would recognize the early British version, Mothering Sunday, today. What essentially amounted to a family reunion, English children visited their mother and treated her to a day free of cooking and cleaning and full of love and a "mothering cake."
American matriarchs celebrated Mother's Day in a totally different way, however. In the 19th century, it was intended to promote world peace. The initiative didn't gain much momentum, unfortunately, and the focus eventually shifted to education. Then called Mothers' Day Work Clubs, it was all about teaching proper hygiene and care for children during a time when infant mortality was as high as 30 percent in some regions.
Mother's Day as we Americans know it today was instituted in the early 20th century when Anna Jarvis, who is most frequently credited with … well, birthing … the holiday, encouraged families to buy flowers and sweets to honor their moms. Within a few years of achieving her goal – President Woodrow Wilson signed a bill declaring Mother's Day a national holiday on May 9, 1914 – Jarvis became appalled by its over-commercialization. She changed her tune and tried to dissuade people from buying gifts, making the Mother's Day of 100 years ago not so sweet for at least one woman.
What do moms want for Mother's Day?
Originally, as today, flowers were the most commonly purchased gifts for the first Mother's Day. Many of those flowers had symbolic meaning. At a time when recognizing Mom meant a trip to church, red carnations represented living mothers and white carnations were for those who had passed.
Today, there's the always-popular "gift" of giving Mom the day off. Mother's Day is one of the busiest days for restaurants, according to the National Restaurant Association. Letting someone else do the cooking is a safe decision. The same survey found that the preferred gift for almost 50 percent of moms is a restaurant meal with family. Other front runners were flowers and household or home décor items.
Who are the most famous mothers in history?
The best mother, of course, is yours. Others have also made impressive contributions to their families and blazing trails in business, science and human rights.
How do they celebrate Mother's Day around the world?
Mother's Day in the United States is always celebrated on the second Sunday in May. Other countries around the world honor their moms at different times and in different ways, however.
England celebrates Mothering Sunday on the fourth Sunday of Lent. Like in the U.S., chocolate and flowers are popular gifts, although mothering cake – a light fruit cake with marzipan – was customary in earlier days.


Día de las Madres in

Mexico

is on the same day every year – May 10. Activities include a special church mass in Mom's honor, often followed by a community breakfast.



Australia's Mother's Day

is said to have originated in the early 20th century when a Mrs. Heyden gave gifts to mothers at the Home for Destitute Women and Children. Today, celebrations primarily mirror those of the United States with gifts and a "day off" for Mom.



Chinese Mother's Day traditions

vary regionally and generationally. While younger families often celebrate by gifting carnations or lilies, similar to Western culture, others use the day to honor the mother of Confucian philosopher Meng Zi, who is considered to be the ideal mom.
All this history is fascinating, but it doesn't really help if you don't know what to get Mom, does it? We can help with that. Find ideas in our Gift Guides or on one of our luxury or smart lock gift lists at the Schlage blog.