Treat Mom to the ultimate in Mother's Day luxury: 5 unique gift ideas
By emily.bailey
This is the perfect year to pamper your mom to the max for Mother's Day! This list of unique, luxurious gift ideas will help you show proper appreciation for all Mom does.
This is the perfect year to pamper your mom to the max for Mother's Day! We've curated a list of the most luxurious ways to avoid the old flowers-and-card standby and show proper appreciation for all Mom does – check it out below: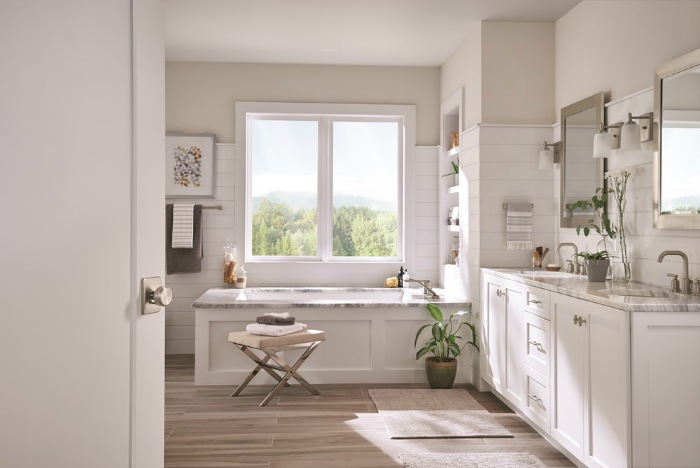 Jewelry for her home
Treat her to an interior design upgrade – if you choose door hardware as your focus, it won't be as expensive or time-consuming as it sounds. Next time she's out of the house for a few hours, consider updating door hardware and hinges to coordinate finishes between other interior accents like kitchen plumbing and cabinet hardware – it only takes a few minutes with a screwdriver to replace a door knob or lever. Step up to premium door hardware (like Schlage Custom locks) and add a fresh coat of paint for a door makeover that will bring every room in the home to life. You can even add an electronic lock to the front or garage door, allowing her to track when the kids come and go and even 'accidentally' delete the in-laws' access codes when she needs some quiet time.
Get personalized
Jewelry and perfume are fairly traditional gifts, but these days it's easy to add a much more personalized touch. Whether it's a necklace with an engraved pendant or an artisanal scent customized to her unique body chemistry, look for a gift that no one else can have. If a special perfume sounds perfect for her, you can get some city-based recommendations here – we love New Orleans' Bourbon French Perfumes because they do a body chemistry analysis, but there are options on both coasts and in the Midwest.
Classic luxury
Is there anything softer or more luxurious than silk? Think pillowcases, robes, slippers, eye masks – you can even find silk-infused shampoo, conditioner and body lotion for the ultimate in softness.
A relaxing bath kit
This time, skip the quick and convenient supermarket buy and put a little more time into crafting your own version. Keeping in mind her favorite scents and flavors, put together a bathtub relaxation kit: a bathtub caddy to keep items dry, a well-made journal where she can record her thoughts and reminisce over memories, a good bottle of wine, a yummy scented candle, and a skin-softening bath bomb.
Peaceful getaways
Take the bath kit a step further and let the professionals handle it – send Mom on a spa getaway! For the ultimate in luxury, a trip to Amangiri is one she'll never forget – it was recently featured in a Forbes' Top 10 luxury gift list as one of the most private and peaceful locations in the world. If she's the more active type, send her on an adventure tour for a taste of the traveling life – there are lots of options available, ranging from wine tours to wildlife viewings and meditation retreats.