12 reasons why a smart lock may be the perfect Mother's Day gift
By emily.bailey
Give mom the gift of convenience and peace of mind this Mother's Day. Here are 12 ways a smart lock can make her day a little easier.
We all know that moms deserve so much and more for everything they sacrifice and do for their families. This year, let mom know how much you care by giving her the gift of convenience and peace of mind with a smart, keyless lock. Here are 12 reasons why this could be the perfect gift for Mother's Day.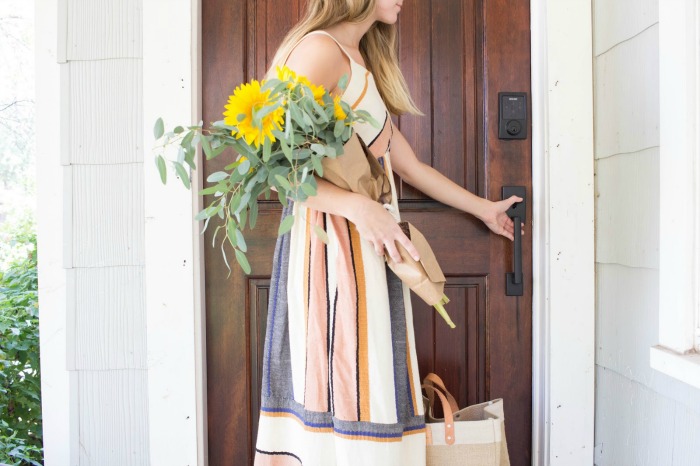 1. For the working mom
Help mom know exactly when the kids get home from school by setting up alerts that notify her when the door is unlocked. She can even have a custom code for the nanny, dog walker and grandparents so they can easily come and go.
2. For the mom always juggling a million things at once
With a smart lock, mom doesn't need to worry about juggling the kids, groceries, shopping bags, mail and fumbling for her keys. With the touch of a button on her smart phone, she can command her deadbolt to lock and unlock. With the Schlage Sense Smart deadbolt, she can even ask Siri to unlock the door as she approaches.
3. For the mom on the go
Schlage's connected locks are each equipped with a customizable auto-lock feature. Mom can set her deadbolt to automatically lock after being unlocked for a certain period of time which means she can continue her day without worrying whether or not the last kid out the door locked the deadbolt.
4. For the tech loving mom
Help mom get one step closer to a fully automated home. Whether she's a HomeKitTM fanatic or prefers a voice activated smart home with Amazon Alexa, there's a smart lock that's perfect for her.
5. For the mom with older kids
Remove mom's worry that one of the kids will lose their key at recess or on the bus and get rid of that spare key that's never hidden really well. With a smart lock, each child can have his/her own access code that's easy for them to remember and gives mom peace of mind.
6. For the exhausted mom
There's nothing worse than for an exhausted mom to finally crawl into a warm cozy bed only to worry she may have left the front door unlocked. With a smart lock, she can easily command her door to lock from the comfort of her bed and avoid disturbing any sleeping children at the same time.
7. For the active mom
Give your mom the freedom to go for a run or walk without getting weighed down by keys. With Schlage's keyless locks, there's flexibility to choose how you access your home so she can leave the phone behind and use a keyless code instead.
8. For the mom with a vacation home
Make it easy for your mom to give access to guests via custom keycodes that can easily be added and removed from the app. She can even apply a schedule to the codes so they automatically become inactive upon checkout.
9. For the mom who just moved to a new home
Give mom the peace of mind that comes with a lock graded best in security, durability and finish by the BHMA. Just look for the AAA on the BHMA certified secure home label on packaging.
10. For the mom with curious toddlers
With Schlage's built-in alarm technology, mom can set her lock to activity mode to alert her anytime the door is opened. She also never has to worry about accidentally getting locked out - whether the kids are inside or on the outside of the door with her just waiting for the impending meltdown.
11. For the brand new mom
Make it easy for friends and family to swing by with food and gifts for the new parents by unlocking and locking the door from anywhere. No need for a recovering mom with a sleeping baby to answer the door.
12. For the empty-nester mom
Set up mom's smart home automation so she never walks into a dark home when unlocking her door. She can also assign a custom code for the handyman or other service personnel that may be in and out of her home, freeing her to enjoy the empty-nester life away from the home.