Creating a calm home during stressful times.
By emily.bailey
If you're struggling to navigate the changes in your day-to-day life because of coronavirus, anxiety or isolation, we want to help.
We're in uncharted territory with almost everyone hunkering down, social distancing and homeschooling their kids with e-learning right now. If you're struggling to navigate the changes in your day-to-day life because of coronavirus, anxiety or isolation, we want to help. We've come up with a short list of things you can do – or not do – that will hopefully bring you some peace and calm while you spend extra time at home.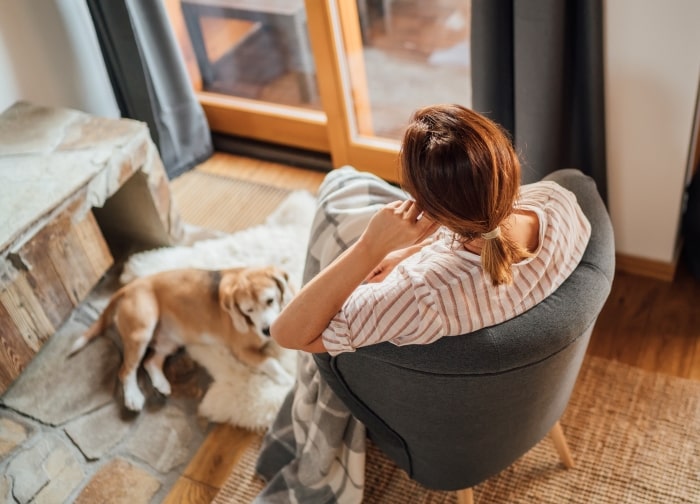 To do …
One surefire way to increase anxiety at home is by living amongst the clutter. Use your extra time indoors to remove items you no longer need or want. Recruit your kids to do the same with their toys and clothes. And while you're at it, remove digital distractions from certain rooms, particularly the bedroom. That will help improve the calm where you need it most. If you're someone who can't take their eyes off all the news updates and social media right now, this may be especially helpful.


Accessorize with beautiful things that make you happy. It's hard to be in a bad or anxious mood when you're surrounded by beauty. It could be artwork – rearrange your favorites from around the house for a fresh perspective or commission your kids to produce something totally originally – flowers or tchotchkes with personal significance. We especially like the idea of vacation photos or souvenirs that trigger happy memories.


The right lighting can also go a long way toward lifting your mood and helping you get better sleep, something that's especially important when we're stressed out. Blue light exposure in the evening from computer and phone screens can keep us awake when it's time to sleep, according to the

American Academy of Ophthalmology

. On the other hand, warm lighting is ideal for later in the day and can help bring relaxation and calm when you need it. Companies such as

Brilli

offer "Wind Down" and "Charge Up" lighting options, as well as devices that will do both automatically throughout the day. If you don't already have a device that controls lighting, check online. Many retailers are still taking orders through their websites and even offering free or reduced shipping. If improving your mood is simply a matter of brightening a room, try borrowing lamps from somewhere else in the house for an extra boost.


Get outside and garden. With spring right around the corner, you might be able to get a jumpstart on your outdoor planting. It'll help with your cabin fever and give a healthy, outdoors activity you can do with your family. No social distancing required. Nature offers loads of

psychological benefits

, and right now is no exception.
… or to not do.
In normal times, we often don't allow ourselves time to indulge. Now's your chance.

Apartment Therapy

says to go ahead and burn those candles (bonus points for lavender or other calming scents) or snuggle under your favorite blankets with your dog (pups and kitties can't transmit coronavirus, by the way). Create your own

spa day at home

with a bubble bath and relaxing music. Or do nothing. The Dutch call it

niksen

.


Sit and observe your home. You might do this from somewhere you never sit to get a fresh perspective, like on the floor in the corner or in front of the television looking out toward the rest of the room. What feeling or vibe does the room give? Is that the kind of vibe you want? How do you and your family use the room? Are there items that you see every day so that you've stopped consciously seeing them now? Do those items still serve a purpose? Try not to pass judgement on your home. Just sit back and take it all in.


Express gratitude for your home. It can be easy to only ever see the leaky faucet or the wall that just isn't your favorite paint color anymore. Try to find some positives, then give thanks for the large windows with a view of your garden, a play space for your kids or the mere fact that you have a roof over your head.
If are you are looking for more active projects to keep busy at home, try the Schlage blog's DIY Tips section. You'll find plenty of ideas for inside and out, often using items you might already have.