Say goodbye to winter with this interior spring cleaning checklist.
By emily.bailey
Wednesday, March 11, 2020
When you're ready to spring clean but can't get outdoors yet, this interior checklist is your answer.
Have you spied your first robin of the season yet? For those of us in the Midwest, the bird is a sign that spring has finally arrived. If you think that means warm temperatures are also here, though, you might be disappointed. When you're ready to spring clean but can't get outdoors yet, this interior checklist is your answer.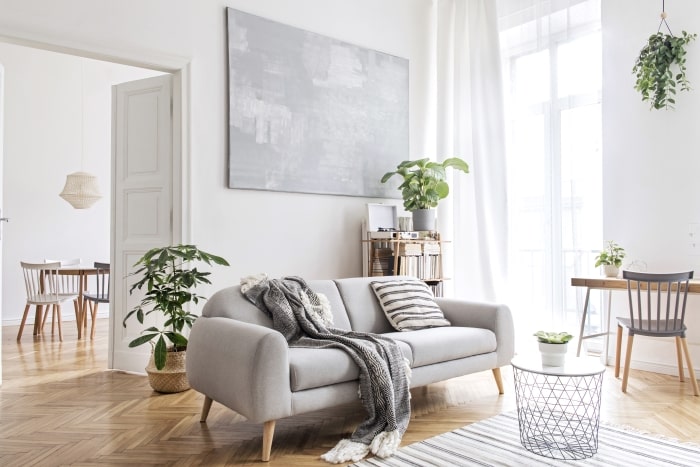 Clean your windows
Depending on how many windows your home has, this might be a full weekend project. It will be worth every ounce of elbow grease, though. Remove dirt and residue that built up in the colder months, even on the inside, and you might be surprised how much brighter your home will feel. This is a good time to dust off those blinds you've kept closed all winter, too.

Clean and/or upgrade your door hardware
You touch them every day, but you probably never really think about them. Even if they aren't coated in last winter's cold and flu germs, your door knobs and levers could use a good cleaning. If a quick shine doesn't do the trick, it might be time to upgrade your look with new door hardware. This small detail can go a long way toward refreshing the style of your home.

Wash walls and baseboards
Start by dusting your walls with your vacuum's brush attachment, then note the type of paint you have as they'll react differently to cleansers and scrubbing. DIY Network has a helpful guide to wall cleaning solutions that will get out the stains without damaging your paint. Pay special attention to the walls down at kid and pet level. And while you're at it, your baseboards could probably use a good scrub, too.

Deep clean carpets and rugs
Even the best vacuums won't get out all the dirt, dust, salt and winter grime. Cleaning carpets and rugs really well at least once a year will keep them looking nice and extend their life. Apartment Therapy has a great carpet cleaning tutorial to show you how.

Clean light fixtures and fan blades
Because you rarely look directly at your lights or fans, these pieces often build up more dust that you realize. Take about 20 minutes to give your lights – table lamps, chandeliers, wall sconces, bathroom mirror lights – and, ceiling fan blades a quick dusting.

Scour the obvious
We use some things so frequently that we don't even see them anymore. Now's the time to disinfect outlet covers, light switches and switch plates, and remote controls. Clean your dishwasher and deodorize your fridge. Your washing machine might need some attention as well. Also, when was the last time you checked your dryer vent?

Replace smoke detector batteries
Be sure your home is always protected by changing the batteries in your smoke and/or carbon monoxide detectors. If you have a Schlage smart lock, this is a good time to switch out those batteries as well to ensure your deadbolt continues working properly.

Organize your entryway
Having a well-organized space to welcome you home can help you unwind from a long day of work or errands. Think about your habits. What do you set down or take off as soon as you enter the door? Create a space with hooks for coats and bags, trays for keys, sunglasses and mail, and mats for shoes. Having a designated spot for each item will help keep things from getting lost or turning into piles of clutter around your home.

Declutter
Start by putting away winter items you won't need for a while. Only store those that are in good shape and that you'll use again, though. Throw away or donate the rest. Next, find a home for everyday items. Add decorative baskets, optimize closet space with more shelving or create a family command center to contain the chaos that detracts from your style. Check out these creative storage ideas from Houzz.
At the end of the day, spring cleaning is all about creating a refreshing environment you enjoy. It's time to see your home in a new light. Add a few finishing details – a vase of fresh-cut flowers or a new piece of original artwork – and embrace the season's possibilities.
Don't forget our outdoor spring cleaning checklist for projects to tackle when the weather gets nice. And if upgrading your style is on your to-dos, check out these nine budget-friendly spring front porch décor ideas, too.