Stylish and practical bathroom design to awaken all your senses.
By emily.bailey
There are a number of upgrades you can make to create a space, even a bathroom, that scintillates all the senses.
Creating the right "feel" for a room requires more than just slapping up a coat of paint and purchasing some new furniture. There are a number of upgrades you can make to create a space, even a bathroom, that scintillates all the senses.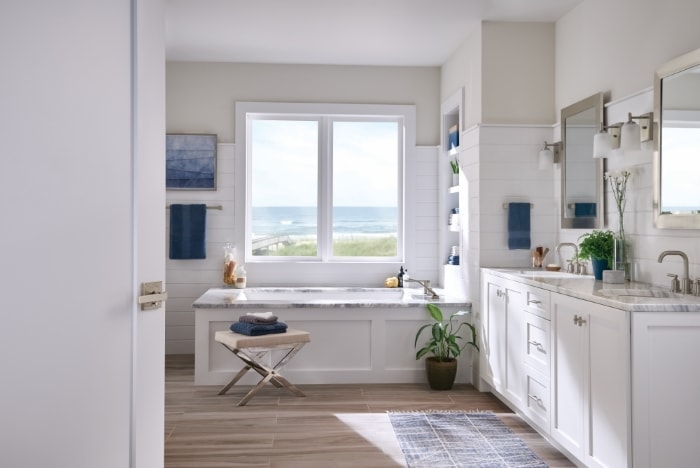 Sight – Streamline design, color and lighting
Part of what makes a bathroom relaxing is its lack of clutter. Before you do anything else, take time to remove items you don't like, toss beauty products you never use or that are expired and maybe give everything a good scrub. This will create a solid foundation for everything that comes next.
When choosing a color, note that high-end bathrooms are often monochromatic or have a single, neutral base. Whites and grays are considered classic, not to mention expensive-looking, plus they have the benefit of letting brightly colored accessories or unique tilework really pop.
There are so many lighting options in a bathroom – around a vanity for up-close shaving or makeup tasks, recessed for a calming environment, backlit mirrors, dimmers. If you can't decide, take a cue from hotels, which try to make you look great all the time by lighting mirrors evenly on all sides to eliminate shadows. Houzz suggests wall sconces as just one option to pull this off effectively and stylishly.
Don't forget about natural lighting either. Take advantage of windows in your bathroom, but if you're concerned about privacy, add some shades. Style Me Pretty recommends window treatments intended for outdoors, which will be more resistant to moisture. Top-down bottom-up shades provide extra versatility for letting in the light but not prying eyes.
Touch – Premium materials, fluffy towels and door hardware
Especially if you're texture-driven, play with different materials in your bathroom. It can be as simple as a plush rug on smooth tile flooring or as extravagant as mixing stone and wood on your vanity. Love the cool feel of marble but not the price tag? Try marble accessories – a tray or bin for your baubles, a toothbrush holder, a soap dispenser – for a budget-friendly compromise.
Invest in towels that are luxuriously soft, not to mention oversized, for a five-star hotel feel. And once you have them, don't be afraid to show them off. Something you often see in hotels is open shelving that displays the towels expertly folded or rolled. It's a bit of a mind trick, but copying this storage strategy can signal to your brain that you're entering a place designed for pampering.
The things you physically hold in your hands everyday – things like door knobs and levers – should feel good and work just as perfectly. Schlage Custom™ Door Hardware offers a variety of styles that fit every hand uniquely – knobs that range from round and circular to more oblong, and levers that are either straight-edged or have classy curves. They not only highlight a quality you can feel but also complement the look of your home. Schlage Custom knobs and levers also have 2-in-1 functionality, meaning the locking Bed & Bath function is built in for your privacy.
Sound – Sound machine, soundproofing and shower head
We tend to not want to think about sounds in a bathroom, but if you plan on luxuriating in style, here's a chance to go the extra step. A sound machine can help drown out the worries of the day, help create the illusion that you're at an oceanside resort or simply provide white noise to block unwanted sounds from other areas of the house.
There are also some easy ways to soundproof a bathroom. Thick rugs can help soundproof floors, and foam pipe wrap softens sounds from rattling plumbing. Hollow doors don't do much for blocking noise, so you can either replace the door entirely or save some money with weather stripping. If you decide to keep the hollow door, you might be interested in some of these tricks for sprucing up their style.
While you're eliminating sounds, think about your shower. Does it whistle, thump or rattle? You might need to replace a gasket or adjust the valves in your plumbing. And don't forget a nice new rainfall shower head while you're making upgrades.
Taste – Multitasking pieces
We're getting creative here because, well, who wants to eat in the bathroom? Might we suggest a nice stool? It will make for a convenient seating area when you're getting ready in the morning and a nice table for a wine glass when soaking in your upgraded oasis in the evening.
When it comes to design, the look and feel you create is completely in your hands. Follow us on Pinterest and Instagram for inspiration to awaken all your style senses.