5 gifts of convenience from Schlage smart locks
By reference-adjustment-service
Tuesday, December 11, 2018
We've designed our smart locks to make your life not only safer but also simpler, even during the hustle and bustle of the holiday season.
There's no debate over the purpose of a good door lock – it keeps your home, you, your family, and your belongs secure. We believe convenience should be an equally standard feature. That's why we've designed our smart locks to make your life not only safer but also simpler, even during the hustle and bustle of the holiday season.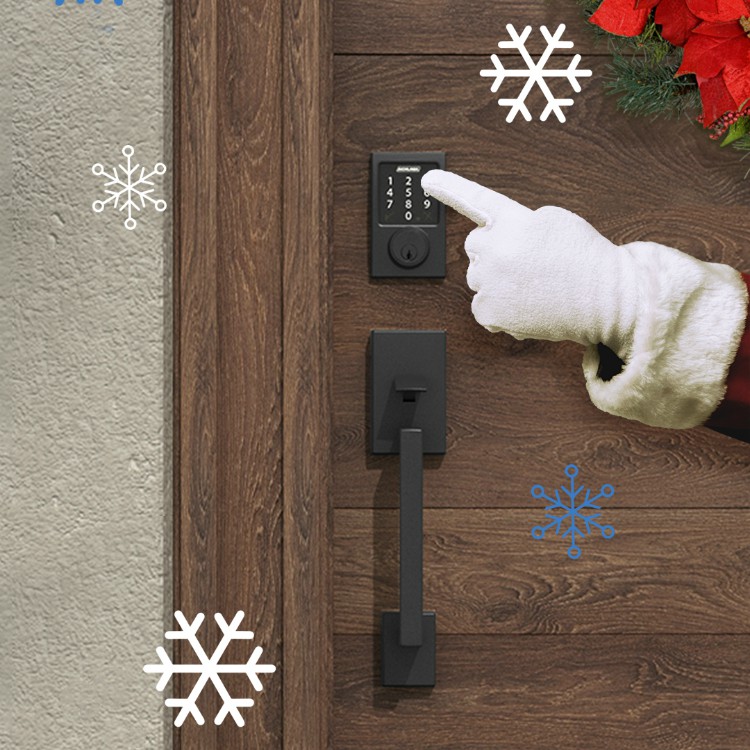 1. Access Codes
The Schlage Connect™ Smart Deadbolt and Schlage Sense™ Smart Deadbolt both hold 30 unique access codes, and the Schlage Touch™ Keyless Touchscreen Deadbolt holds up to 19. Give holiday guests their own code during their visit, then deactivate the code when they leave. They'll appreciate the freedom to come and go with ease, and you'll love the continued security.
You can also assign codes to cleaners, handymen or other service providers helping to prepare the house for the holidays. Don't forget the pet sitter keeping an eye on Fluffy when you're traveling. You can schedule your codes to be recurring, temporary, or one-time-only, depending on your needs.
With these convenient access codes, why carry keys with you or hide one under a fake rock, which isn't secure anyway? No keys means you won't lose them when making snow angels with the kids, taking a walk with the dog or going for a run to combat those holiday calories.
2. Remote Access
Lock or unlock your door from anywhere. If guests arrive at inconvenient times, like when you're still at work, you won't have to leave them standing out in the cold. Simply use your smartphone to unlock your door and let them in.
You can also check the status of your lock from anywhere, perfect for those cold nights when you want to make sure the door is secure but don't want to leave the warm comfort of bed. Why not use an app to give access to a neighbor dropping off your mail while you're on vacation, too?
3. Create a routine
When you match your lock with a smart home automation system, you can often create routines that control multiple devices with a single push of a button. For example, make a "Welcome Home" routine so that when you unlock your door, the entryway lights come on, the thermostat adjusts and holiday music begins to play.
Different locks are compatible with different technology. Try our Get Help Deciding Tool or find more tips online to find what's right for you.

4. Easy deliveries
Fight porch pirates by protecting deliveries during holidays. In addition to the remote access that comes with all our smart locks, Amazon Key and Prime users in select areas have the additional option of using in-home delivery. This allows delivery people to place packages inside your front door without providing them with an access code. You can also restrict access during certain times of the day if needed.
5. Style with function
Schlage door hardware comes in a variety of finishes and styles to help any porch make a great first impression. Function is equally important, though. Touchscreens can be used even when they get wet from rain or snow, or when you have gloves on. Numbers on the touchscreens are also backlit, making it easy for you and your guests to see them as the winter nights get longer.

Make your holidays, and every day, easier with the convenience of a Schlage smart lock. Enter the Season of Change sweepstakes for a chance to win a $2,000 VISA gift card and a Schlage Connect™ Smart Deadbolt with Amazon Cloud Cam today! In the meantime, you can find more holiday inspiration by following us on Instagram or Facebook.