How Schlage smart locks stand up to Mother Nature.
By emily.bailey
Monday, November 26, 2018
Are smart locks waterproof? What happens when the power goes out? Here's what you need to know.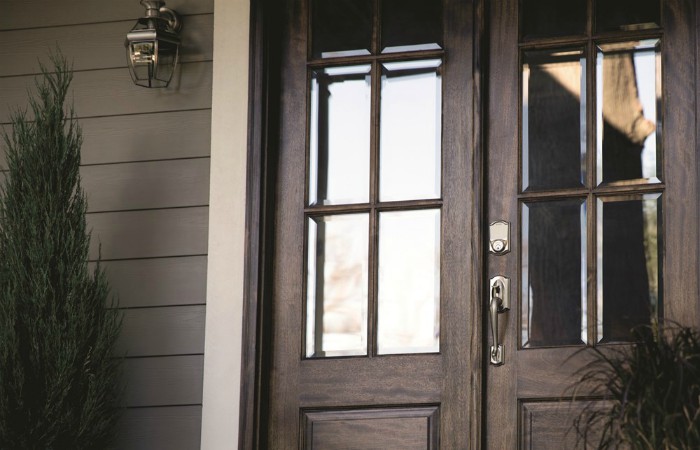 Some of us love winter weather, and others are already counting down the days until spring. When the temperatures drop, and the snow and ice hit your door, you want your lock to be ready, even if you aren't.
When it comes to holding up to the weather, Schlage Connect™ Smart Deadbolt and Schlage Sense™ Smart Deadbolt, as well as Schlage Touch™ Keyless Touchscreen Deadbolt and Schlage Keypad Deadbolt, are designed to exceed, and have been validated to function, beyond industry certification requirements.
We do not recommend our smart locks be used on outdoor gates or on doors in which the lock's interior housing is completely exposed to the elements. However, we consistently work to bring you quality products so that you know you're getting the convenient features and peace of mind, no matter what elements your house faces.
Tried and tested
Your electronic lock's exterior components, which are often exposed to the harshest elements, are tested against:
Extreme temperatures, including icing or freezing conditions (as low as approximately -22 degrees Fahrenheit depending on the lock) and high heat (up to 150 degrees Fahrenheit)
High humidity and condensing humidity
Rain
Coastal environment conditions
Peace of mind
Additional features provide an extra layer of confidence for when the worst weather strikes.
Battery operated: All of Schlage's keyless locks run on battery power, so if the power goes out, you're still protected. You won't be locked out and those who shouldn't have access to your home won't gain it just because ice pulled down a power line.
Back-lit numbers: Whether the power goes down or the sun has just set early, you'll never be left fumbling in the dark to unlock your door.
Glove-friendly: No need to remove your mittens. Touchscreens and keypads work even if they're wet from rain and when you're wearing gloves.
Protection beyond the weather
Of course, not all elements are a result of Mother Nature. We know security depends on your lock working in all kinds of conditions. That's why we also test our smart locks in construction-based environments, such as pressure washing, fluid spills and dust.
Schlage smart locks are backed by a three-year electronics warranty and a limited lifetime mechanical and finish warranty. With our successful testing, you can be as confident as we are in your security and style year-round, rain or shine, snow or heat.